16 noteworthy moments from 2016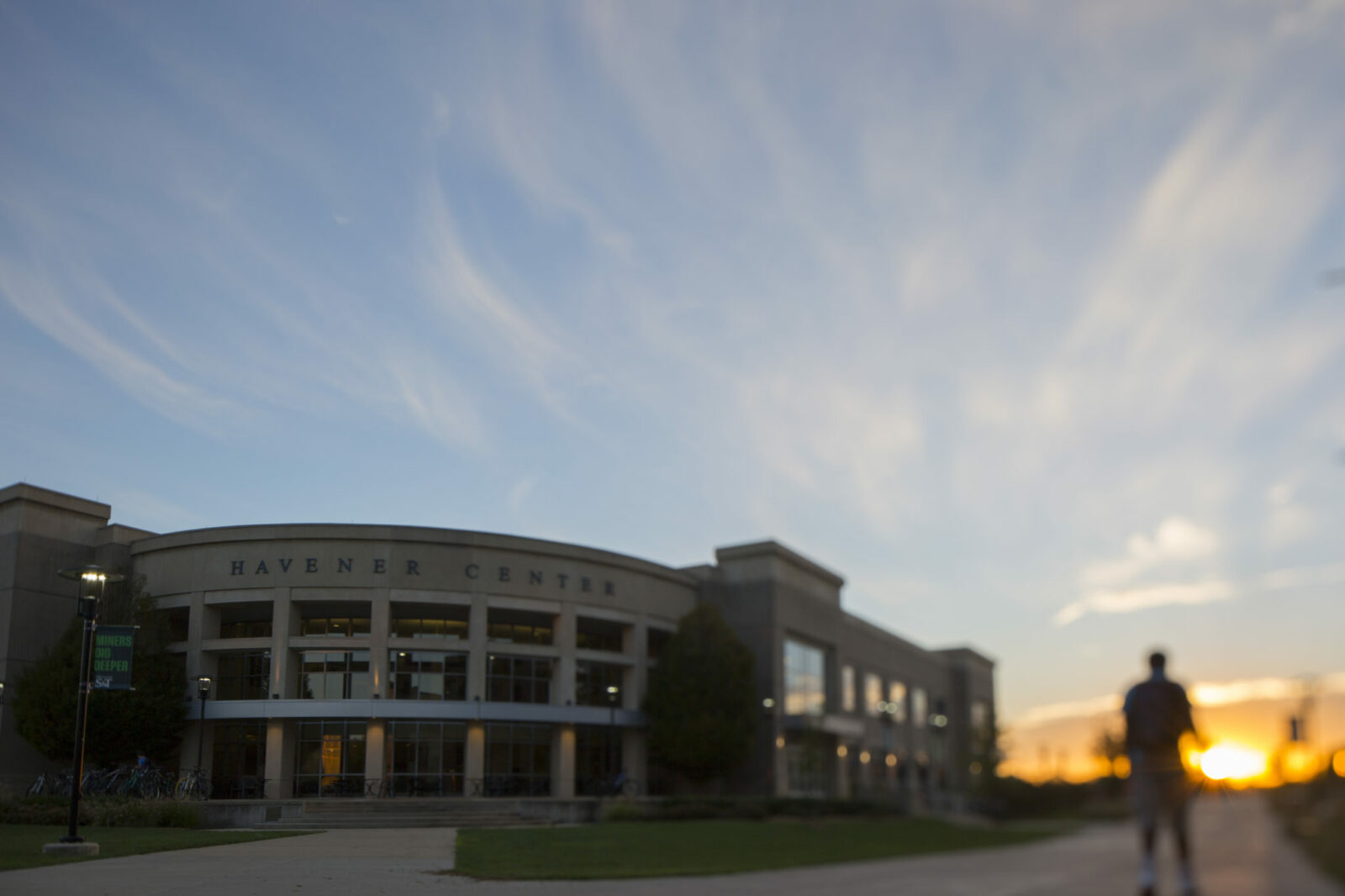 A record-breaking baseball season, new support for graduate education, two Miners in the Olympics, a roof on fire, and a professor who earned a spot on Jeopardy! — as a clue.
These were among the memorable moments of the past 12 months that were featured on this news site in 2016. In keeping with the year-end tradition of list making, here are 16 noteworthy news stories from 2016. (And if year-end lists are your thing, you'll want to check out this list of 16 important research stories from 2016, too.)
Milestone anniversaries
2016 was a year of important anniversaries at Missouri S&T. We celebrated the centennial of mechanical and aerospace engineering — which began in 1906 with just four faculty members "and a similarly small number of students" and has grown to become S&T's largest academic department. We also celebrated the 50-year anniversary of the world's first engineering management program and the 25th anniversary of Leach Theatre.
A new commitment to graduate education
As part of a strategy to attract more graduate students and bolster research programs, Missouri S&T announced in June a plan to increase funding for qualified Ph.D. and master's degree students. "Our nation's economic growth and future innovation will depend on the strength of our research universities, and an essential ingredient for any research university is a robust graduate education program," Missouri S&T Chancellor Cheryl B. Schrader said in announcing the program.
Joey's big day
The basketball court at the Gale Bullman Building became a court of celebration on April 10 for 8-year-old Joey of Waynesville, Missouri. Joey, who is battling cancer, was the center of attention when S&T athletic director Mark Mullin, along with Chancellor Cheryl B. Schrader, representatives from Make-A-Wish Missouri and officials from the city of Rolla, announced that Joey's wish to go to Disney World would come true. "Joey's Day" also earned Missouri S&T recognition from the NCAA as a finalist for the organization's 2017 Award of Excellence.
The roof was on fire
It was no student attempt to get out of taking finals that caused the late-semester fire on the roof of Emerson Hall, the electrical and computer engineering building. The roof caught fire on Thursday, Dec. 8 — the Thursday before finals week — and forced an evacuation of the building. Fortunately, no one was injured, and damage to the roof was minimal despite the spectacular black smoke. But water and smoke damage to the building's interior means it will remain closed into the new year. Investigators ruled that the fire was accidental and likely caused by a circuit junction box that powered an electric motor attached to a cooling station on the roof.
On the road, in the mine or in the lab, students succeed
Like their classmates before them, Missouri S&T students in 2016 continued to succeed in myriad projects outside of the classroom. Several student design teams fared well in their annual competitions. These include the Steel Bridge Team, which finished second in the region and qualified for nationals; the Solar Car Team, which finished fourth in last summer's American Solar Challenge; and the Formula SAE Team, which won the Formula North competition in Canada and finished seventh out of 117 international teams in the Formula SAE-Michigan event. Meanwhile, the S&T women's intercollegiate mining team again won the international mucking competition, while another group of Miners took first in the Southern Regional Mine Rescue Competition. Undergraduate researchers saw their work published in the inaugural issue of S&T's new peer-reviewed journal, a pair of computer science juniors won $100,000 in a hackathon to help the homeless, a grad student in computer science discovered a flaw in Amazon's code, and a team of students won a shiny new waterjet for the university by proving they could put the machine together faster than anyone else. Oh, and student-actors at a university with no degree program in drama and their advisor won accolades from the Kennedy Center last February for their 2015 production of "Good Kids."
For baseball, a record season
Missouri S&T's sports teams also fared well during 2016. Most notable was the S&T baseball team's spectacular run. The team set a record for most wins in a season on the way to an appearance in the NCAA tournament. The ride ended with a loss in the regional finals, but the Miners ended with a record of 39-19.
Spotlight on influence
Ten Missouri S&T alumni received the university's highest honor during the 2016 Alumni of Influence Gala on Nov. 5 at Hasselmann Alumni House. These alumni were recognized for the lasting impact of their leadership and service.
A tobacco-free community
Following months of planning and discussion, Missouri S&T joined over 1,000 other colleges and universities by becoming a tobacco-free campus on Aug. 1, 2016. "This is a healthy campus initiative," said Dr. Dennis Goodman, director of student health at Missouri S&T, in a news release prior to the effective date. "The health hazards associated with tobacco use are very real and well-documented, and it is in the best interests of our students, faculty, staff and visitors to promote a healthy environment for all."
A first for psychology
Last May, Cheyenne Kovach became a psychology pioneer as the first graduate of Missouri S&T's industrial-organizational psychology master's degree program. Established in 2014, the program is designed to help meet the growing need for human resources and talent management professionals. Many more I/O psych grads are expected to follow in Kovach's footsteps.
Digging deeper into the S&T brand
Any organization that's been around for 146 years could use a brand refresh now and then, and Missouri S&T is no exception. Beginning last January and continuing throughout the year, Missouri S&T has been rolling out elements of a refreshed brand identity, known as "Miners Dig Deeper," that builds on the university's distinct heritage of of looking beyond the surface to uncover solutions to intellectual and societal challenges.
Leading the way in STEM education
With the addition of Cor Jesu Academy of St. Louis, Missouri's Project Lead The Way initiative has reached 500 programs in elementary and secondary schools across the state. Project Lead The Way (PLTW) is a national program designed to increase interest in science, technology, engineering and mathematics among students from kindergarten through high school. Missouri S&T is the statewide affiliate for PLTW in Missouri.
'Who is Dr. Gerald Cohen?'
A Missouri S&T professor of foreign languages had a moment of fame last January when his name flashed across the television screens of millions of Jeopardy! viewers. Dr. Gerald Cohen was a clue on the popular game show during its Jan. 6, 2016, airing. He wasn't watching the program, so it took an email from another S&T faculty member to alert him of the moment. "My reaction was of course complete surprise," Cohen says. "I didn't wake up yesterday morning wondering if I'd be on Jeopardy! My second thought was, 'Hey, I could have answered that question.'"
Miners in Rio
Two athletes with connections to Missouri S&T made appearances in the 2016 Olympic Games in Rio de Janiero last summer. Long jumper Tyrone Smith, a 2007 history graduate and All America athlete while at S&T, represented his home country of Bermuda in his third trip to the Olympics, while swimmer Shawn Wallace, an undergraduate in civil engineering, competed in the 50-meter freestyle and represented the tiny Pacific island nation of Palau, his home country. While neither brought home medals for their countries, they brought Miner pride to many of their fellow Missouri S&T students and alumni.
Building boom
The fall semester saw the opening of two important new buildings on campus: the 450-bed University Commons, a residential community near the junction of University Drive and Interstate 44, and the Kennedy Experimental Mine Building, which was dedicated during Homecoming Weekend in October.
New faces on the faculty
Twenty-six new faculty members joined Missouri S&T in 2016, bringing us closer to our goal of increasing the number of faculty by 100 by 2020. Missouri S&T has now filled 42 new faculty lines and has additional active searches underway.
ROI U
It's no secret that Missouri S&T offers a great ROI, or return on investment. That news was again confirmed in 2016 via several third-party rankings, including the annual PayScale College ROI Report, which places S&T fifth nationally, and the USAToday/College Factual listing of top engineering schools, which lists Missouri S&T's engineering program as third-best in the nation for the third year in a row. U.S. News & World Report also ranked S&T high for its online graduate programs in 2016, listing 15 online programs among the nation's best. Learn more about our rankings and other points of pride here.