From shop class to the boardroom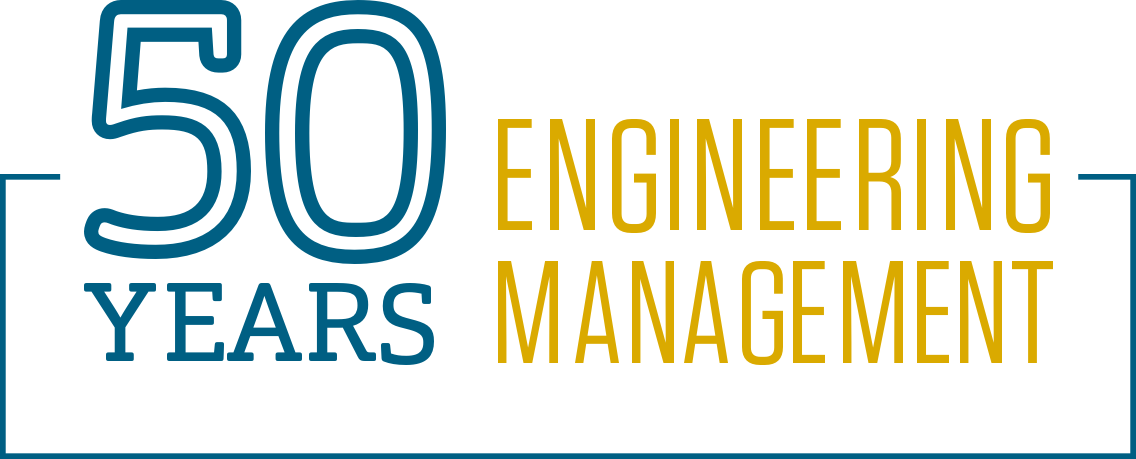 World's first engineering management program celebrates 50th anniversary
Training engineers to manage complex organizations is now accepted practice on many college campuses as well as in the modern workplace.
Combining the worlds of technical-oriented problem solvers and bottom-line number crunchers into its own academic discipline? A half-century ago, that notion took root not in a corporate boardroom, but on the campus of what is now Missouri University of Science and Technology.
"These companies came to Rolla and said, 'Please help us,'" says William Daughton, a professor emeritus and former chair of Missouri S&T's department of engineering management and systems engineering. "'We take these great engineers, we make them managers and then they fail miserably.'"
Spurred by the marketplace needs of Boeing, McDonnell Douglas and other industry giants, the University of Missouri System Board of Curators authorized a master's degree program in engineering administration at the Rolla campus in 1965. Approval of a bachelor's degree in engineering management followed one year later. Then-Chancellor Merl Baker hired Bernie Sarchet, an executive with chemical manufacturer Koppers, to lead the new venture.
One of Sarchet's first moves was to relocate the program from the economics department to the engineering school. He recruited faculty from the ranks of industry, where he had served for decades. And he quickly solidified an evening graduate engineering program in St. Louis by expanding course offerings at the satellite facility to accommodate part-time students – largely full-time engineers looking to advance their careers.
Sarchet also oversaw the formation of the field's pre-eminent professional engineering society, the American Society for Engineering Management, which grew out of a meeting of leading engineering managers at a St. Louis airport hotel. ASEM started in 1979 and for many years had its headquarters in Rolla.
He helped the university and his department extend their reach through cooperative programs as far as Vietnam and Saudi Arabia and as close as nearby Fort Leonard Wood, the sprawling Missouri military installation where officers can earn accelerated graduate degrees in conjunction with the U.S. Army Engineer School.
Friends, colleagues and former students recall Sarchet, who died in 2000 at age 82, as a soft-spoken, deeply religious man committed to the success of his students, faculty and the burgeoning field as a whole.
"He was the kindest, most gentle man I know," says associate professor Stephen Raper, a Missouri S&T graduate who is also associate chair of undergraduate studies in Sarchet's former department. "He was a man of faith…I have seen a living, walking, breathing example of a servant leader."
"Sarchet is considered by many to be the founder of engineering management as a discipline worldwide,"adds professor and interim department chair Suzanna Long. Sarchet continued to work on the university's behalf when he stepped down as department chair in 1981 after 14 years. Speaking at the 1988 dedication of the new Engineering Management Building, Sarchet described the department's origins more than 20 years earlier.
"What we tried to do is bring in the humanities and social sciences for engineers," he said. For undergraduates, that means classes in economics, finance, marketing, psychology, speech and communications and technical writing in addition to their engineering curriculum, with a choice of industrial engineering or management of technology as emphasis areas. Raper calls the curriculum the foundation of a "big-picture type degree" – one that has seen many of its recipients not only thrive as managers but also as successful entrepreneurs.
---

Have a listen – Accomplished graduates and top business leaders discuss with Missouri S&T's Alan Scher Zagier how the university's first-of-its-kind engineering management department has left its mark on industry and academia.
---
"It doesn't have any one endpoint. It has a lot of applicability for many industries," he says. Its footing firmly established, the department has continued to evolve. In 1999, The Boeing Co. sought an academic partner to provide graduate education in systems engineering to its worldwide workforce. That led to graduate programs at the University of Southern California and Missouri S&T, where the department of engineering management and systems engineering is now one of nine academic units in the College of Engineering and Computing.
The S&T systems engineering program now includes students from more than 20 other companies, as well as on-campus students. "The real success story for engineering management as an academic field has been at the master's level," says Daughton, a former ASEM president. "That's where it has had the most traction, with over 70 programs offering master's degrees around the country."
"The real success story for engineering management as an academic field has been at the master's level"
Several events are planned during Homecoming week to celebrate the department's 50th anniversary, including a banquet on Thursday evening, Oct. 13; an afternoon reception at the Engineering Management Building on Friday, Oct. 14; and a department tailgate on Saturday, Oct. 15, before the Miner football game against Lincoln University.
For Ron Jones, a 1981 graduate and senior executive at Burns & McDonnell, the department's foremost legacy can be found in both its origin story and its continued connection to corporate employers: "Being responsive to the needs of industry to create programs that serve their needs."
"It is truly a great success story," says Jones, president of the S&T Academy of Engineering Management.
View the ASEETV video about Missouri S&T's department of engineering management and systems engineering.