Missouri S&T theater students earn performance awards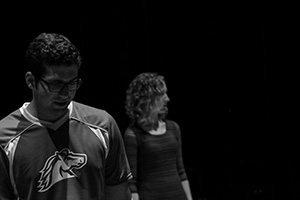 Missouri University of Science and Technology's theatrical production of "Good Kids," which examines attitudes and misconceptions about sexual assault, has earned three awards of excellence from the Kennedy Center. The awards will be presented at the Kennedy Center American College Theatre Festival-Region 6, which will be held Feb. 23-27 at Angelo State University in San Angelo, Texas.
Jeanne Stanley, associate professor of theatre at Missouri S&T, earned Excellence in Directing; Arden Hawley, a junior in information science and technology from Rolla, Missouri, earned Excellence in Stage Management; and the entire cast of "Good Kids" earned Excellence in Ensemble Acting.
Also during the festival, three Missouri S&T students will compete for a national acting scholarship to support their current studies. Hannah Christy, a freshman in chemistry from St. Louis; Peyton Shaw, a freshman in petroleum engineering from Palmer, Alaska; and Lauren Werkmeister, a sophomore in environmental engineering from Fenton, Missouri, were selected to compete for the scholarship.
Each nominee will perform a scene with an acting partner. Christy will perform with Brendan Boggs, a junior in architectural engineering from St. Louis. Shaw will perform with Andrew Doing, a sophomore in chemical engineering from Ellisville, Missouri. Werkmeister will perform with Allyssa Bennett, a senior in aerospace engineering from Imperial, Missouri.
Bennett and Shaw have also been selected to direct a student scene at the festival.
"The critic who judged us was, frankly, thrilled to watch science and engineering students pour their hearts, souls and talents into the project," says Stanley, who directed the fall performance. "The students were chosen to perform a scene at the regional festival – a rare honor amongst the schools in the five state region."
"Good Kids" takes place after a high school party, when a girl is raped by a group of football players. It focuses on the repercussions of the event and the rumors that circulate among her peers. The story is told through various witness and participant points of view.
"This play examines an incident of sexual assault through the lens of social media and other students," says Stanley. "This is a hard look at sexual assault and how society deals – or doesn't deal – with it."
Written by Naomi Iizuka and initially ordered by the Big Ten Playwriting Commission to be performed for Big Ten division schools, "Good Kids" is intended to educate audiences and generate discussion and eradicate sexual assault.
For more information about the regional festival, visit www.kcactf6.org.