15 noteworthy moments from 2015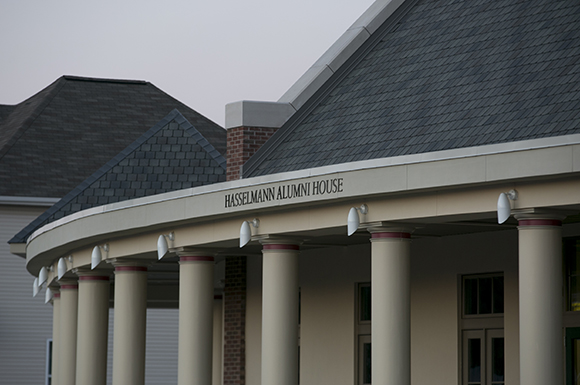 2015 was a year of important firsts for Missouri S&T. We opened our new alumni house, started a new biomedical engineering minor, launched our first crowdfunding campaign and completed our first year with geothermal energy as the main power source for much of campus. We also had our first multi-million-viewer video on Facebook — a clip of students dressed as dinosaurs riding bicycles.
In keeping with the end-of-year tradition of list making, here is our list of the top 15 noteworthy moments of 2015. (And if year-end lists are your thing, check out this other list of the year's notable achievements in innovation.)
Experience required
Front and center in Missouri S&T's strategic plan is the requirement that all undergraduates take part in at least one significant experiential learning project. This new requirement took effect with the Fall 2015 class of first-year students. At the beginning of the semester, we shared 10 ways S&T students can gain experiential learning experience.
An underground success
All of those months spent navigating orange barrier fencing around campus have paid off. S&T's geothermal energy system — a network of underground wells and pipes — completed its first full year of operations during the fiscal year that end last June 30. Projected to cut campus energy use in half, the system proved to be an even better investment than expected. Geothermal actually cut energy use by 57 percent, reduced water use by 18.7 million gallons and reduced carbon dioxide emissions by 25,013 tons. "The results confirm that the system works as designed and will pay for itself over time from budgeted savings," says James Packard, S&T's director of facilities operations.
A new home for alumni
The long-awaited Hasselmann Alumni House opened its doors over St. Pat's Weekend last March with a public dedication ceremony. "Every family needs a place to call home," says Darlene Ramsay, a 1984 metallurgical engineering graduate and executive vice president of the Miner Alumni Association. "Now, more than 57,000 Miners have a home for reunions, celebrations, meetings — and just plain taking it easy with friends."
Student design teams shine
From the Mars Rover Design Team's trip to Europe to top-five finishes by the Solar Car, iGEM, Formula SAE and Solar House teams, 2015 was a great year for our student design teams. Other student teams also fared well. A Missouri S&T women's team traveled to Australia to compete in the Intercollegiate Mining Competition, and once again returned to Rolla as international champs.
Another record enrollment
For the third year in a row, a record number of students enrolled at Missouri S&T, proving once again that the value of an S&T education remains in high demand.
Value-added U
Speaking of value: Last spring the Brookings Institution rated Missouri S&T as one of the nation's best "value-added" universities — a distinction that led one media outlet to compare Rolla with Cambridge, Massachusetts (home of Harvard and MIT). S&T also was highly ranked in the 2015 PayScale College ROI Report.
Open the door, get on the floor
Can you believe that a silly video of S&T students dressed as T. Rexes, frolicking and riding bicycles outside the Havener Center, went viral on Facebook, imgur and elsewhere in the social media sphere? Neither could we. At first. But then the hits started rolling in. At last count, we were closing in on 10 million views for this clip. Thanks to the Sigma Phi Epsilon fraternity members who put on the costumes during Greek Week last September.
50 years of Phridays
Missouri S&T's first African American fraternity, Alpha Phi Alpha, turned 50 last spring. The student group is known for spreading positive vibes on campus every Friday during the school year, when they high-five students during the noon hour at Havener Center. But the "Happy Phriday" fraternity, chartered during the height of the civil rights movement, encountered its share of struggles during those early years, as alumni recount. It was also a historic year for the Chancellor's Advisory Committee on African American Recruitment and Retention, which turned 30 in 2015.
Productive partnerships
The university continued to build on its partnerships with other entities in 2015, signing agreements with Phelps County Regional Medical Center and Kansas City-based Honeywell Federal Manufacturing & Technologies to further joint research and educational opportunities.
In with the crowd
Missouri S&T entered the crowdfunding era during Philanthropy Month with the launch of an effort to raise money to send the Mars Rover Design Team to Europe. Supporters have responded with gifts large and small. Since that successful campaign, the university has raised funds through the crowdfunding platform to support the High Powered Engineered Rocket Design Team, the Solar House Design Team, Celebration of Nations, Formula SAE Team and, most recently, the Miner Challenge Alternative Spring Break program.
Winning athletic achievements
Several S&T sports teams experienced outstanding seasons in 2015. The Miners made the postseason in baseball, volleyball and men's soccer, while men's track and field won its second consecutive GLVC conference title and members of the swimming team earned a trip to the NCAA Division II Swimming & Diving Championships. In addition, numerous student-athletes earned academic and athletic honors, including four Academic All-America recipients: Katlyn Meier (women's track and field), Keith Sponsler (swimming), Ryan Lawhead (men's soccer) and Krista Haslag (volleyball).
A golden year for computer science
In 2015, our computer science department turned 50 (that's 110010 years in binary) and we celebrated in style with a Golden Jubilee event over Homecoming. The S&T computer science department was the first to be established in Missouri and one of the first in the nation.
South of Rolla, a new field of dreams
Southwest of Rolla, 10 acres of land once farmed by some of the area's earliest settlers is now being explored by Missouri S&T students, who are themselves pioneers of a sort. Working with the Missouri Department of Conservation and the family of Dr. George Bohigian, Missouri S&T is in the process of turning that area into a field station that will benefit students in a variety of majors.
The French (and British) connection
Study abroad took on a new twist this year when two groups — Miners in France and Miners in London — began a little selfie rivalry during their short-term study sessions last spring. It began when the Miners in France group issued the Paris-London Challenge on the Miners Abroad blog. The London study group responded in kind, and from there the rivalry escalated until … well, see for yourself.
Vegas, TPM and all that jazz
Our prolific faculty authors were busy in 2016, publishing books on a vast array of subjects. They include an investigation into the life of Las Vegas mobster Benjamin "Bugsy" Siegel, a text about ultra-high-temperature ceramics, a collection of essays about 21st-century Africa, a book on the  total productive maintenance management strategy, a look at the Nazi concentration camps through the eyes of American GIs, a study of effective communications and safety practices in the food industry, a discourse on the origin of the term jazz and a philosopher's reflective look at moral development. In addition, an engineering management faculty member received a book of the year award in 2015, while another faculty member's video essay was included in a year-end listing of 2015's best video essays.