Missouri S&T, PCRMC form partnership for research and education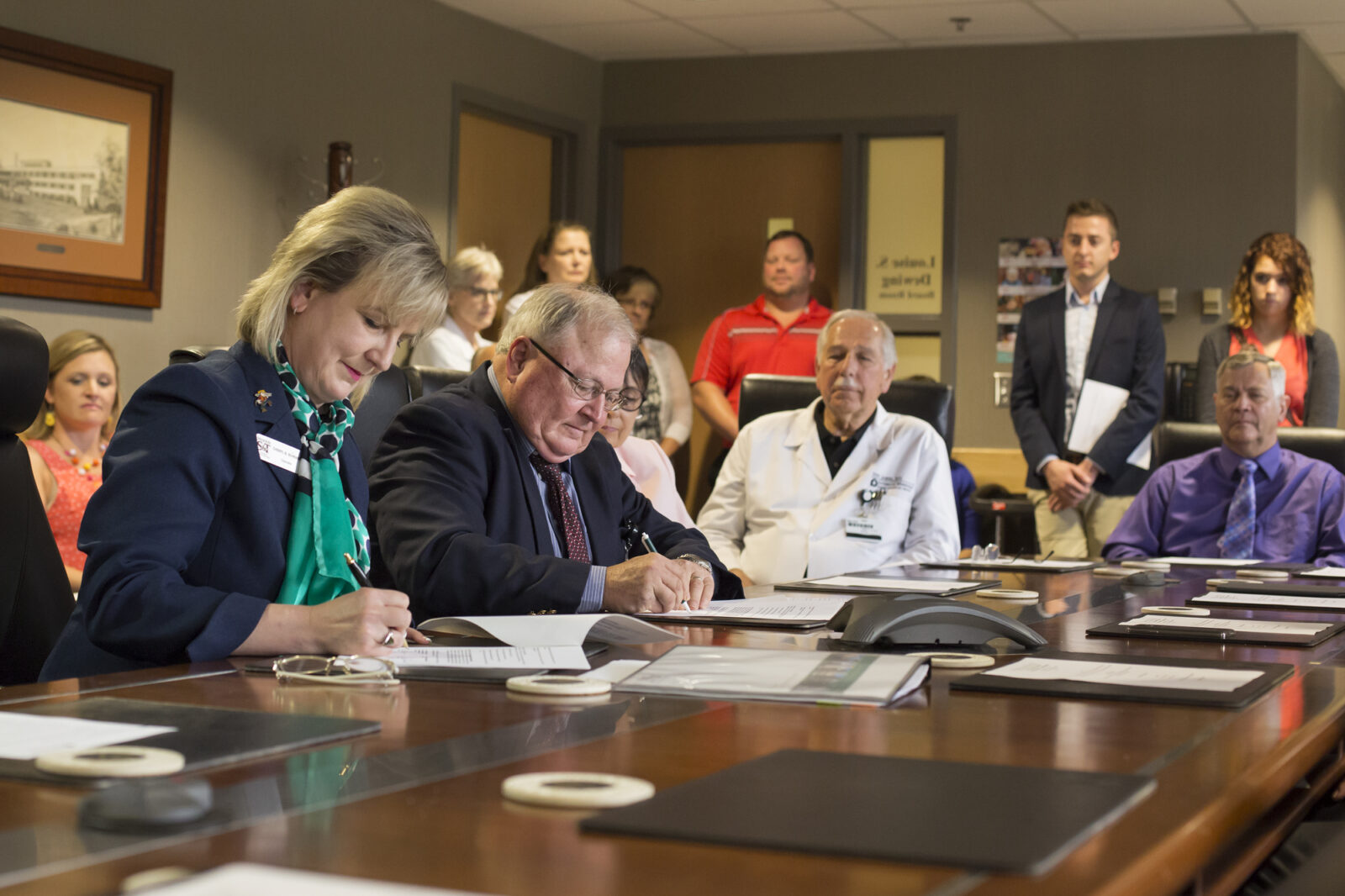 Officials from Missouri University of Science and Technology and the Phelps County Regional Medical Center met today (Thursday, July 2, 2015) to sign a memorandum of understanding (MOU) that will help both institutions increase research collaboration and educational exchange.
"We are excited to join Phelps County Regional Medical Center on such an important collaboration," says Dr. K. Krishnamurthy, vice provost for research at Missouri S&T. "Both Missouri S&T and PCRMC have a long history of serving the Rolla community and the state of Missouri. This partnership, which combines world-class technological research and medical advances, will build upon the success of both institutions."
The MOU will promote collaboration in research and education and facilitate the exchange of ideas. It will leverage each institution's resources in facilities, sponsored research, scholarly activities and technology transfer, as well as the development of new academic programs.
Research conducted as part of this collaboration is expected to be broad-based, ranging from the development of biomaterials for a number of applications to cancer detection, diagnosis and treatment to healthcare informatics, says Krishnamurthy.
"Missouri S&T and PCRMC are both tremendous academic institutions," says Dr. Donald James, senior vice president and chief medical officer at PCRMC. "Combined, the two organizations provide a pool of clinical, medical and engineering skills to possibly redefine and create new ways of providing medical care. Medicine and biomedical research go hand-in-hand when creating new opportunities to improve healthcare, and the close proximity between Missouri S&T and PCRMC make the partnership a natural choice."
The partnership calls for exchange of faculty, post-doctoral fellows, students, physicians and other allied health staff; joint research activities; exchange of academic materials; publication of the results of collaborative research projects and joint academic programs, non-academic programs, seminars and meetings.
"The collaboration between PCRMC and Missouri S&T redirects the future for both the hospital and the university," says Jo Ann Brand-Hoertel, chair of the PCRMC Board of Trustees. "The collaboration represents the probability of growth for the Rolla area, but more importantly, the partnership creates new opportunities and benefits for mankind through the research that will be done in Rolla, Missouri."
The MOU establishes an executive board and a research and education council made up of representatives from Missouri S&T and PCRMC. These groups will explore potential collaborative projects, foster that collaboration and take necessary steps to achieve the goals of each project.
The executive board will be led by Dr. Warren K. Wray, vice chancellor for global and strategic partnerships at Missouri S&T, and John Denbo, president and CEO of PCRMC.
"Missouri S&T has wanted to develop a graduate degree program in biomedical engineering for some time," says Wray. "This collaborative agreement will allow us to pursue that degree as well as utilize many of the PCRMC physicians and specialists to teach or team-teach our STEM students with interests in bioengineering, bioscience, or biomedical engineering or other courses that have a focus on medical applications. The PCRMC physicians and specialists may also assist our graduate students in the research needed for their thesis or dissertation."
Other Executive Board members from Missouri S&T include Walt Branson, vice chancellor for finance and administration; Dr. Stephen Roberts, vice provost and dean of the College of Arts, Sciences, and Business; Dr. Ian Ferguson, vice provost and dean of the College of Engineering and Computing; and Krishnamurthy.
Other Executive Board members from PCRMC include Dr. Donald James, senior vice president and chief medical officer; Ed Clayton, chief operations officer and chief financial officer; and Dr. Larry Marti.
The Research Education Council will consist of five faculty members and five physicians or allied health staff. Inaugural membership will be staggered. Two members from each institution will serve two-year terms, initially. Then all appointments will be made for a three-year term.