Emeritus professor James O. Stoffer establishes endowed professorship in polymer chemistry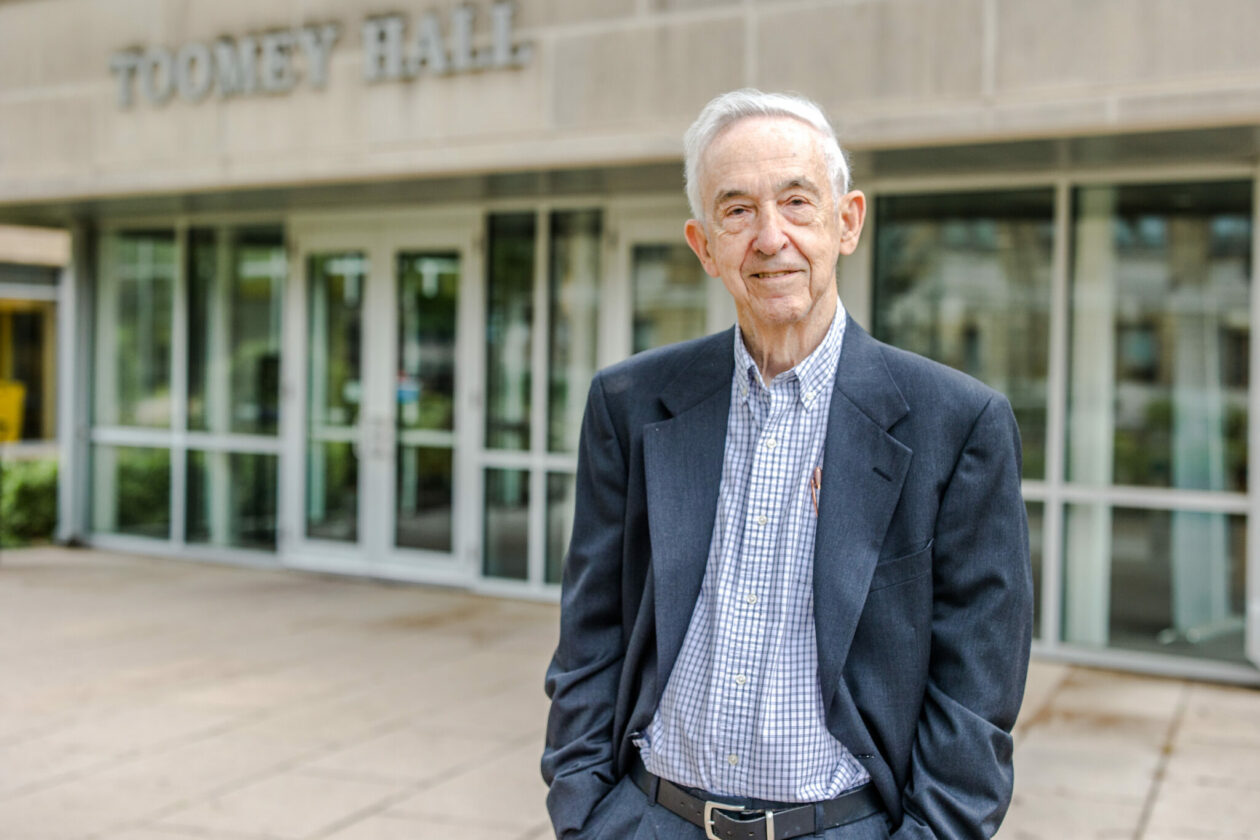 Dr. James O. Stoffer, Curators' Distinguished Professor emeritus of chemistry at Missouri S&T, has donated a $550,000 gift of patent royalties to establish a professorship in polymer chemistry in his home department.
Matched by funds from the university's Kummer Inspiration Program, the $1.1 million James O. Stoffer Endowed Professorship in Polymer Chemistry will also support the staff and equipment needed to advance the science behind everyday materials such as plastics, rubber, coatings and paints.
Stoffer's royalties stem from his pioneering research, which began in the 1990s at Missouri S&T, to replace toxic chromates used as a corrosion inhibitor on military aircraft. Working with the late Dr. Thomas O'Keefe, Curators' Distinguished Professor of metallurgical engineering, Dr. Eric Morris, who earned a Ph.D. in chemistry from S&T in 2000, Dr. Scott Hayes, who earned a Ph.D. in chemistry from S&T in 2005, and other graduate and post-doctoral student researchers, the team developed the first environmentally friendly alternative to toxic, chrome-based anti-corrosion coatings. Their discoveries are patented and used extensively in the aerospace industry as a certified standard solution for aircraft coatings. Their research also led to an R&D 100 Award from R&D Magazine.

"It was a privilege to work with Tom O'Keefe on the metallurgical side of the research," says Stoffer. "In the end, we would not have had success without the superior work of my doctoral students, Eric Morris and Scott Hayes."

"Dr. Stoffer's gift constitutes the first endowed professorship by an emeritus professor in the College of Arts, Sciences, and Education (CASE)," says Dr. Mehrzad Boroujerdi, vice provost and dean of CASE. "It will make a big difference in our ability to serve our students and will contribute to the positive impact the college makes. I am thankful to Dr. Stoffer for his generous gift."

Stoffer was instrumental to the development of the university's polymer chemistry program, one of the first in the United States to be accredited by the American Chemical Society. He joined the Rolla chemistry faculty in 1963 and became professor emeritus in 2000. He earned a Bachelor of Science degree in chemistry from Mount Union College in 1957 and a Ph.D. in chemistry from Purdue University in 1961, followed by post-doctoral study at Cornell University.
Stoffer taught organic and polymer chemistry to generations of young scholars and was a five-time recipient of the university's Outstanding Teacher Award and a three-time recipient of the Faculty Excellence Award. He became a senior investigator with the university's Graduate Center for Materials Research in 1985 and served as the center's director from 1992 through 2001. He also directed the Paint Short Course Program from 1985 to 1987 and taught the Coatings Short Course to students in the industry for 30 years.
Over the years, Stoffer has contributed numerous gifts to Missouri S&T's chemistry department, including the sponsorship of a lecture series that is also funded with his royalties.

"Polymer chemistry is my life, and I enjoyed teaching," says Stoffer. "I taught maybe 10,000 students during my time at Rolla. I've also been successful in taking research to market — blessed if you will. I want to share that success with Missouri S&T so students will see that they, too, can be successful in scientific careers."
Stoffer also served the Rolla community as a member of the Rolla Municipal Utilities board of directors for 31 years, including 10 years as president. He also served on the Rolla Planning and Zoning Commission for 12 years.