On 10th anniversary of name change, 10 things to celebrate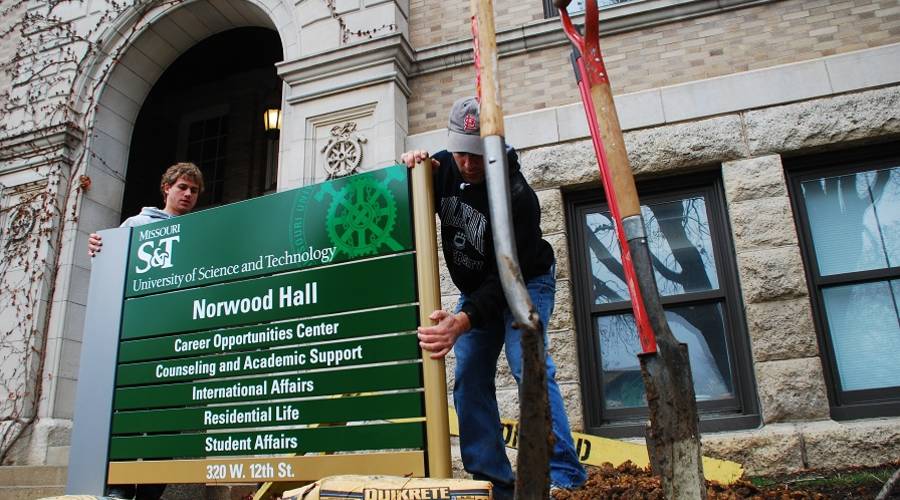 Ten years ago today the University of Missouri-Rolla (UMR) became Missouri University of Science and Technology (Missouri S&T — or S&T — for short). It was the culmination of a process that began in 2006 with a proposal to discuss the idea of changing the university's name. Following months of discussion, market research and opinion surveys, the University of Missouri Board of Curators approved the name change in April 2007, and the new name took effect on Jan. 1, 2008.
Much more than the name has changed on campus over the past decade. Here are 10 things worth celebrating about Missouri S&T on the 10th anniversary of our name change:
1. Growing enrollment
What better measure of success is there for a university than growth in the number of students who attend? At Missouri S&T, enrollment has grown by more than 44 percent over the past 10 years — providing strong evidence that a Missouri S&T degree is in demand now as much as ever. The fall 2007 enrollment was 6,167, which at the time was impressive — the highest since the mid-1980s. After the name change, enrollment continued to grow, defying national trends of enrollment declines. Last fall's enrollment of 8,884 students includes a record number of on-campus students.
2. Missouri S&T grads remain in high demand
A Missouri S&T degree is not just a worthwhile investment for our students. It's also an indicator to future employers that our students are well prepared when they graduate. While that was also true prior to the name change — the Fall Career Fair of 2007 saw a record 250 employers sign up to attend — S&T's stellar reputation among prospective employers continues to shine. Another record fell last September, when more than 315 employers registered to attend the Fall Career Fair to meet and recruit our students.
3. The name
Yes, the official name is a mouthful. But it does aptly describe the university's focus on science, engineering and technology. (The university, of course, offers much more than STEM degrees, a point we'll get to in a moment.) And the shorthand name — Missouri S&T — is distinctive. While other universities in the U.S. have "science and technology" in their official names, none of them uses "S&T" to describe themselves. S&T is a name and identity all our own.
4. Beyond science, technology and engineering
Missouri S&T's reputation for excellence in engineering is undisputed. But it's building a strong reputation in a diverse range of disciplines, including teacher education (highly ranked by the National Council on Teacher Quality), an AACSB-accredited business and information technology department, and a history program filled with leading scholars in their fields, from military history to the Protestant Reformation and the lives of Jewish people in France during and after World War II. Like other STEM-focused institutions with similar names, Missouri S&T is building on that strong heritage to provide a high-quality education across disciplines. Over the past decade, S&T has expanded its academic offerings to include a bachelor of science in history (in addition to the bachelor of arts degree), a degree in multidisciplinary studies, and numerous certificate programs in various fields. In all, S&T offers 97 degree programs in 39 areas of study.
5. That logo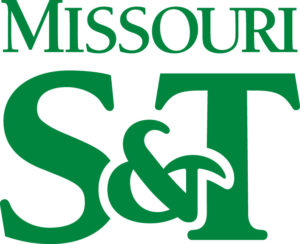 One of the marketing challenges the university faced under its former names (both UMR and the Missouri School of Mines and Metallurgy, or MSM) was the lack of a strong and consistent visual identity. The Missouri S&T logo, unveiled in its first iteration in the fall of 2007, was a giant step toward developing a consistent identity to accompany the new name. And with the customized ampersand, featuring a pickax, the logo is also a nod to S&T's origins as a mining school. As then-Chancellor John F. Carney III put it: "The new logo symbolizes our heritage as one of the nation's leading technological research institutions – a heritage and a distinction we will carry forth into the future as Missouri S&T." And as one alumnus/follower on Twitter put it more recently: the ampersand with pickax "is the greatest part of the logo."
6. A cohesive brand identity
A logo is only part of a brand identity, but it is often the most visible. The less visible part of a brand — what is said about the brand and how it is perceived — is just as important. In 2014 and 2015, S&T embarked on its first comprehensive market research since the name change. And the results of that market research helped the university refine its brand identity to connect various audiences with S&T's strategy and its heritage of discovery, creativity and innovation. Learn more about the S&T brand.
7. Continued alumni support
The Miner Alumni Association's Hasselmann Alumni House was one of several projects completed during the past decade. Like many of those projects, Hasselmann Alumni House was funded fully through the charitable gifts of alumni and other donors.
The economic downturn of 2008 hit the United States in the fall, just months after the name change took effect, and in the midst of a major fundraising campaign. Despite the shaky economic times of the next several years, alumni and other donors continues to support S&T, the campaign continued unabated, and the university completed several major construction projects without any state funds. Those include the 2011 completion of the Kummer Student Design Center, which houses most of Missouri S&T's 19 student design teams; James E. Bertelsmeyer Hall (the chemical and biochemical engineering building) in 2014, and Hasselmann Alumni House in 2015.
8. A strong reputation, growing stronger
College rankings are everywhere these days, and organizations rate institutions on all sorts of characteristics. But the rankings that matter most to prospective students and their parents emphasize outcomes — and in particular, the prospects of gainful employment after graduation. In those sort of rankings, Missouri S&T looks strong. For example, S&T is consistently ranked third in the nation by USAToday/College Factual in its ranking of schools with outstanding engineering programs. And a 2015 Brookings Institution report puts Missouri S&T on par with Harvard in terms of "value added." Learn more about how S&T fares in various rankings.
9. National recognition
Name changes are nothing new in higher education — or in the corporate world — but in academia, the transformation is usually more gradual. It may involve changing "college" to "university" in an attempt to convey more prestige. The move from UMR to Missouri S&T was more radical. S&T's approach caught the eye of Dr. Henry Petroski, a Duke University civil engineering professor, historian and author who writes a regular column for ASEE Prism, the magazine of the American Society for Engineering Education. Writing in the October 2011 issue of Prism, Petroski discussed in detail the university's approach to the name change and concluded: "Changing the name of an institution is never easy, but Missouri S&T has provided a model for how to do it successfully."
10. Miners all
Perhaps the greatest cause for celebration after a decade under the Missouri S&T banner is this: Regardless of whether you graduated from, studied at, taught at or worked at the Missouri School of Mines (MSM), the University of Missouri-Rolla (UMR) or Missouri University of Science and Technology (Missouri S&T), you are part of an exclusive group of Miners who exemplify the MSM/UMR/S&T spirit of digging deeper, of building on a nearly 150-year heritage of discovery, creativity and innovation to address the challenges that lay before us all. And that's certainly something worth celebrating.
On January 1, 2018. Posted in News
Looking for something?
CASE Department News
CEC Department News
Kummer College Department News