Catherine Johnson is Missouri S&T's 2023 Woman of the Year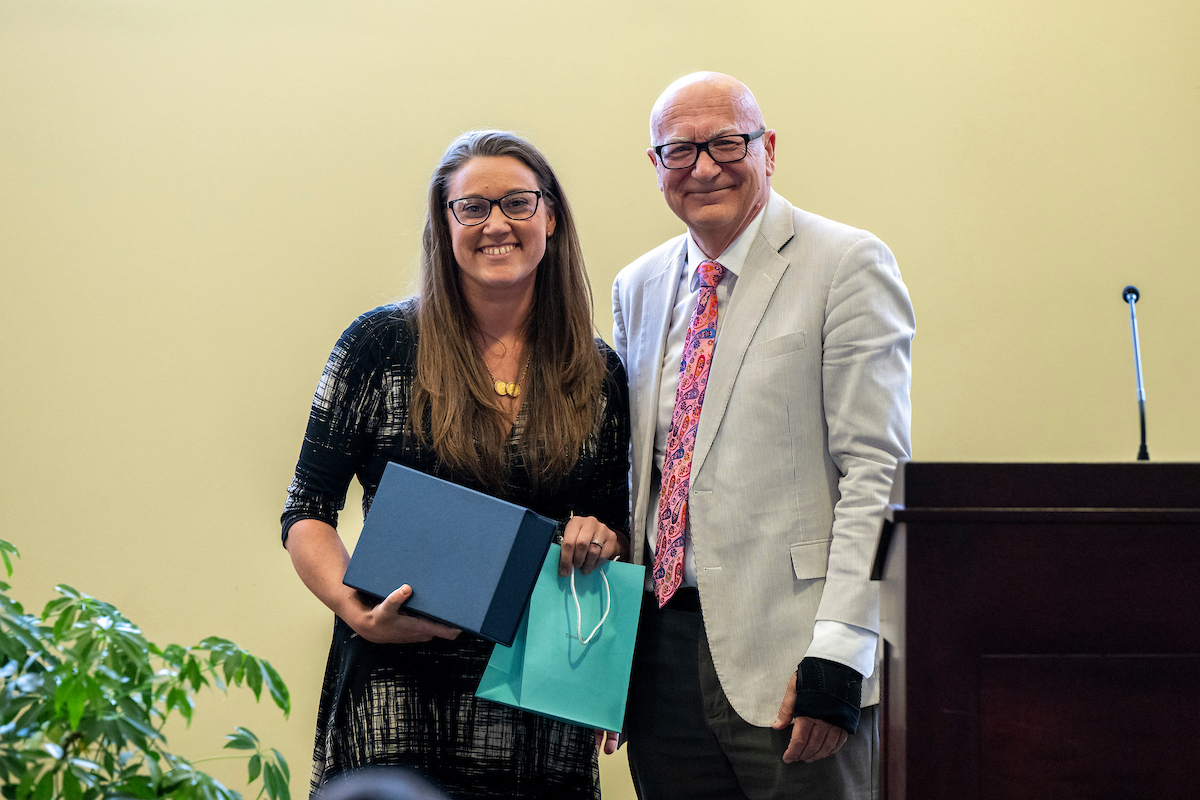 Missouri S&T honored Dr. Catherine Johnson, the Robert H. Quenon Associate Professor of Mining Engineering, as the 2023 Woman of the Year today (Wednesday, April 12) during a reception at Hasselmann Alumni House.
The Woman of the Year award is given annually to a full-time tenured or tenure-track faculty member who is a woman and serves as a role model for S&T students, contributing to the university through research, scholarship, teaching and service. As part of the award, Johnson received a $2,000 stipend funded by Missouri S&T graduate Cynthia Tang, founder and former chair of Insight Industries Inc.
Johnson joined the university in 2015 as an assistant professor of mining and explosives engineering. Prior to joining Missouri S&T, she worked as a graduate teaching assistant at the University of Kentucky in Lexington while she completed her Ph.D.
The event also honored Missouri S&T's Women's Advocate Award recipient, Dr. Kelley Wilkerson, assistant teaching professor of materials science and engineering.
In her time at Missouri S&T, Johnson has advised five Ph.D. students and four master's degree students. Her current research group includes 10 Ph.D. students and one master's degree student. With more than $11 million in collaborative funding, Johnson conducts research on the adverse effects of high explosives and blasting agents. She researches coal dust explosions, air overpressure from quarry blasting, shock physics, and shock wave injuries such as traumatic brain and lung injuries to develop better policy and training and improve protective equipment.
A former student describes Johnson as "a strong advocate for women in a historically male-dominated field."
"Catherine showed me how to be a good explosives engineer through example," says the student. "Throughout my time in graduate school, she put together a great group of students. We worked on a wide variety of projects that expanded our horizons and pushed us to be better engineers."
In addition to students, current faculty and staff also nominated Johnson.
"Dr. Johnson's activities, directives and personability will continue to attract girls and women to attend S&T for their undergraduate education, female graduate students to her research program, and women considering faculty positions," writes a faculty member.
"Dr. Johnson exemplifies what it means to be a leading woman in STEM and a female faculty member at this university," writes another nominator. "She is a great mentor and stretches beyond her bounds to show that women have a strong place in STEM. This goes beyond the walls of this university as well. We always get positive feedback from the K-12 teachers and students who have the privilege of working with Dr. Johnson in a workshop."
At S&T Johnson has taught Principles of Mining Engineering, Mining Industry Economics, Explosives Handling and Safety, Theory of High Explosives, and Scientific Instrumentation for High Explosives and Blasting.
Johnson is the vice chair of the program committee for the International Society of Explosives Engineers and won the society's President's Award in 2018. Also in 2018, she became an inaugural member of the University of Missouri System Presidential Engagement Fellows. She is the 2019, 2020 and 2021 recipient of the mining engineering department research award, and the 2020 recipient of the department teaching award. In 2021, she was named a dean's scholar in the College of Engineering and Computing as well as a recipient of S&T's 2020-21 research award.
Johnson holds a Ph.D. in mining engineering from the University of Kentucky and bachelor's and master's degrees in mining and quarry engineering from the University of Leeds in England.