Kelley Wilkerson receives 2023 Women's Advocate Award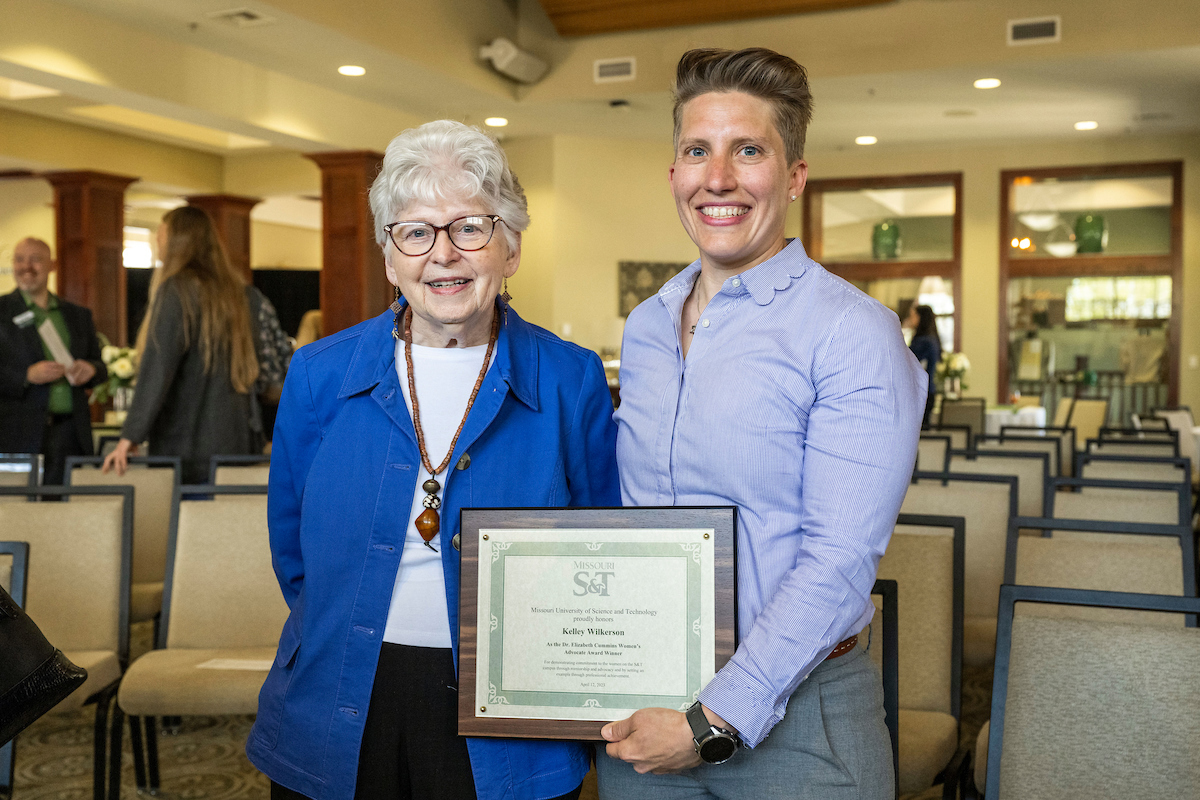 Dr. Kelley Wilkerson, assistant teaching professor of materials science and engineering at Missouri University of Science and Technology, has been named the 2023 recipient of the Dr. Elizabeth Cummins Women's Advocate Award at Missouri S&T. She was honored during a reception today (Wednesday, April 12) at Hasselmann Alumni House.
The Women's Advocate award is given annually to any Missouri S&T employee, regardless of gender or job designation, who demonstrates commitment to women on campus through mentorship and advocacy and by setting an example through professional achievement. As part of the award, Wilkerson received a $1,000 stipend funded by Missouri S&T graduate Cynthia Tang, founder and former chair of Insight Industries Inc.
The event also honored Missouri S&T's Woman of the Year. Dr. Catherine Johnson, the Robert H. Quenon Associate Professor of Mining Engineering.
Wilkerson is the faculty advisor for the Materials Advantage student organization and helped a group of students start the Ceramic Artists of S&T (CAST) club in 2020. She has led Missouri S&T's Summer Engineering Research Academy program for students from historically Black colleges and universities. She organizes many recruiting and outreach events and has led the Jackling Introduction to Engineering Summer Camp.
"Dr. Wilkerson modernized and streamlined the camp to improve the student experience," writes one faculty member who nominated her for the award. "As Jackling is the one of largest recruiting efforts for engineering each year, her leadership of the camp cannot be understated. For these pre-college students, it is difficult to predict just how many young ladies have discovered their passion for engineering and science, simply due to their interactions with a true leader in college."
"The positive impact that she has left on me will be one I carry with me throughout my career," wrote a recent graduate in her nomination.
Another nominator wrote "she is the type of person and engineer that I aspire to be."
Wilkerson has taught Materials Senior Design 1 and 2, Atomic Structure of Crystalline Materials, and leads several ceramics labs.
Wilkerson is an alumna of Missouri S&T. She earned bachelor's and Ph.D. degrees in ceramic engineering in 2007 and 2012, respectively.
Following graduation, she worked as a materials scientist at the Naval Air Warfare Center Weapons Division in China Lake, California. In 2013, she joined Allied Mineral Products in Columbus, Ohio, where she first worked as a senior research and development engineer and then as manager of light metals research. In 2018, Wilkerson joined the Missouri S&T faculty.