Dr. Sandra Magnus, S&T grad and former NASA astronaut, elected to National Academy of Engineering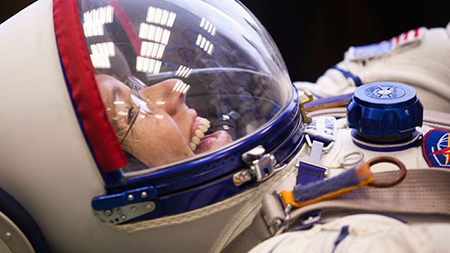 Dr. Sandra Magnus, a two-time graduate of Missouri University of Science and Technology and former NASA astronaut who spent over four months on the International Space Station and flew on the final space shuttle mission, has been elected into the National Academy of Engineering (NAE), the NAE announced Wednesday.
Election to the NAE is one of the highest professional distinctions for an engineer and recognizes outstanding contributions to engineering research, practice or education. The NAE cited Magnus for her "national accomplishments in the U.S. civil space program and in Department of Defense engineering and technology integration." She and the other newly elected NAE members will be formally inducted during the NAE's annual meeting Oct. 2.
"This recognition is a testament to the fact that Sandy has reached the pinnacle of her achievements, and she could not be more deserving," says Dr. Rich Wlezien, dean of the College of Engineering and Computing at S&T. "She is an inspiration to all of our students and alumni and has opened the way for women in science and engineering who will follow the path she has pioneered. We are very proud of her remarkable record with NASA as well as her work with the aerospace industry and national defense research. We're especially grateful to Sandy for her ongoing involvement with S&T."
"Throughout her career, Sandy has always led by example and created opportunities for others while breaking barriers herself," says Dr. Kate Drowne, dean of the College of Arts, Sciences, and Business, where Magnus earned her undergraduate degree in physics. "Her induction into the National Academy of Engineering represents a wonderful acknowledgment of her accomplishments and shows our students how much they can achieve in their own lives and careers."
A native of Belleville, Illinois, Magnus earned a bachelor of science degree in physics from Missouri S&T in 1986 and a master of science degree in electrical engineering from S&T in 1990. She also earned a Ph.D. in engineering from Georgia Institute of Technology in 1996. That same year, she was selected for NASA's Astronaut Corps.
Magnus flew her first mission to the International Space Station in 2002 aboard the space shuttle Atlantis. She boarded that same shuttle for her final mission – and the last mission of the 30-year shuttle program – in July 2011.
She returned to the space station in 2008 for a four-month assignment as a science officer. While living on the ISS, she blogged about the experience, answered questions posed by grade school kids and discussed life in orbit.
Magnus left NASA in 2012 to become executive director of the American Institute of Aeronautics and Astronautics, the world's largest technical society dedicated to the aerospace field. She held that position through 2018, then became a principal for AstroPlanetview LLC, an Arlington, Virginia, firm. She later served as deputy director for engineering with the Office of the Under Secretary of Defense for Research and Engineering. In 2021, she joined Virgin Galactic's Space Advisory Board to advise the company as it "moves forward to open space for the benefit of all," according to a company announcement.
Magnus is one of three Missouri S&T graduates who have gone on to careers as NASA astronauts. The others are Col. Tom Akers, who earned bachelor's and master's degrees in mathematics from S&T in 1973 and 1975, respectively, and Dr. Janet Kavandi, who earned a master's degree in chemistry from S&T in 1982.
A standout soccer player during her undergraduate years, Magnus was awarded the Great Lakes Valley Conference Alumni of Distinction Award in 2009. She was inducted into the Miner Athletics Hall of Fame in 2003 and was one of 10 alumni selected for Missouri S&T's Alumni of Influence 2016 class. She has remained active with her alma mater, returning to campus to speak with student groups and guest-lecture in classes. She delivered the university's commencement address in May 2012.
Magnus will return to S&T March 7 for a public presentation titled "Beyond the Horizon with Dr. Sandra Magnus." The event is sponsored by Sigma Phi Epsilon fraternity and will be presented in-person and virtually from Leach Theatre of Castleman Hall.
About Missouri University of Science and Technology
Missouri University of Science and Technology (Missouri S&T) is a STEM-focused research university of over 7,200 students. Part of the four-campus University of Missouri System and located in Rolla, Missouri, Missouri S&T offers 101 degree programs in 40 areas of study and is among the nation's top 10 universities for return on investment, according to Business Insider. S&T also is home to the Kummer Institute, made possible by a $300 million gift from Fred and June Kummer. For more information about Missouri S&T, visit www.mst.edu.