Donnell named Woodard Associate Professor for Excellence
Missouri S&T has named Dr. Kristen Donnell, an expert in microwave non-destructive testing of materials and high-frequency sensing, as the Woodard Associate Professor for Excellence. Donnell is an associate professor of electrical and computer engineering (ECE) at Missouri S&T.
"We are thrilled to hear that Kristen is the recipient of the Woodard Professorship," says Dr. Richard Wlezien, vice provost and dean of the College of Engineering and Computing at S&T. "She has had an outstanding record both as an educator and as a researcher, and this is rare among faculty at this level. We believe this award will play an essential role in helping her develop as a valued member of our faculty."
Donnell joined the Missouri S&T faculty in 2011 as an assistant teaching professor. She is also an S&T alumna, having earned her master's degree and doctorate in electrical engineering in Rolla. Prior to joining the S&T faculty, she worked as a post-doctoral researcher, graduate research assistant and student instructor at the university and was employed by Raytheon as an electrical engineer.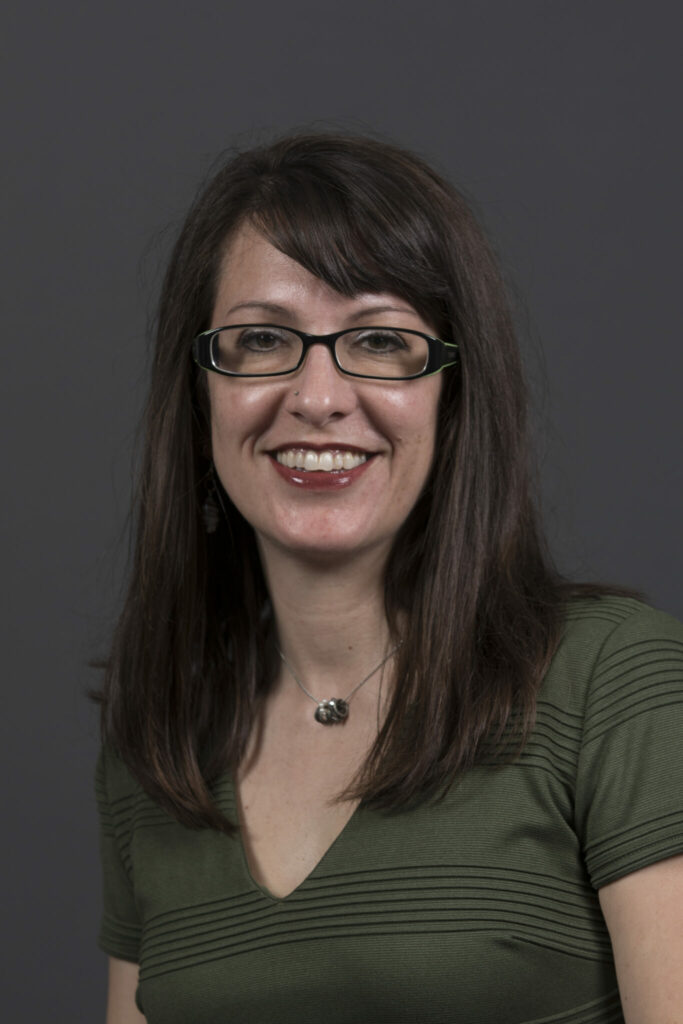 "I am honored to receive this award and to serve as a representative of the Woodard Associate Professorship," says Donnell, pictured. "This support will open the door to new avenues and directions of research that are of personal interest to me. Opportunities and outcomes growing from these new efforts will find a home within my classroom and provide important professional experience for my student research team as we continue to contribute to our field."
Donnell's research focuses on applied electromagnetics for high frequency sensing applications. She says that she and her team have successfully applied technologies to infrastructure and aerospace-based structural health monitoring, and she is eager to expand into the area of biosensing. Donnell says the Woodard award will provide the opportunity to focus on this new area.
Donnell is a senior member of the Institute of Electrical and Electronics Engineers (IEEE) and was elected to Eta Kappa Nu, IEEE's honor society. She is a member of the American Society for Engineering Education and the American Society for Non-destructive Testing and also holds an amateur radio license.
"Dr. Donnell has an outstanding record in research, teaching and service," says Dr. Steve Watkins, ECE interim chair and professor. "She is an excellent choice as a Woodard Associate Professor of Excellence. Our department is grateful to the Woodard family for their support of our program."
The Woodard Associate Professor for Excellence is endowed through a $1 million gift from Drs. Joan and James Woodard and supports mid-career faculty by providing research funding and other resources at a key stage in the academic track. This is the second Woodard Associate Professorship in ECE. Donnell joins Dr. Pourya Shamsi, an expert in smart grids and micro-grid technology, who received the honor in 2020.
Joan Woodard is a graduate and trustee of Missouri S&T and a member of the Kummer Institute Foundation Board of Directors. She is the retired executive vice president and deputy director of Sandia National Laboratories and has served on numerous advisory boards, commissions and study panels devoted to scientific discovery and national security, including the U.S. Secretary of State's International Security Advisory Board, the Air Force Scientific Advisory Board and the Defense Science Board.
Woodard holds a bachelor's degree in applied mathematics from Missouri S&T, a master's degree in engineering economic systems from Stanford University and a Ph.D. in mechanical engineering from the University of California-Berkeley. She is a member of the Academy of Computer Science and was awarded Missouri S&T Award of Professional Distinction and an honorary doctorate of engineering. In 2011, Woodard was named one of the university's Alumni of Influence.
About Missouri University of Science and Technology Missouri University of Science and Technology (Missouri S&T) is a STEM-focused research university of over 7,200 students. Part of the four-campus University of Missouri System and located in Rolla, Missouri, Missouri S&T offers 101 degrees in 40 areas of study and is among the nation's top 10 universities for return on investment, according to Business Insider. S&T also is home to the Kummer Institute, made possible by a $300 million gift from Fred and June Kummer. For more information about Missouri S&T, visit www.mst.edu.