CAREER Award funds research on earthquake history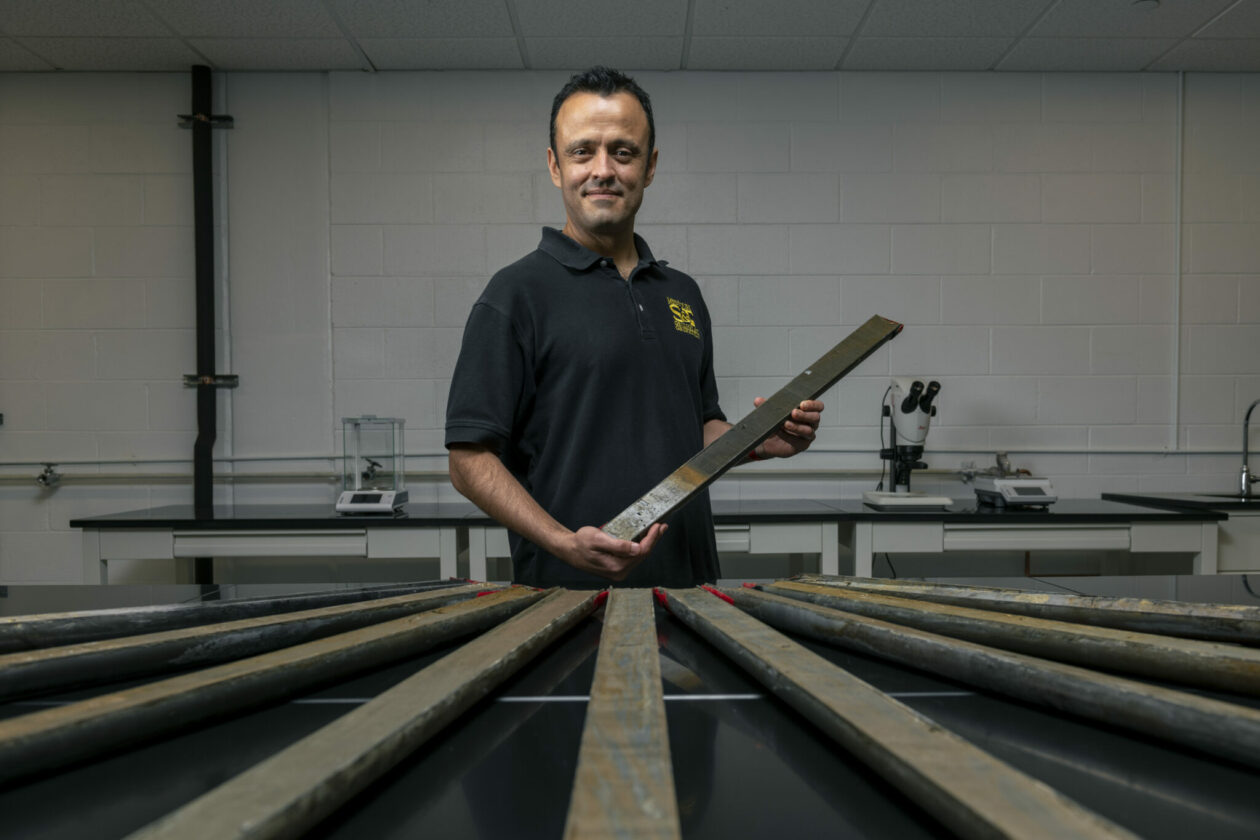 A researcher at Missouri S&T has won the National Science Foundation's Faculty Early Career Development (CAREER) Award for his research into the history of earthquakes along the North American-Caribbean tectonic plate boundary, which runs through the Caribbean Sea from Haiti to the Guatemala-Mexico border. The research will provide new insights for elementary and middle school students and will help scientists better understand how and when earthquakes occur in the region.
Dr. Jonathan Obrist-Farner, assistant professor of geosciences and geological and petroleum engineering (GGPE) at Missouri S&T, says a particular type of sediment forms when there are earthquakes. The five-year, $720,000 CAREER Award will support Obrist-Farner's study of sediments from lakes in Guatemala to determine when earthquakes occurred. His team will collect 10-meter sediment cores to identify earthquake-related sedimentary features and date them using radiocarbon-dating techniques. They will then use the information to determine how frequently earthquakes have happened along the plate boundary.
"People who live in areas with faults want to know when the next earthquake is coming," says Obrist-Farner. "By studying earthquake history and determining how often they have happened in the past, we may be better able to understand future seismic activity."
The research findings will also be used to educate Missouri elementary and middle school students about earthquakes. Obrist-Farner says one of the benefits of the award is the strong educational component. Funding includes money for small seismometers to be placed in science classrooms in Rolla.
Obrist-Farner grew up in Guatemala, where earthquakes are fairly common. He says a major earthquake in Guatemala now could be even more devastating than the 7.5 magnitude 1976 quake that killed over 22,000 people, left over a million homeless and resulted in $1.1 billion in damages – equivalent to $5.1 billion today. At that time, he says, the country's population was about 5 million. Now, the population is 18 million, and about 70% of the country's residents live along the fault.
"That fascinates me as an earth scientist," says Obrist-Farner. "It's the motivation to understand something better for the benefit of humanity. So many fundamental questions are still unanswered."
Obrist-Farner has a project with the International Continental Scientific Drilling Program that aims to collect up to a kilometer of sediment core samples from the largest lake along the plate boundary, which could provide millions of years of historical data.
Obrist-Farner joined the faculty at Missouri S&T in 2016. He holds a Ph.D. and a master's degree in geosciences from S&T and a bachelor's degree in geosciences from Wichita State University.
"Dr. Obrist-Farner's research is indicative of Missouri S&T's focus on making the world a safer place and the caliber of research being conducted here," says Dr. Costas Tsatsoulis, vice chancellor of research and graduate studies. "We congratulate him on his CAREER Award."
Obrist-Farner says he is grateful for the support of his colleagues and the collaborative atmosphere at Missouri S&T and the Guatemalan institutions that are assisting his research. This is the second CAREER Award for GGPE faculty in two years. Dr. Marek Locmelis, an assistant professor of geosciences and geological and petroleum engineering at Missouri S&T, received the award last year.
"Having two NSF CAREER Award winners in a program, particularly in back-to-back years, is exceptionally rare," says Dr. David Borrok, chair of GGPE. "It highlights the strength of our geoscience program and the quality of our research."
The NSF CAREER award supports junior faculty who exemplify the role of teacher-scholars through their outstanding research and education contributions. The recognition ranks recipients among the best early-career researchers in the United States.
About Missouri University of Science and Technology
Missouri University of Science and Technology (Missouri S&T) is a STEM-focused research university of over 7,600 students and part of the four-campus University of Missouri System. Located in Rolla, Missouri, Missouri S&T offers 99 different degree programs in 40 areas of study and is ranked by CollegeFactual as the best public university to study engineering. For more information about Missouri S&T, visit www.mst.edu.