Missouri S&T student team competes in finals of IEEE space antenna design contest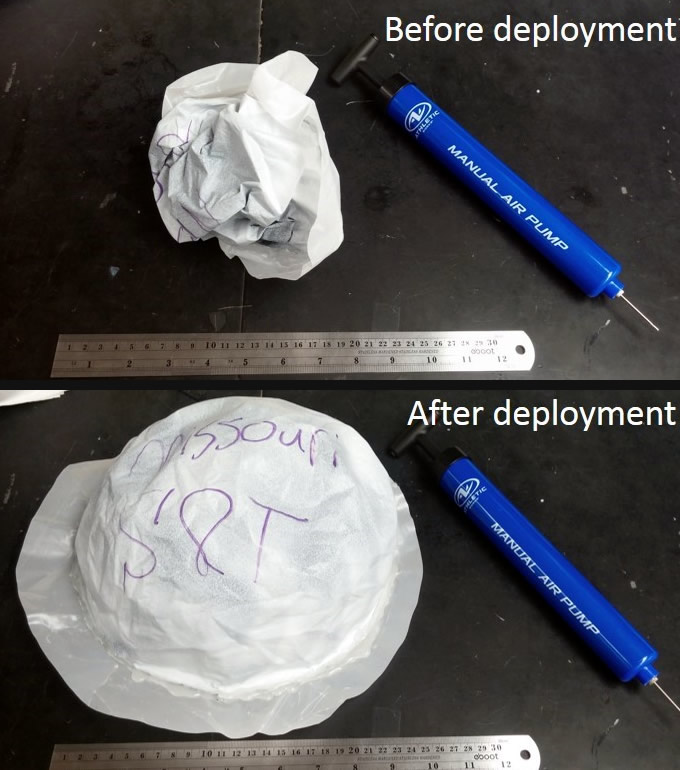 A three-person team of Missouri S&T engineering students is headed to California to vie for top honors in an international competition to construct more reliable antennas used in space travel by small satellites.
The student design contest, which begins Sunday in San Diego, is sponsored by the Institute of Electrical and Electronics Engineers (IEEE), the world's largest technical professional association. The Missouri University of Science and Technology team is one of six finalists, including university teams from Canada and Sweden.The contest requires student engineers to design and build antennas linking a ground station with a research spacecraft known as a cube satellite, or CubeSat. The miniature satellite designed by two S&T graduate students and one undergraduate consists of three units, each measuring 10 cubic centimeters. That's about the size of a single-serving cereal box found on a grocery store shelf.
Team leader Ali Foudazi, a doctoral student in electrical and computer engineering, and his colleagues developed a spiral antenna with a broad frequency range and the widest possible bandwidth that can be folded into a balloon attached to the CubeSat. Once in space, the hemispherical antenna would be released, unfolding to its full size.
"We had to find a way to mimic all the antennas together – the entire frequency band – and put it in one small antenna that can be mounted in a very tiny space," says Foudazi, who is spending the summer and fall as a visiting scholar at San Jose State University. "We can fold the entire antenna system, and when it's launched and in orbit, we can release the antenna."
Dr. Mohammad Tayeb Ghasr, an assistant research professor of electrical and computer engineering and the team's faculty adviser, says his students' "out-of-the-box thinking" has the potential to be more broadly embraced by other space engineers and scientists, including those working for the National Aeronautics and Space Administration (NASA) as well commercial interests.
"Implementing such inflatable designs will reduce the space taken up by the antenna within the limited CubeSat volume while simultaneously allowing for the use of larger, more efficient antenna," he says. "In space and satellite applications, size and weight significantly drive cost. This will result in more space being available for scientific payloads without sacrificing antenna and communication performance."
Also on the S&T team are Atieh Talebzadeh, a doctoral student in electrical and computer engineering and Foudazi's wife, both of Tehran, Iran; and Matthew Dvorsky, of Peoria, Illinois, who received his bachelor's degree in May.
In addition to the contest, both Foudazi and Talebzadeh will also present related research papers at the IEEE Antennas and Propagation Society (AP-S) symposium, which will be held July 9-14.