Missouri S&T's Ghasr earns international recognition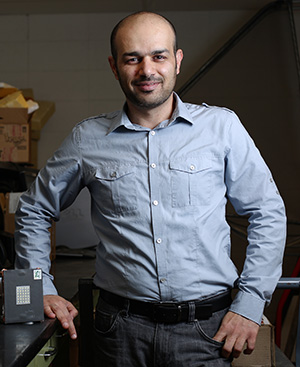 Dr. Mohammad Tayeb Ghasr, assistant research professor in electrical and computer engineering at Missouri University of Science and Technology, has been awarded the 2015 Research Award for Innovation from the American Nondestructive Testing Society (ASNT) and the IEEE Instrumentation and Measurement Society's 2014 J. Barry Oakes Advancement Award.
Ghasr was presented with the 2015 Research Award for Innovation during the ASNT Research Symposium in Anaheim, California in March. The award was given to recognize individual breakthroughs in microwave and millimeter wave nondestructive evaluation and testing research.
He received the Barry J. Oakes Advancement Award for his contributions to the development of real-time millimeter wave imaging systems for nondestructive evaluation applications. As part of this award, he will attend the upcoming 2015 IEEE International Instrumentation and Measurement Technology Conference in Pisa, Italy this May as an invited speaker.
Ghasr, a researcher in the Missouri S&T Applied Microwave Nondestructive Testing Laboratory holds five U.S. patents. His research focuses on the design and development of portable microwave and millimeter-wave imaging systems that are capable of producing 3-D images in real time. The microwave and millimeter-wave signals are able to penetrate non-conductive materials and ultimately produce an image of its inner structure.
"Millimeter wave imaging systems that are capable of producing images in real-time like a video camera are needed in several industries to ensure quality control and perform structural health monitoring," he says. "The recent advancement I've made allows for a design of an imaging system that is smaller and more cost-effective."
Current microwave millimeter imaging systems are large—as large as the size of a phone booth. Ghasr is focused on making miniaturized versions of current technology that are handheld and can be used in inspecting the quality of products without damaging them. Ghasr's design not only makes the imaging system smaller; it drastically reduces the cost.
"It's not just about the size of the instrument, it's about the hardware complexities," Ghasr says. "My design simplifies the electronics and the decrease in size and cost of the imaging technology is a result of that."
Ghasr says that the applications of his research are vast—from screening bags and backpacks carried into sporting venues, to inspecting the integrity of aerospace and space vehicles.