Two S&T infrastructure researchers named Heidman professors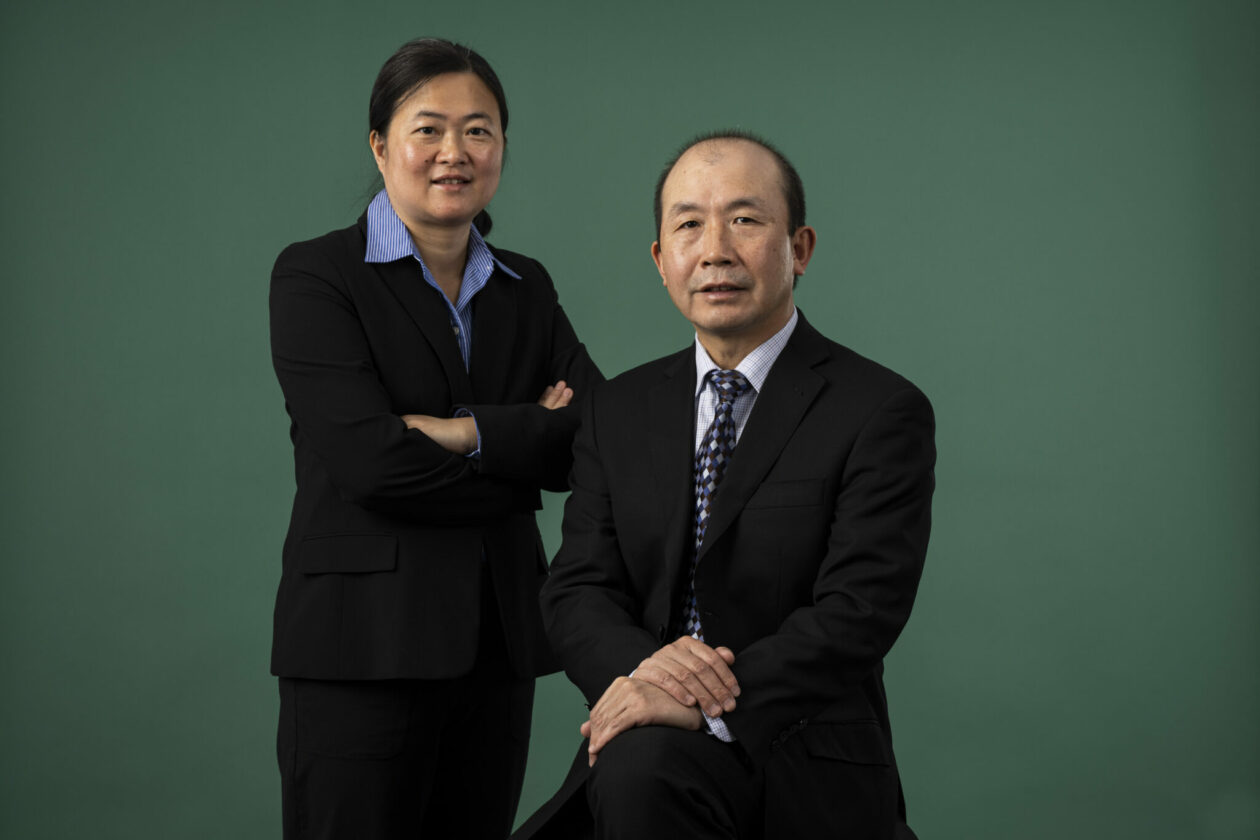 Drs. Jenny Liu and Xiong Zhang have been named James A. Heidman Professors of Civil, Architectural and Environmental Engineering at Missouri S&T.

"It is an honor to be appointed to this role and serve in a named professorship at one of the top engineering schools in the country," says Liu. "I am very grateful to university leadership for valuing and supporting faculty excellence, and I look forward to the opportunities this professorship will allow me to pursue."

Liu joined Missouri S&T in 2017 as an associate professor of civil, architectural and environmental engineering and was promoted to professor in 2018.

Her infrastructure research focuses on innovative additives and recycled materials such as waste plastic for asphalt. She earned her Ph.D. in civil engineering from Texas A&M University.

Zhang says he values being appointed to this professorship, which is named after an alumnus of the university.

"At Missouri S&T, we help students develop the skills necessary to make positive contributions to the world and help shape the future," he says. "James A. Heidman made a significant difference throughout his life, and I appreciate that I can inspire the next generation of students with this professorship and honor his legacy."

Zhang joined Missouri S&T in 2016 as an associate professor of civil, architectural and environmental engineering and was promoted to professor in 2020.

His research interests include unsaturated soil mechanics, constitutive modeling of geomaterials, remote sensing for geo-engineering applications, geothermal and ground source heat pump systems, soil stabilization and ground improvement, and frozen ground engineering. He holds a Ph.D. in civil engineering with an emphasis in geotechnical engineering from Texas A&M University.

Liu and Zhang have collaborated on research, along with 10 other universities within the National University Transportation Center (UTC) for Transportation Infrastructure Durability and Life Extension.

A gift from the estate of James A. Heidman funds these professorships. Heidman earned his bachelor's and master's degrees in civil engineering from Missouri S&T in 1965 and 1966, respectively.

Heidman was a retired lieutenant colonel in the Army and former staff engineer with the U.S. Environmental Protection Agency. He lived in Mountain Home, Arkansas, prior to his death in 2014. His bequest was also instrumental in funding S&T's Clayco Advanced Construction and Materials Laboratory.
About Missouri S&T
Missouri University of Science and Technology (Missouri S&T) is a STEM-focused research university of over 7,000 students. Part of the four-campus University of Missouri System and located in Rolla, Missouri, Missouri S&T offers 101 degrees in 40 areas of study and is among the nation's top 10 universities for return on investment, according to Business Insider. For more information about Missouri S&T, visit www.mst.edu.