S&T contributes to infrastructure durability and lifespan through national center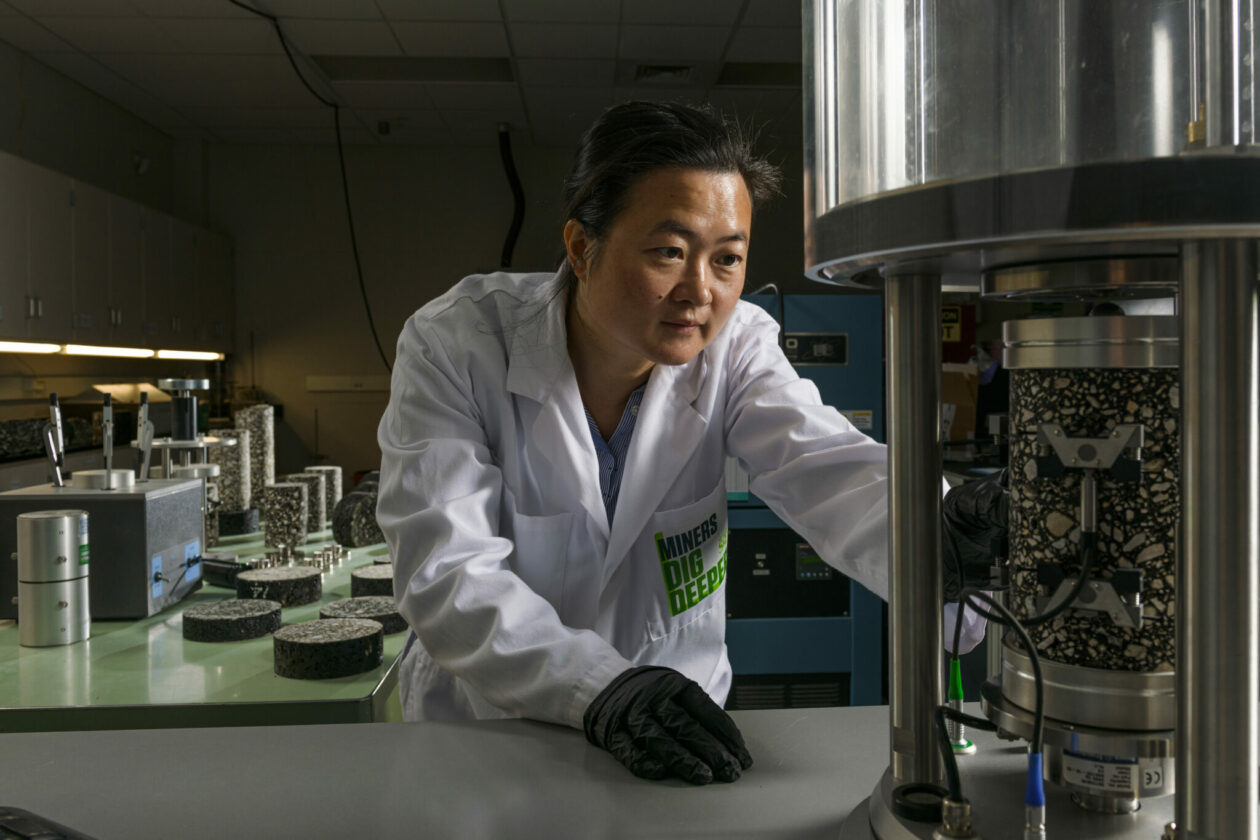 As America's infrastructure ages and climate change takes a toll on highways, railroads and bridges, Missouri S&T is researching stronger, longer-lasting materials and innovative technologies as a member of the only national university transportation center focused on improving the durability and extending the lifespan of infrastructure.
"S&T has very strong expertise," says Dr. Jenny Liu, professor of civil, architectural and environmental engineering at Missouri S&T and the center's primary S&T investigator. "We are doing exciting research by using new materials and emerging techniques such as remote sensing and data analytics."
Liu says the research focuses on critical infrastructure issues like natural hazards, corrosion agents, extreme events, and monitoring and managing infrastructure. Missouri S&T has been working with 10 other universities within the National University Transportation Center (UTC) for Transportation Infrastructure Durability and Life Extension since 2019. Recently, the U.S. Department of Transportation renewed the UTC for an additional year, awarding a total of $10 million over four years. Missouri S&T will receive over $2.2 million throughout the grant period.
Liu's research focuses on innovative additives and recycled materials such as waste plastic for asphalt. Additives called phase-change materials – those that change from liquid to solid, for instance – are used to create thermal adaptive pavement and enhance longevity, thereby saving the cost and labor involved in asphalt maintenance.
"More than 94% of roads in the U.S. are paved with asphalt, which is a temperature sensitive material," says Liu. "Different states have to use different types of asphalt depending on their climate conditions – winter in Alaska or summer in Missouri or Texas, for instance. We're working to verify that phase-change materials can work to keep asphalt cool or release heat depending on the need."
Liu's team at S&T is also applying emerging techniques. Dr. Xiong Zhang, professor of civil, architectural and environmental engineering, at S&T, is developing a 3D method to detect and characterize cracks in bridges. Zhang uses an unmanned aerial vehicle and structure-from-motion photogrammetry to accurately reconstruct a 3D structure from 2D photographs. The technique would provide a high-accuracy, low-cost and easy-to-operate tool in bridge inspection and maintenance.
Liu is also working with Dr. XianBiao "X.B." Hu, assistant professor at Pennsylvania State University and an adjunct faculty member in civil, architectural and environment engineering at Missouri S&T, to anticipate the effects of autonomous vehicles on the nation's infrastructure. Liu says they are using the current infrastructure data to predict the impact and then develop specifications in the operation and maintenance of the transportation infrastructure.
Missouri S&T researchers working in the UTC include Liu, Zhang, and Hu, along with Dr. Genda Chen, the Robert W. Abbett Distinguished Professor of Civil, Architectural and Environmental Engineering; and Dr. Xinhua Liang, the Linda and Bipin Doshi Associate Professor of Chemical and Biochemical Engineering at Missouri S&T.
Liu is recruiting talented students from across the U.S. to pursue Ph.D. degrees in infrastructure preservation and resilience through a recently awarded GAANN (Graduate Assistance in Areas of National Need) grant from the U.S. Dept. of Education. The grant provides fellowships for up to five graduate students. For more information, contact Liu at jennyliu@mst.edu.
About Missouri University of Science and Technology
Missouri University of Science and Technology (Missouri S&T) is a STEM-focused research university of over 7,200 students and is part of the four-campus University of Missouri System. Located in Rolla, Missouri, Missouri S&T offers 101 different degree programs in 40 areas of study and is ranked by CollegeFactual as the best public university to study engineering. For more information about Missouri S&T, visit www.mst.edu.