S&T research team awarded over $2.4 million in DOD grants to study 'smart' unmanned vehicles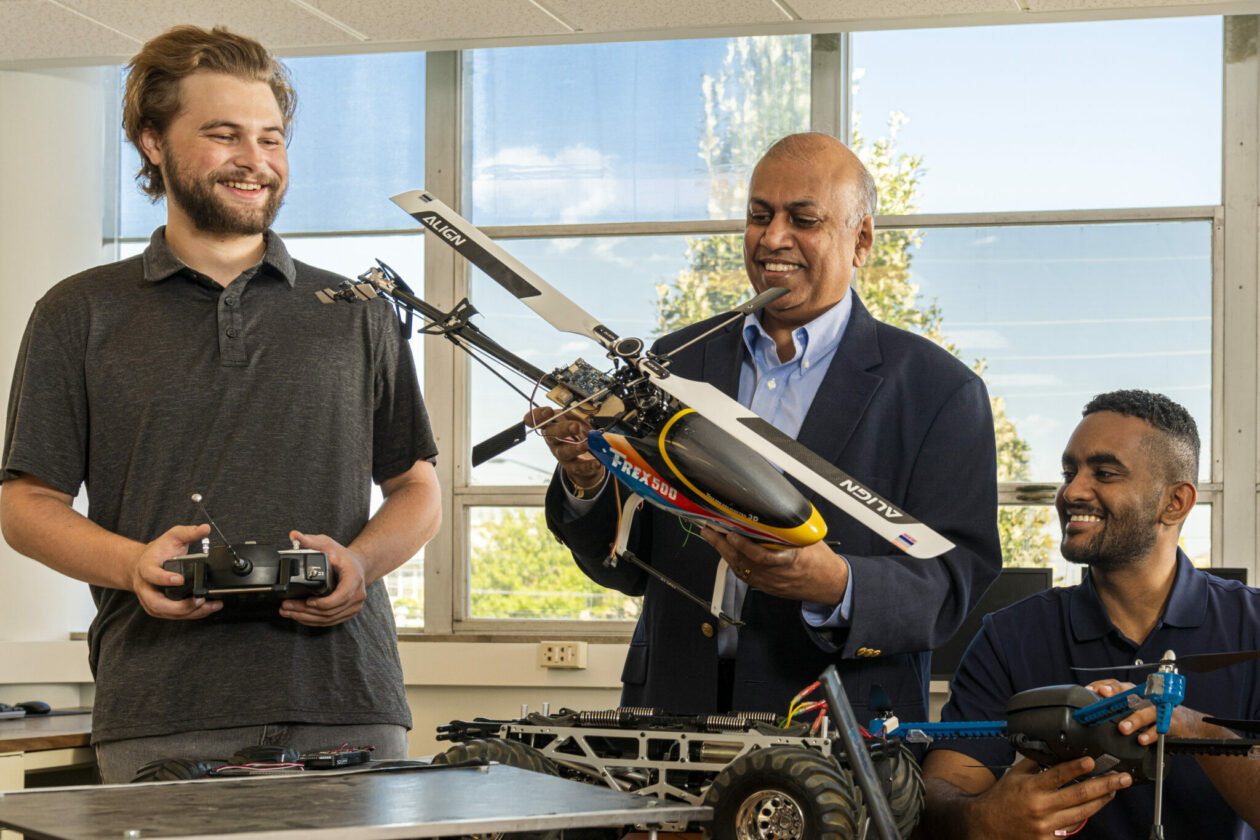 Over the past 18 months, an electrical engineering researcher and his team at Missouri S&T have been awarded over $2.4 million in grants from the United States Department of Defense (DOD) that will directly impact the country's national security.

"We are honored to regularly work with the DOD to help advance and improve technology that they may use in operational environments," says Dr. Jagannathan Sarangapani, the William A. Rutledge-Emerson Electric Co. Distinguished Professor in electrical and computer engineering at Missouri S&T. "Our recent projects have been related to unmanned ground and aerial vehicles and how to make them as 'smart' and effective as possible through trustworthy and lifelong machine learning, control and intelligence."

The most recent Defense University Research Instrumentation Program (DURIP) grant Sarangapani received was for over $465,000 from the Office of Naval Research. This DURIP grant's purpose is to allow Sarangapani and his team of researchers to create a testbed for unmanned and autonomous vehicles operating in a "swarm," in which several vehicles could be used at once, which could increase their protection and redundancy.

This award supports Sarangapani's basic research efforts with DOD agencies on machine learning and artificial intelligence for autonomous vehicles.

Part of the research team's work will be hands-on and use a variety of vehicles, and other aspects will be computational. Their work has the potential to cover everything from drones and helicopters to unmanned on-ground and under-ground vehicles.

"There are several aspects to this grant," Sarangapani says. "We are researching how these different vehicles may operate reliably in unpredictable environments. We are providing workforce development by educating our students and researchers on this technology and its implications. We will also train personnel at various DOD agencies on how to use and assess the performance of these networks of vehicles."

Even though unmanned vehicles have no human on board in the field, they often have some level of human-in-the-loop control.

"It is almost like what you see in video games or in movies," he says. "One person will control a vehicle from a safe remote location."

In the future, Sarangapani says he hopes humans will be able to collaborate with swarms of vehicles at once. Advancements have been made with machine learning and artificial intelligence, he says, but humans still must work with these machines for complex problems.

Sarangapani says it is important to remember the real-world implications of his work with federal agencies. Some of Sarangapani's other recent DOD grants have come from the U.S. Army Research Office and the U.S. Army Research Lab.

"Through our research, we are helping not only the military but also commercial entities stay ahead of our adversaries. In the testbeds, we can consider how our adversaries may disrupt our vehicles through malicious inputs and how this can be mitigated," he says. "We can absolutely save lives with this technology. People would have previously had to go into the field, but now we can send these machines instead.

"The future of our national defense is with autonomous machines — not people physically going to treacherous locations and potentially being positioned in harm's way."

To learn more about S&T's electrical engineering department, visit ece.mst.edu.
About Missouri University of Science and Technology
Missouri University of Science and Technology (Missouri S&T) is a STEM-focused research university of over 7,000 students. Part of the four-campus University of Missouri System and located in Rolla, Missouri, Missouri S&T offers 101 degrees in 40 areas of study and is among the nation's top 10 universities for return on investment, according to Business Insider. For more information about Missouri S&T, visit www.mst.edu