Missouri S&T researchers take second in Department of Energy hydropower contest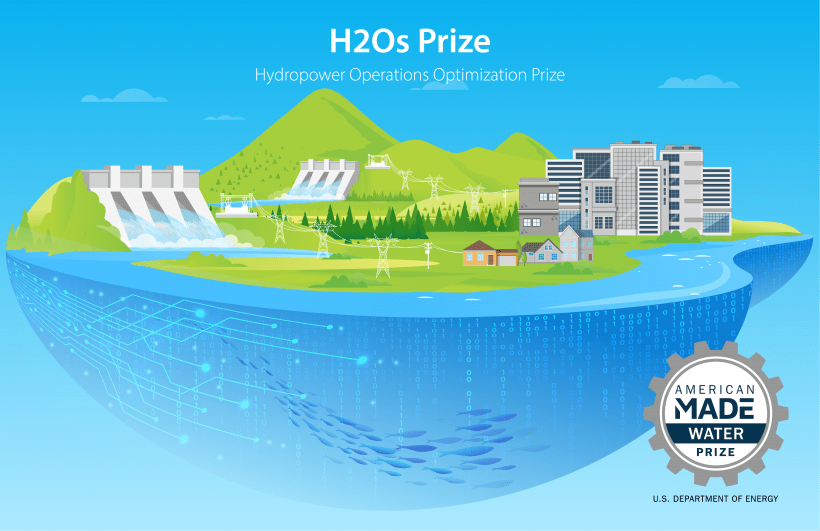 A Missouri S&T team of researchers led by Dr. Rui Bo, an assistant professor of electrical and computer engineering, recently took second place in the Hydropower Operations Optimization (H2Os) Prize challenge sponsored by the United States Department of Energy (DOE).

The purpose of this challenge was to develop methods to improve how hydropower is used in the electric grid and ensure that hydropower will continue to be a significant source of clean energy. The top team from the University of Utah and Grid Elevated took home a $30,000 prize. The Missouri S&T team was awarded $10,000, as was the other runner-up, Vassar Labs.

The challenge was broken into three phases, and Bo's team successfully advanced through each stage before taking the runner-up honor.

"With each phase, the problem complexity and difficulty grew," Bo says. "Our goal was to develop optimal solutions to assist with cascading hydropower generation and water management."

In developing optimal water release schedules, the teams considered factors such as water inflow, spill and bypass, water storage capability, flood management and flow requirements, impact on power grid and electricity prices and economic and environmental benefits brought by hydropower. This was accomplished by using computer modeling, optimization and data analytics to determine the best water management methods in the specific situations presented.

Bo says he was inspired to join this competition due to its relevance to a 2020 research project he led. That research project was awarded a grant for nearly $1 million from DOE, and it focused on ways to evaluate and increase the efficacy of pumped storage hydropower when participating in wholesale electricity markets.

The members of Bo's award-winning team for the final stage of the competition included Siyuan Wang, a former post-doctoral fellow in Bo's group who is now at Johns Hopkins University; Haotian Chen, a Missouri S&T Ph.D. student and Yang Chen, a visiting scholar in Bo's research group.

Bo says his team was proud to win the honor and bring more national exposure to Missouri S&T.

"Missouri S&T works to solve important challenges facing the nation and the world, and we are glad to be part of this community," he says.
About Missouri University of Science and Technology
Missouri University of Science and Technology (Missouri S&T) is a STEM-focused research university of over 7,000 students. Part of the four-campus University of Missouri System and located in Rolla, Missouri, Missouri S&T offers 101 degrees in 40 areas of study and is among the nation's top 10 universities for return on investment, according to Business Insider. S&T also is home to the Kummer Institute, made possible by a $300 million gift from Fred and June Kummer. For more information about Missouri S&T, visit www.mst.edu.