NASA selects S&T for lunar-living project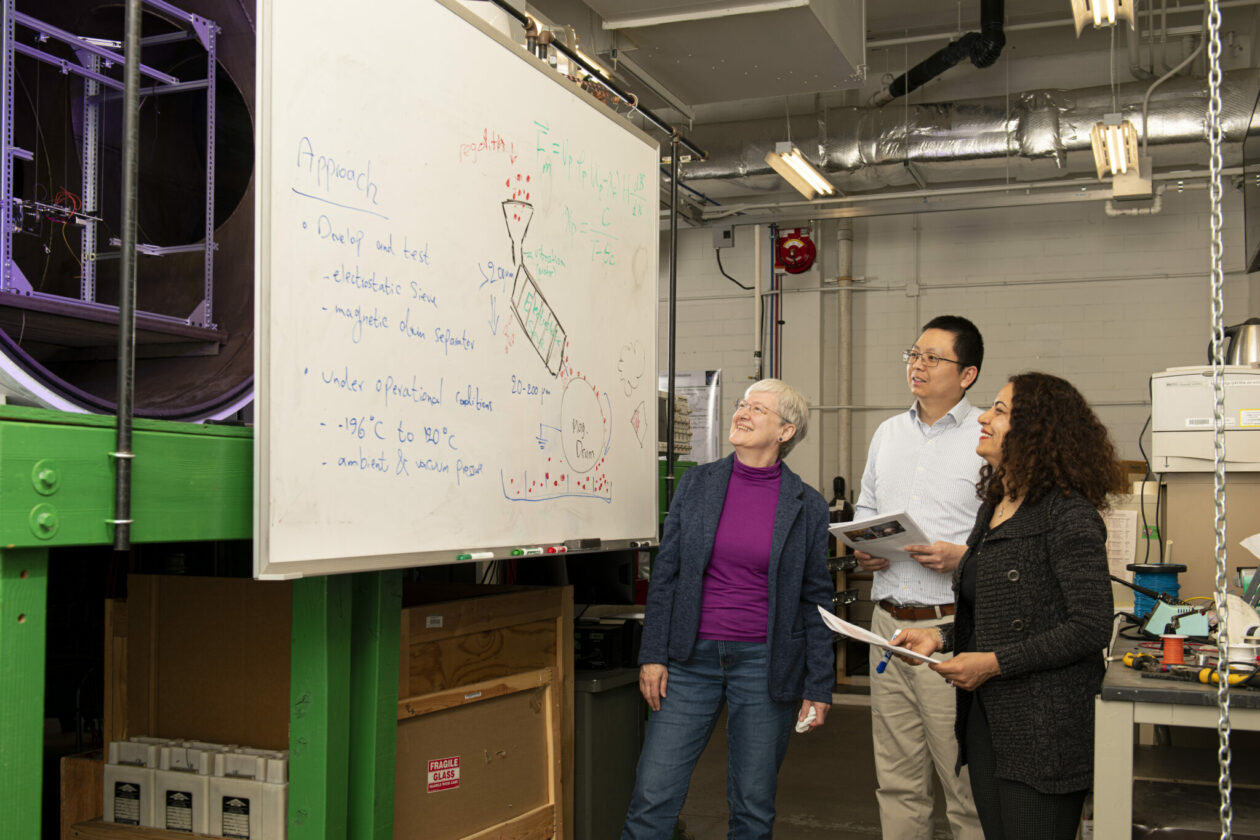 Researchers at Missouri S&T will develop mineral extraction techniques for lunar construction as part of a NASA project to make it possible for people to live and work on the moon. NASA will provide up to $2 million over two years to support S&T's research.
Dr. Leslie Gertsch, associate professor of geological engineering, will coordinate S&T's efforts to use electrostatic and magnetic extraction techniques to separate anorthite from lunar soil known as regolith. Anorthite is a type of feldspar – a group of minerals that are found in rocks all over the world and make up more than 50% of the Earth's surface. Anorthite contains calcium and magnesium needed to make parts for manufacturing equipment, which NASA believes is more efficient than launching supplies from Earth.
"We'll be testing our processes in air and in a vacuum, and in cold and hot temperatures that mimic lunar conditions," says Gertsch. "We'll use simulated regolith that is the best estimate of what lunar soils are like."
Joining Gertsch in S&T's research are Dr. Fateme Rezaei, associate professor of chemical and biochemical engineering; Dr. David Bayless, professor and chair of mechanical and aerospace engineering; Dr. Daoru Han, assistant professor of mechanical and aerospace engineering; Dr. Jeffrey Smith, professor of ceramic engineering; and Dr. William Schonberg, professor of civil, architectural and environmental engineering. The team will work with industrial partners from Bechtel, an engineering company based in Reston, Virginia; Honeybee Robotics Spacecraft Mechanisms Corp., headquartered in Brooklyn, New York; and Off Planet Research, a company based in Everett, Washington, that makes simulated extraterrestrial soil.
Missouri S&T is one of three universities chosen for different aspects of the project. As Missouri S&T's team develops mineral extraction processes, a team from Colorado School of Mines will develop tools and methods that will allow robots to build landing pads and living quarters. A team from Auburn University will create new electronics that maintain reliability despite the lunar environment's extreme cold.
"If we can make the processes effective enough and efficient enough that we can get the materials to build what we need on the moon, then we will have made a huge step forward in actually sustainably living and working in space," Gertsch says.
About Missouri University of Science and Technology
Missouri University of Science and Technology (Missouri S&T) is a STEM-focused research university of over 7,200 students. Part of the four-campus University of Missouri System and located in Rolla, Missouri, Missouri S&T offers 101 degrees in 40 areas of study and is among the nation's top 10 universities for return on investment, according to Business Insider. S&T also is home to the Kummer Institute, made possible by a $300 million gift from Fred and June Kummer. For more information about Missouri S&T, visit www.mst.edu/.