Missouri S&T researchers introduce new potential for semiconductors from a naturally occurring mineral
Researchers at Missouri S&T are demonstrating a new two-dimensional material heterostructure – a basic building block for advanced semiconductor devices – that has great potential for future applications in compact sensors and detectors, optical communication, optical integrated circuits and quantum computers.
The researchers found that flakes of lengenbachite, a mineral discovered 100 years ago in Switzerland, have strong anisotropic properties, meaning that the optical responses of the flakes vary along axis lines depending on the orientation. The researchers say that could have implications for directional light-emitting devices, encrypted data transfer and signal processing, and polarization-sensitive photodetectors.
The researchers describe their discovery in npj 2D Materials and Applications, a high-quality Nature Portfolio journal. They obtain ultrathin lengenbachite flakes – around 30 nanometers thick – by mechanically exfoliating the bulk mineral using Nitto PVC tape. Lengenbachite is composed of stacks of alternating, weakly bonded layers of four-atom-thick lead sulfide and five-atom-thick arsenic trisulfide.
Interestingly, the researchers observed out-of-plane one-dimensional rippling structures along the lengenbachite flake surface. The ripples are caused by the periodic mechanical strain generated between the alternating atomic layers. With the help of several optical spectroscopic techniques, the researchers found strong anisotropic optical properties in the flakes.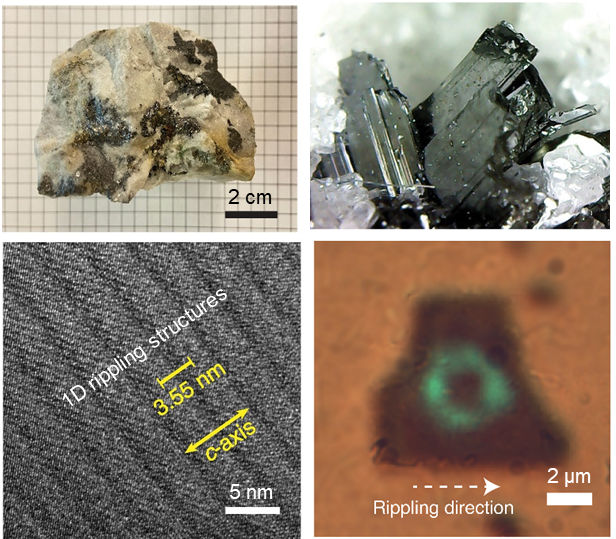 "We are thrilled to introduce this new type of natural anisotropic 2D material heterostructure into the existing 2D material library," says Dr. Xiaodong Yang, an associate professor of mechanical and aerospace engineering at Missouri S&T and one of the authors of the research paper. "Further study of the anisotropic mechanical, electrical and magnetic properties of lengenbachite thin flakes may help fully establish this new material for integrated on-chip sensors and microelectromechanical systems."
About Missouri University of Science and Technology
Missouri University of Science and Technology (Missouri S&T) is a STEM-focused research university of over 7,200 students and is part of the four-campus University of Missouri System. Located in Rolla, Missouri, Missouri S&T offers 101 different degree programs in 40 areas of study and is ranked by CollegeFactual as the best public university to study engineering. For more information about Missouri S&T, visit www.mst.edu.