Meet some of Missouri S&T's 460 Kummer Vanguard Scholars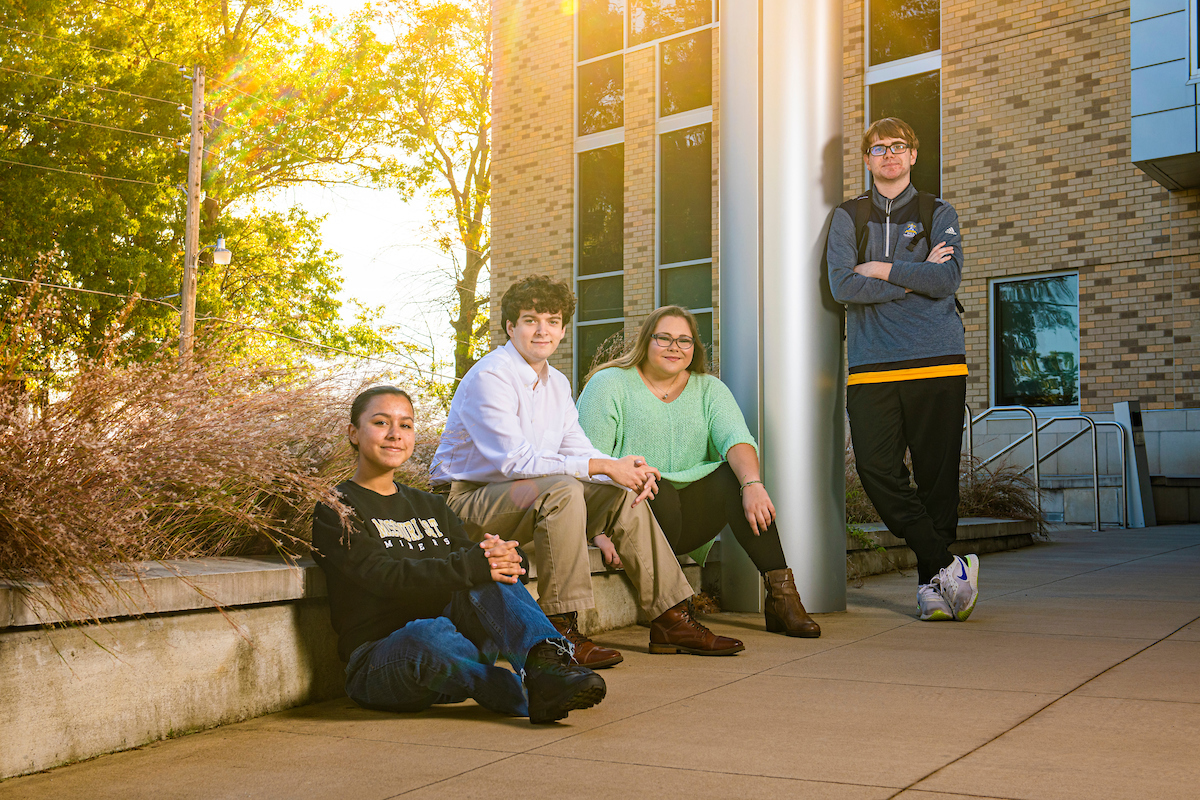 This fall, nearly 460 of the first-year students to enroll at Missouri University of Science and Technology are recipients of the inaugural Kummer Vanguard Scholarships, and halfway through the first semester of the program and their first year of college, the students are gaining valuable insights.
The program is one of several initiatives supported through a $300 million gift to Missouri S&T from June Kummer and her late husband, Fred S. Kummer. Each Kummer Vanguard Scholar receives between $1,000 and $3,000, as well as focused out-of-classroom meetings and activities designed to help them think more like entrepreneurs and innovators.
The gift from June and Fred Kummer, a 1955 Missouri S&T graduate. is the largest single gift ever to any Missouri university, public or private. It also is the fifth-largest gift to any public institution in the nation. The Kummers wanted their gift to generate greater interest in STEM (science, technology, engineering and mathematics) degrees among potential college students and provide ways for STEM students to better understand the importance of innovation and entrepreneurship.
Entrepreneurs themselves, the Kummers established HBE Corp., which became the world's largest design-build firm for medical and financial services, and later created a chain of over 20 luxury hotels known as Adam's Mark Hotels & Resorts.
"June and Fred's vision was to inspire today's exceptional high school students to become the innovators, inventors, entrepreneurs and leaders of the future," says Dr. Mo Dehghani, chancellor of Missouri S&T. "These students benefit from scholarships and programming to help them become the tech-savvy innovators our country needs."
This inaugural class of Kummer Scholars come from Canada and India as well as 20 U.S. states and territories. As part of the program, they participate in a rotational program with focus areas in entrepreneurship, undergraduate research, design and build, leadership, and social outreach and engagement. The students meet weekly with faculty and staff to learn more about each focus area.
"During the Vanguard research series, the students learn about the nature of research, what it is and why it's so important," says Dr. Stephen Roberts, vice chancellor of strategic initiatives and chief operating officer of the Kummer Institute for Student Success, Research, and Economic Development. "We give the students an overview of the research opportunities available to our students, and they hear from undergraduates who are involved in research on campus now."
Dr. Julie Semon, associate professor of biological sciences, was one of the faculty members to lead the entrepreneurship segment, which was held during the first three weeks of classes. She says the entrepreneurship sessions focused on three cornerstones of entrepreneurship: thinking, creating value and collaborating.
"During these three weeks, the students participated in networking events, interacted with a panel of recent S&T alumni who have demonstrated entrepreneurial thinking in their careers, and played some games," Semon says. "The segment ended by linking entrepreneurship to the other four segments of the Vanguard Scholars program."
In their own words
A few of S&T's Kummer Vanguard Scholars shared their thoughts on the program and their experiences thus far.
"The program has been fun. I enjoy making friends and hanging out with them during the Kummer nights. I enjoy the activities that we do during the presentations. One night we had to make creative boxes and it was fun seeing what the different groups came up with. It is the most fun just being able to hang out with friends though during the night."
— Tim Proffitt of Florissant, Missouri, a freshman in computer science with a passion for game design. He hopes to one day design his own blockbuster video game.
"The Kummer Vanguard Program is beneficial to people wanting to go above and beyond in their career. It is teaching us skills that newly graduating college students wish they knew. The program consists of a very lively group of people. We are very rarely bored when all together every Wednesday. You can ask any Kummer Vanguard Scholar, and they will all have the same opinion about the program. Overall, it's wisdom with a sprinkle of fun. I am very honored and excited to see how the years progress."
— Catalina Ortega of St. Robert, Missouri, a freshman in aerospace engineering who plans to join the military and use her skills for innovation and safety improvement.
"I'm very thankful for the program so far. The scholarship is generous and the learning opportunity is immensely appreciated. I expect that future generations of Kummer Scholars will have an even greater experience in learning about being a leader of the future. I hope to improve the world by assisting in providing a safer internet for people to learn, communicate and conduct business through."
— Matt Minatra of Cordova, Tennessee, a freshman in computer science. He is considering adding a second major in computer engineering and sees graduate school in his future.
"I am beyond thankful for the generosity of the Kummers and so many other alumni. This program gives us an outlet for our creativity and gives us sneak peeks into working and life after college. It truly shows us what is possible, and provides all the encouragement you could ever need to follow your dreams and ideas. I came to this school because Miners have truly gone on to change the world, and I want to make change. I want to make my mark on the world. I am passionate about renewable energy and finding ways to reduce our carbon emissions as well as looking at the toxicity it puts into our oceans and land."
— Katherine Johnston of Millstadt, Illinois, a freshman in civil and architectural engineering who plans to add environmental engineering to her list of majors. She plays five instruments, speaks Spanish and is learning American Sign Language.Missouri S&T is now accepting applications for the 2022 Kummer Vanguard Scholarship Program. The first review of applications will begin Dec. 15. For more information about the Kummer Vanguard Scholars program, visit kummerinstitute.mst.edu/vanguardscholarsprogram.