NSF honors S&T early-career faculty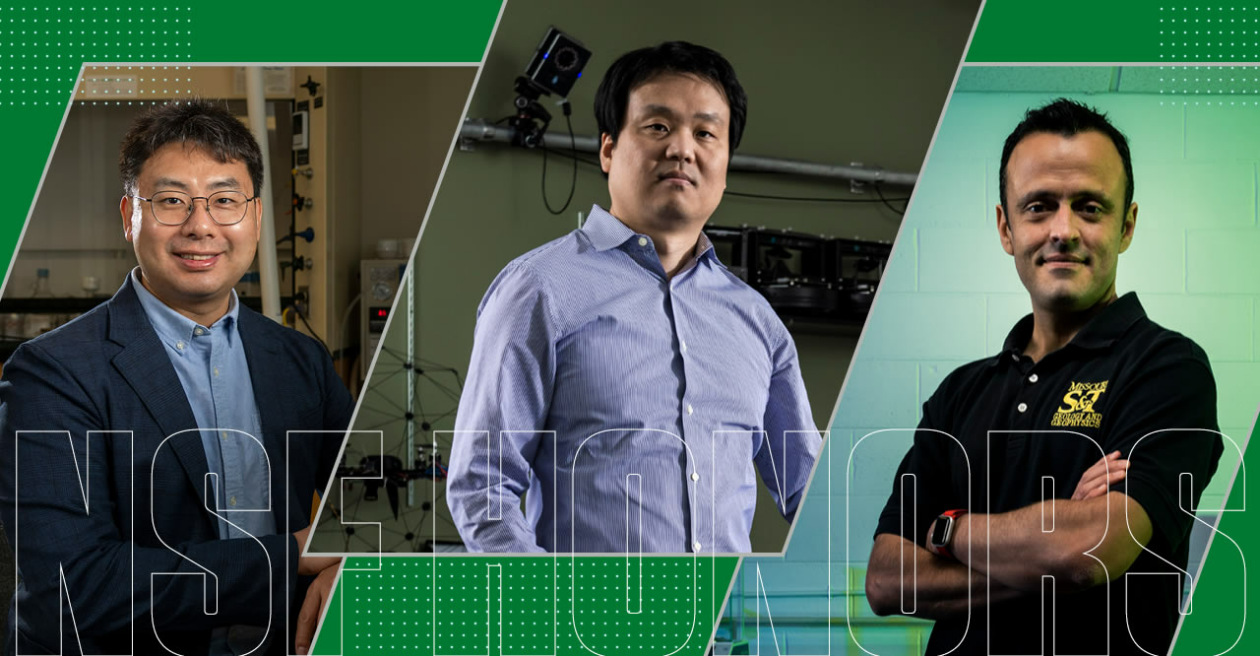 From earthquake clues in ancient bedrock to robots to 2D metals, faculty researchers at Missouri S&T are leading their students into fascinating territory – and winning national recognition to boot. Three of our faculty have won CAREER Awards from the National Science Foundation this year.
The NSF CAREER award supports junior faculty who exemplify the role of teacher-scholars through their outstanding research and education contributions. The recognition ranks recipients among the best early-career researchers in the United States.
Dr. Jonathan Obrist-Farner is the second CAREER Award winner in the department of geosciences and geological and petroleum engineering (GGPE) in two years. He spent the summer in Guatemala garnering local support for his earthquake research. Obrist-Farner's $720,000 CAREER Award supports his plans to take sediment core samples from a Guatemalan lakebed, which lies along the North American-Caribbean tectonic plate boundary and holds millions of years' worth of earthquake data.
Obrist-Farner, an assistant professor in GGPE, says his team will use data from the sediment samples to determine how often earthquakes have happened along the plate boundary. He says that will give people who live in the area valuable information about the frequency of quakes.
"People who live in areas with faults want to know when the next earthquake is coming," says Obrist-Farner. "By studying earthquake history and determining how often they have happened in the past, we may be better able to understand future seismic activity."
Research to understand how humans and robots communicate and interpret each other's intentions has landed a CAREER Award for Dr. Yun Seong Song, assistant professor of mechanical and aerospace engineering at Missouri S&T. The five-year, $538,876 award from the National Science Foundation (NSF) will support Song's research to advance physical human-robot interaction.
Robots are becoming more prevalent in everyday life, from industry to healthcare and even retail. Song says it's important that humans and robots interact intuitively and effectively.
"If you examine how humans handle physical interaction, you realize that there has to be constant processing of information and decision making to infer each other's intent," explains Song, the director of S&T's physical Human-Robot Interaction Laboratory (pHRI Lab). "Uncovering the mechanism through which this happens will help us design future robots that can seamlessly interact with their human partners."
Robots need computer chips, and some of those chips could be produced using Dr. Chenglin Wu's research with 2D metals for computer chips, sensors and coatings. Wu is an assistant professor in the department of civil, architectural and environmental engineering. Wu is using his $500,000 CAREER Award to develop metals that are three atoms thick to save space and improve performance in electronic devices.
Wu and other S&T researchers are also developing a Bluetooth cell phone application that works with a 2D sensor in a mask to detect viruses, sending data from the mask directly to your phone and alerting the testing center.
"We recently ran a hospital experiment with Phelps Health, and our test was spot-on with the hospital's standard test," he says. "The beauty of it is that our test takes about 30 milliseconds to detect COVID, where the standard test takes 15 minutes. Our test can also differentiate between COVID and the flu. That's the future we're working on here."