A conversation with international students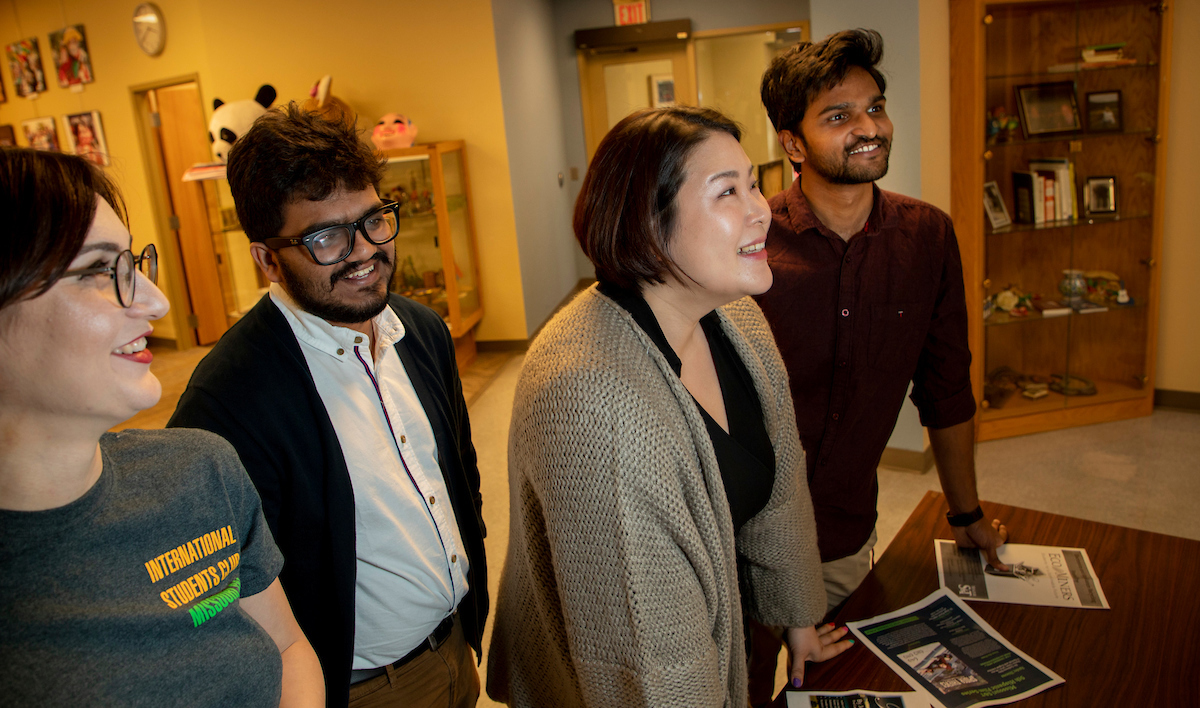 This story is a part of a series of articles about campus climate issues that were brought to light by the university's campus climate survey, the results of which were presented in September 2017.
They leave their families and home countries and travel long hours to arrive in the small town of Rolla, Missouri, to attend Missouri S&T. Once here, international students face challenges unfamiliar to most native-born U.S. citizens: language barriers, housing, making new connections, and adjusting to different food, weather and customs.
But with support from their fellow international students, their new community and Missouri S&T, many of them overcome each of these challenges, build new networks of friends and succeed academically.
Arriving in Rolla
Tamar Makharashvili arrived in Rolla in early January 2014 to a cold, snowy – and mostly empty – campus. The start of the spring semester was still days away. The first thing she did when she arrived was to visit her comfort zone: a research laboratory, specifically the Electromagnetic Compatibility (EMC) Laboratory at S&T.
"I went straight to my lab, and that was where I felt comfortable and like I belonged there," says Makharashvili. "Campus was too huge – too many buildings, too many names. It was a little hard to navigate through the campus. Having the lab really helped me."
Over the last five years, she has earned her master's degree from S&T and will graduate with a Ph.D. in electrical engineering this year.
Coming from the country of Georgia on the Black Sea, Makharashvili liked the more compact campus in Rolla compared to Tbilisi State University, in Georgia's capital of Tbilisi, where buildings are spread across the city.
On the other end of the spectrum, MinGi Seo came from one of the largest cities in the world – Seoul, South Korea. The small town of Rolla was a culture shock.
"For me, coming from a big city, I wasn't used to living in a small campus town," says Seo. "But I like the environment of a lot of students around. I kind of like it in a way that this is a place to study and earn your degree."
Seo came to S&T in 2017 to earn both her master's degree and Ph.D. in explosives engineering. She is one of just a handful of students on campus from South Korea.
Students welcome students
International students headed to S&T frequently first interact online with other international students already settled in Rolla.
"One thing that really helps in the transition is the current international students. They are such a valuable resource for the new students," says Jodi Hasekamp, program manager of international recruitment at S&T. "They all provide so much support to the new students."
About 10 percent of Missouri S&T students come to Rolla from around 60 different countries. Hasekamp says the students help their incoming peers by sharing information about housing and academic advising, and when new students arrive, they show them around and take them shopping for whatever they might need.
Hasekamp says Missouri S&T's international affairs department organizes a large international student picnic in the fall and orientation sessions at the beginning of each semester to officially welcome students and help connect them with services such as banking and cell phone service.
New students also connect with international clubs such as the India Association, the Chinese Students Scholar Association, the Saudi Association and the International Students Club (ISC).
"We have close to 200 students and faculty from India, including Ph.D. and master's students," says Sai Hemanth Kankanala, president of the India Association and a master's student in electrical engineering. "In the fall, we get about 40 new Indian students and around 10 in the spring. We can guide them through the difficulties they are facing both academically and living in Rolla."
Kankanala says the India Association also provides rides for new students from the airport in St. Louis to Rolla and offers temporary housing for students.
Seo says she joined the International Students Club as a way to meet new people at the university outside of her department.
"I had a great year last year," she says. "It was the best thing to do because it was my first year. I got to know people through one community. With international students here, apart from Chinese and Indian students, there are only one or two people here from their home country."
Last year, the ISC started a buddy program to help new international students settle in at the university.
"We pair them up with some of our officers with someone who speaks a similar language," says Ketul Patel, a senior in information technology and president of ISC. "We help ease their transition within the community, find an apartment rental or a phone plan. We were in their place at one point, so we try and help them."
Patel and his family came to the U.S. from India in 2009, and he became a citizen in 2014. He still remembers his own transition.
"There was a culture shock in 2009 when I moved here," says Patel. "I joined ISC last year, and it really changed my S&T experience. I met so many wonderful people from different cultures and they have become part of my life."
They come to learn
International student organizations help welcome newcomers, but academic excellence is why many international students choose to study so far away from home.
"For a lot of students, studying in the U.S., has probably been a lifelong dream for them and their parents," says Hasekamp. "It's something they've been working toward and something their family has been saving for their entire life. They definitely take this opportunity very seriously and want to make the most of it."
In Georgia, Makharashvili wasn't encouraged to go into engineering.
"Girls are told that engineering needs a man's brain," she says.
But she couldn't understand why science wasn't for girls. Her curiosity about computers as a child led her to study the machines' components. That, in turn, led her to study electrical engineering in college. She says that the EMC Lab at S&T is internationally known in her field of study.
"The Electromagnetic Compatibility Lab is famous in my field," says Makharashvili. "I contacted my S&T professors, talked about research and ended up in Rolla after earning my bachelor's degree."
She's already accepted an offer in California to work at Google as a design engineer. She will work on printed circuit boards to evaluate their performance, make modifications and improve the product.
Missouri S&T's reputation as a good return on investment often leads students to the university.
"They are very aware of what will happen when they leave school here and the doors that open when they get an S&T degree," says Richie Myers, educational program coordinator for international affairs at S&T. "They are very determined because they've worked so hard."
Seo earned a bachelor's degree in Canada and worked in the mining industry in Australia, Indonesia and South Korea for more than a decade before she decided to go back to school. She was familiar with Missouri S&T because of the explosives engineering program.
"I couldn't find any other English-speaking programs in the world that offered a Ph.D. in explosives," she says. S&T's experimental mine, conveniently located just five minutes from campus, was another appealing feature for Seo.
International events on campus
Missouri S&T hosts a number of community events that international students organize themselves, including ISC's International Students Day coming up on Sunday, April 7, in the Havener Center. Students display cultural artifacts and clothing from their home countries and participate in cultural performances, a fashion show, dinner and dancing.
"Our goal is to build a bridge between local students and international students so they can share their cultural values," says Patel.
Diwali Night is another popular event on campus and in the surrounding community. Hosted by the India Association, Diwali is one of India's most vibrant festivals – known as the festival of lights.
"International Student Day and Diwali Night activities are really student driven," says Hasekamp. "They go out and do fundraising in the community. They cook the food themselves and put on the entertainment. It's a really big endeavor that they do themselves."
Students in the Chinese Students and Scholars Association organize a Chinese New Year celebration for the campus and the public every year. The event features a cultural show in Leach Theatre followed by an authentic Chinese dinner.
The largest international event of the year is Celebration of Nations, which is held annually on the last Saturday in September, and 2019 will mark the event's 10th year. Thousands of community members watch the parade through downtown Rolla with participants representing more than 80 countries. International flags, floats, camels, Chinese dragons, the Marching Miners and many community groups participate in the event.
Myers helps organize the event for the campus.
"We're estimating that we've had about 4,000 people attend the last couple of years," says Myers. "We couldn't be working with a better group of people coming together with the city – they're so into it and really supportive. It's really fun to have them with us."
Americans benefit too
International students enjoy the events and opportunities available at Missouri S&T. The Americans on campus and in the community benefit from the international students' presence, too.
"We encourage Americans to join the ISC," Seo says. "They get exposed to 50-plus countries' cultures just by joining in one club. There were quite a lot of Americans coming in and whenever we do potluck, they bring mac and cheese, and we love it."
Hasekamp says all students benefit from the exposure to a variety of cultures on campus.
"It just enriches the campus a lot for everyone here to have a more global education," says Hasekamp. "When you think of the work environment now, you aren't just going to be working with people exactly like you, so it's important to know how to have those type of relationships with other people from all over the world. We can learn a lot from them."
Myers brings international college students to surrounding K-12 schools to meet children who sometimes have never had a chance to meet someone from another country.
"It's amazing to see what happens – acceptance and awareness opens little minds," says Myers.
He says it also helps international students to practice their English. They have an opportunity to talk with third-graders who aren't so concerned about their English skills, he says.
"My international students are nervous going in, and then they want to know when they can do it again," says Myers. "It helps them get up the courage to raise their hands in class. They are sensitive about their communication skills."
Adapt and excel
International students improve their language skills, study hard and learn how to interact with new cultures. At the same time, they are forging new connections.
"Not only are they living in a totally new place, speaking a different language, they are learning how to interact with their peers and professors," says Hasekamp. "It's amazing how well that they can adapt to their new life here and be so successful."
"I felt like we were a family because whenever we have any holidays, they are the people you hang out together with, make food and celebrate," says Seo. "Even for birthdays. We try not to miss anyone's birthday. I know what it feels like being by yourself, and no one really knows it's your birthday except your family back home."
Seo even visits her new international friends in their home countries when she travels back to South Korea.
"Everyone is not the same," says Seo. "But in the end, everyone is just trying to live a normal life."