Missouri S&T biochemical engineer patents low-cost method of removing bacterial toxins from fluids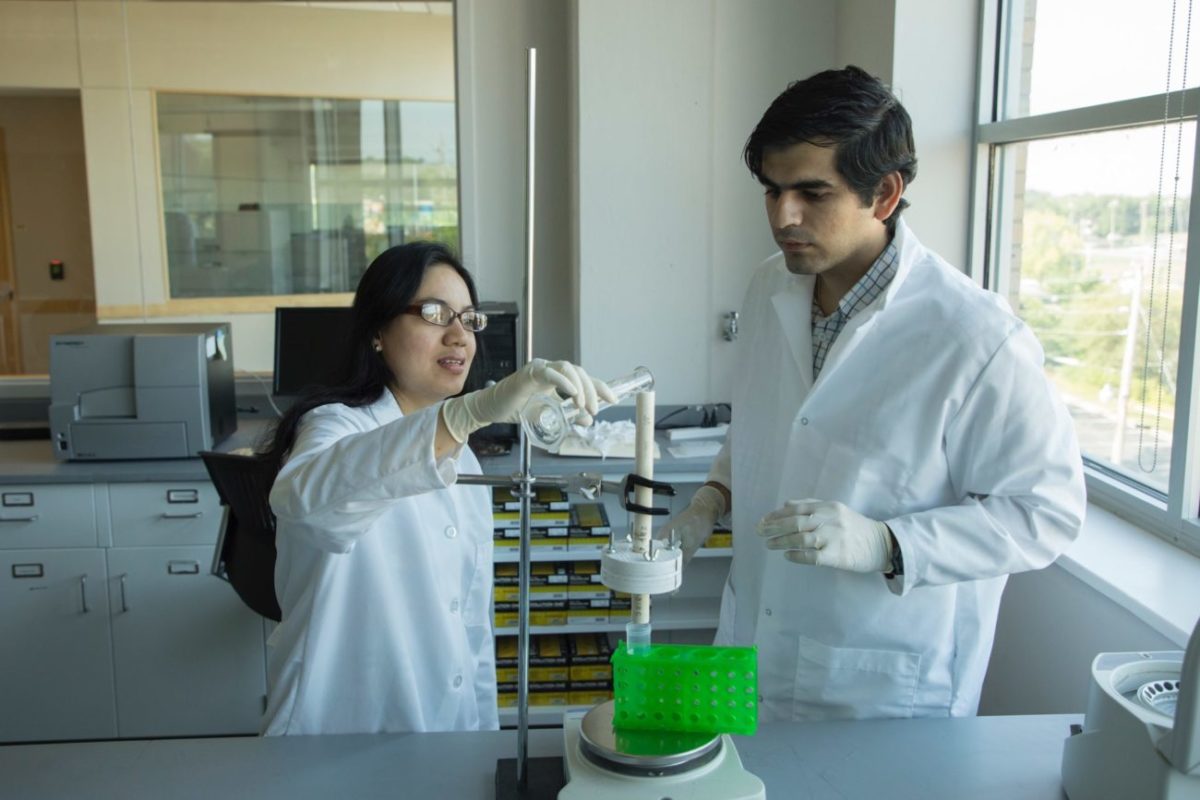 By some estimates, 18 million people die each year from sepsis triggered by endotoxins – fragments of the outer membranes of bacteria. A biochemical engineer at Missouri S&T has patented a method of removing these harmful elements from water and also from pharmaceutical formulations.
Her goal: improve drug safety and increase access to clean drinking water in the developing world.
"Initially, we were using these polymers to coat anti-cancer drugs," says Dr. Sutapa Barua, assistant professor of chemical and biochemical engineering at S&T. "That was my focus. So I knew these polymers work, that they were bio-compatible."
The technique, as outlined in a July 2016 article in the journal Nanotechnology, involves a one-step phase separation method, using a syringe pump, to synthesize the nanoparticles.
Those polymer nanoparticles have a high endotoxin removal efficiency of nearly 1 million endotoxin units per milliliter of water, using only a few micrograms of the material.
After synthesis, the particles were characterized using a transmission electron microscope and dynamic light scattering. A custom-made fluorescence assay was used to determine the degree of binding between the endotoxins, which are also known lipopolysaccharides, and the nanoparticles. The fluorescent compound BODIPY was used to tag the endotoxin for identification purposes.
The ramifications of this method — referred to in the 2016 journal article as "endotoxin hitchhiking" — could be substantial.
As the journal noted in an online "Lab Talk" feature, more than 200,000 people die each year in the United States from sepsis, part of that estimated 18 million worldwide.
The study "has large implications for the healthcare system, especially for those patients suffering from sepsis," the journal editors wrote. "This novel removal technique has the potential to be explored for the removal of other deadly toxins that can be found in the bloodstream from a number of different diseases."
The study further results in an "efficacious system that is applicable to minimize the endotoxin level for a variety of applications, including drinking water purification, drug formulation or pharmaceutical preparation."
For Barua, there's a more personal stake in the research.
A native of Bangladesh who came to the U.S. for graduate school, she cites the 2012 death of Bangladeshi writer Humayun Ahmed— reportedly from sepsis — as a contributory factor in her efforts to focus on endotoxin removal. Barua says she knew several members of the writer's family personally.
Barua, who joined the university in 2014, also recently received a $25,000 start-up grant from the university's office of technology transfer and economic development and $10,000 from Missouri S&T's Innovation Fund.
The Technology Acceleration Grant will be used to develop a low-cost, portable bio filtration kit to synthesize nanoparticles capable of adsorbing water-borne toxins; the other grant will be used to hire undergraduate and graduate student researchers.