Missouri S&T explosives researcher studies blast-induced brain injuries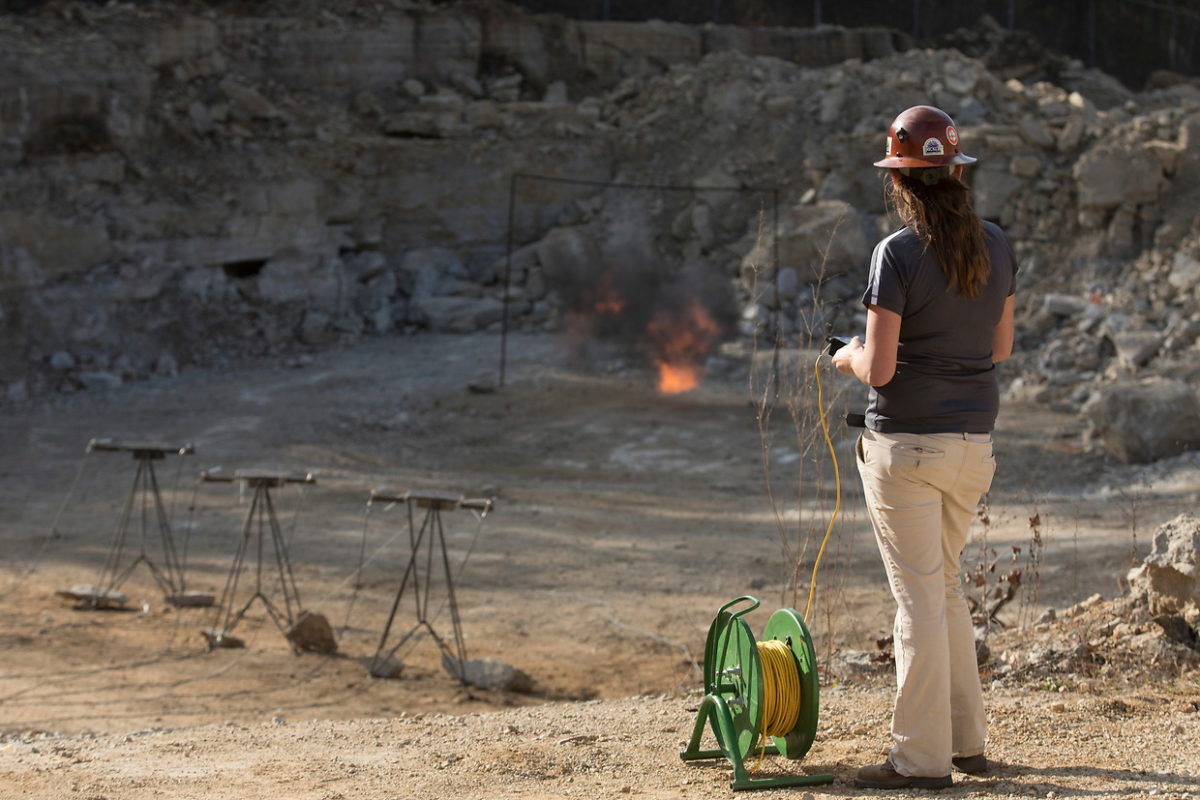 ROLLA, Mo. – The Experimental Mine at Missouri S&T is known to many as the site of a popular summer Explosives Camp for high school students, and for its designation by Popular Science magazine as the country's "coolest lab."
For Dr. Catherine Johnson, assistant professor of explosives engineering, the Missouri S&T mine is also an invaluable testing ground to study a life-altering ailment that can impact athletes, car accident victims, members of the military and others: traumatic brain injury (TBI).

In partnership with neuroscientists from the University of Missouri-Columbia, and researchers with the U.S. Department of Veterans Affairs, the native Briton uses the outdoor lab to mimic battlefield conditions and explore how carefully calibrated explosions affect the brain's wiring.
"This sort of brain trauma is extremely difficult to diagnose," she says. "Experimental models can provide insights into the basic mechanisms underlying what for many remains an 'invisible' injury."
Much of the related research on explosives and brain trauma is conducted using shock tubes, a tunnel-like device in which blast waves can be directed at sensors to mimic explosions, using compressed gas rather than detonation.
The Experimental Mine facility, though, offers enough open space above ground to perform open-field blasting, which can more effectively replicate battlefield explosions by enabling the blast waves to bounce off buildings, the ground, military vehicles and other objects.
The research also provides a window into a better understanding of the physics behind explosives.
"What we're also trying to create are damage curves for TBI based on pressure and impulse," Johnson says. Damage curves refer to building damage and are a simple graphical representation to aid with building design and minimum distance to explosions.
"If you've got shock wave reflections off of walls, the duration is going to last longer, affecting the impulse rather than the peak pressure, so the relationship between the two is important."
The experiments by Johnson and her S&T research team, which includes several graduate students, use 350 grams of the common military explosive Composition C-4.  Mesh screens containing the test samples are placed at varying distances to alter the intensity and duration of blast pressure. Two high-speed cameras capable of up to 22,000 frames per second at full resolution help capture the data.
Johnson's research is part of a Department of Defense grant and is one of several projects associated with the Acute Effects of Neurotrauma Consortium, a partnership with the U.S. Army's Fort Leonard Wood base, the Leonard Wood Institute (the base's research arm), Phelps County Regional Medical Center, and other colleges and universities.
Among the other consortium projects, S&T researchers are developing a process to test urine to detect the presence of "biomarkers" that could indicate TBI or concussions; using big data techniques to analyze medical records to determine TBI-related patterns; and studying the biochemistry of brains affected by TBI.
The consortium also plans to study soldiers at Fort Leonard Wood who have sustained concussions as a result of basic and combat mission training.