Missouri S&T graduate student awarded top IEEE honor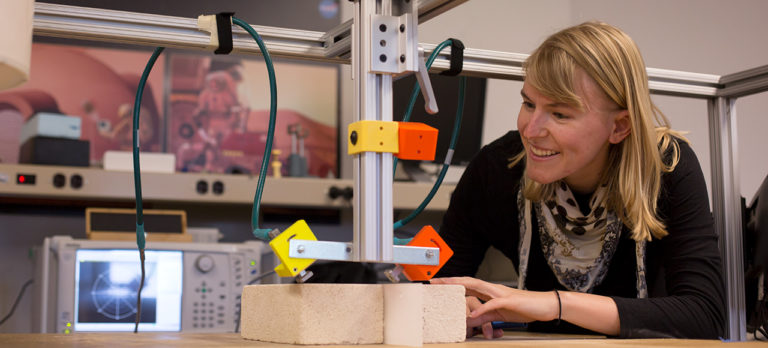 ROLLA, Mo. _ A Missouri University of Science and Technology graduate student has received a top award from a leading academic honor society for engineers.
Katelyn Brinker of Highland, Illinois, is co-winner of the 2017 Alton B. Zerby and Carl T. Koerner Outstanding Student Award from IEEE-Eta Kappa Nu (HKN). The honor society for electrical and computer engineers is an affiliate of the Institute of Electrical and Electronics Engineers (IEEE), the world's largest technical professional organization for the advancement of technology.
The award recognizes "outstanding scholastic excellence and high moral character, coupled with demonstrated exemplary service to classmates, university, community and country."
Brinker, who graduated in May from Missouri S&T with dual bachelor degrees in electrical engineering and computer engineering, was named to the IEEE-USA New Faces of Engineering, College Edition, earlier this year.
She shares the latest award, which will be presented at a national IEE meeting in California in March, with co-winner James Smith of Auburn University.
"Katie exemplifies the Missouri S&T work ethic," says Dr. Steve E. Watkins, professor of electrical engineering and computer engineering, adviser to the university's HKN chapter and the international organization's president-elect. "She also demonstrates HKN's membership ideal, with a professional balance of academic excellence, leadership accomplishments and volunteer effort."
Brinker is a member of the university's Mars Rover Design Team, which in June won the 2017 University Rover Challenge, an international competition. As an intern with the Southwest Research Institute, she helped write software that will be aboard the European Space Agency's mission to explore Jupiter's moons.
Brinker is also the recipient of a NASA Space Technology Research Fellowship to work as a graduate research assistant with Dr. Reza Zoughi, the Schlumberger Distinguished Professor of Electrical and Computer Engineering and director of the Applied Microwave Nondestructive Laboratory.