Dr. Yahong Rosa Zheng named Wilkens Professor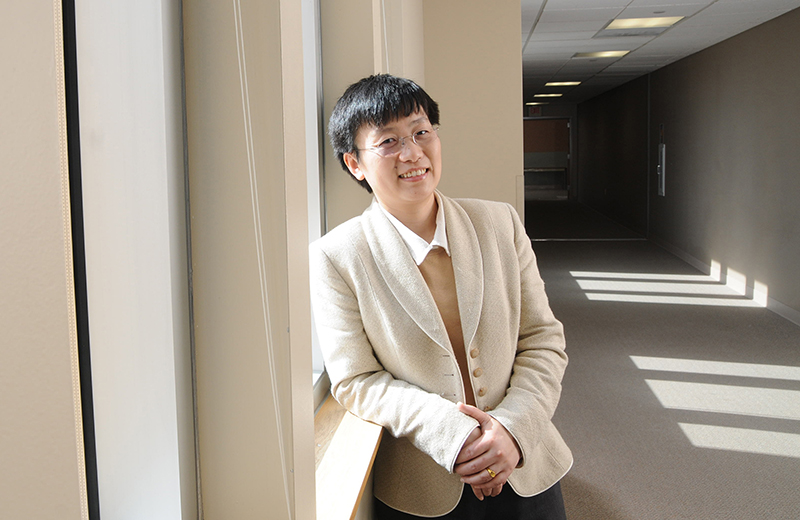 Dr. Yahong Rosa Zheng, a wireless communications expert and member of the Missouri University of Science and Technology faculty since 2005, was named the Roy A. Wilkens Missouri Telecommunications Professor at Missouri S&T effective Sept. 1.
The professorship was established by telecommunications pioneer Roy A. Wilkens, a 1966 electrical engineering graduate of Missouri S&T and former president of Williams Telecommunications Group, which later became WorldCom. He is also a retired chief executive officer of networks for McLeod USA.
"Dr. Zheng's expertise in wireless communications and signal processes adds enormous value to Missouri S&T," says Dr. Daryl Beetner, chair of electrical and computer engineering at Missouri S&T. "Her passion for education and research will help ensure that our university remains a leader in wireless networking and telecommunications."
"Roy Wilkens was a pioneer who built an 11,000-mile fiber optic network through abandoned natural gas pipelines," says Dr. Richard W. Wlezien, vice provost and dean of the College of Engineering and Computing at Missouri S&T. "Dr. Zheng's track record of research rigor and innovation make her a worthy selection for this prestigious professorship."
Zheng joined Missouri S&T's electrical and computer engineering department in 2005 following a two-year stint as a postdoctoral fellow at the University of Missouri-Columbia. An expert in wireless communications and underwater cyber-physical systems, she has received funding from several federal agencies, including the National Science Foundation, the Office of Naval Research, the U.S. Department of Transportation and the Army Research Office. She received an NSF Early Career Award in 2009 and was elected an IEEE Fellow in 2015. Most recently, she was named the IEEE Vehicular Technology Distinguished Lecturer.
Zheng holds a Ph.D. in electrical engineering from Carleton University in Ottawa, Canada; a master of science degree in electrical engineering from Tsinghua University in Beijing, China; and a bachelor of science degree in electrical engineering from the University of Electronic Science and Technology of China in Chengdu, China.
Currently an associate editor for the IEEE Journal of Oceanic Engineering, she previously served as an associate editor for IEEE Transactions on Vehicular Technology and IEEE Transactions on Wireless Communication.
Zheng is the second faculty member at Missouri S&T to serve as the Wilkens Professor. The first Wilkens Professor, Dr. Steven L. Grant, was named in 2005 and held the title until his death in April 2016.