Missouri S&T students game for opportunity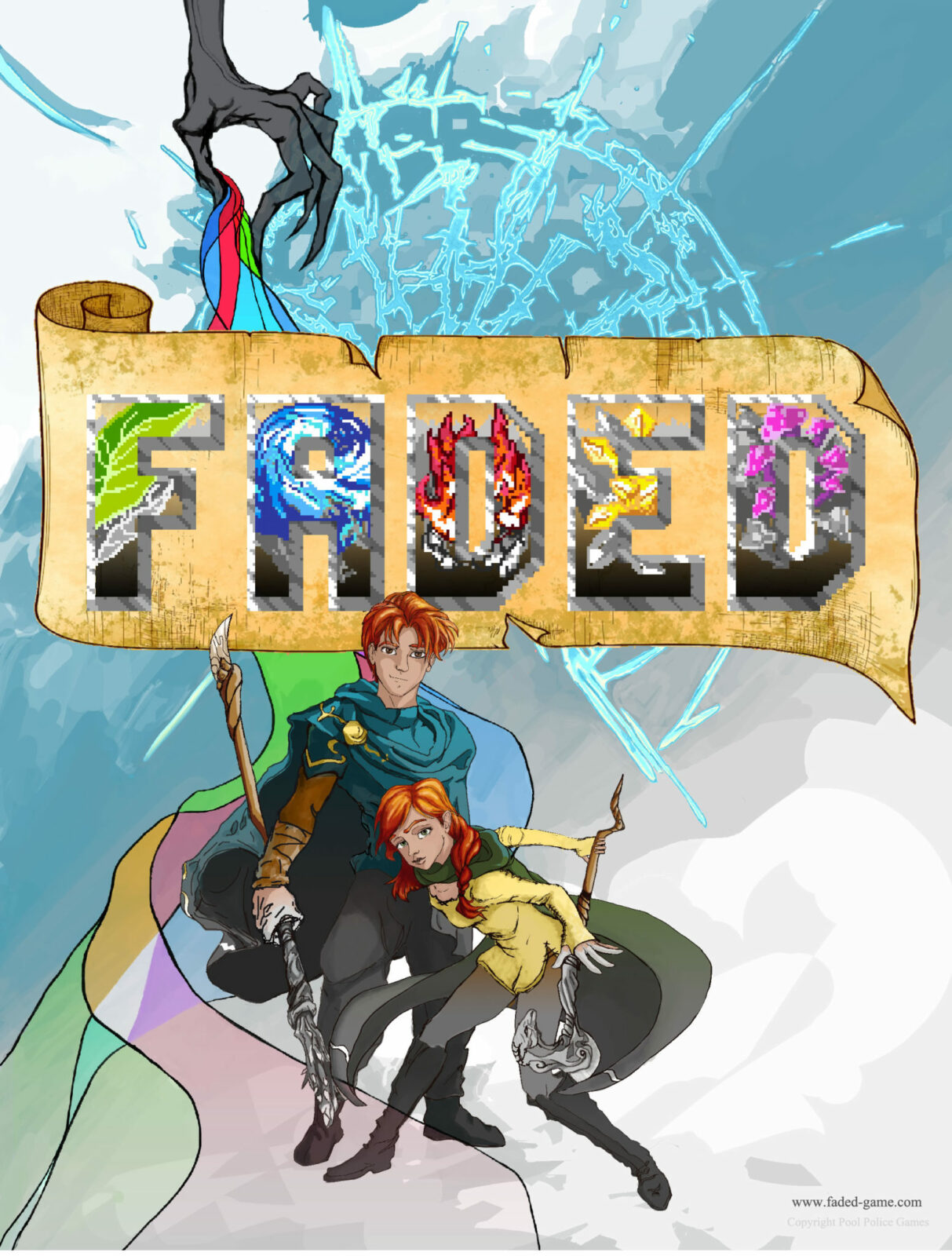 Missouri University of Science and Technology seniors Austin Gantner, Max Huhman and Tim Karleskint are passionate about video games. And the three took what they learned in their Missouri S&T programming courses to create their own online single-player game, "Faded."
Gantner and Karleskint are computer science majors set to graduate in May, and Huhman is a computer engineering major set to graduate in December. The three formed their company, Pool Police Games LLC, in 2014 and began working on their game. And they worked on it right up until they drove 797 miles to roll it out during the PAX South gaming convention Jan. 23-25 in San Antonio.
The game's protagonist, named Rain, can be played as male or female. In "Faded," the world is pictured in black and white, but each time as Rain completes a level, one primary color is added to the screen. When all three – red, blue and green – are activated, the game becomes full-color, and that leads Rain to fight the ultimate foe, Shadow. Along the way, Rain faces enemies such as an electric jellyfish, a treelike or stick creature called a Spriggan and a walking mushroom.
Rain uses a staff as a weapon and is "kind of a bookworm scholar," Huhman says. "So it's kind of like us."
"Faded" garnered positive reviews from gamers who played it at PAX South, which draws thousands of game enthusiasts for a weekend of concerts, networking and game-playing. Now another push is on: to raise $7,500 through crowd-sourcing website Kickstarter. As of Feb.10, they had raised more than $3,300, giving them about 44 percent of their goal. The campaign ends Feb. 20.
If they raise $7,500, the money will be used to pay the artist, pay Kickstarter its fee, pay for backer rewards promised on their donations page and repay what they've each put into it.
The next step is getting the game approved for release on the online gaming site Steam Greenlight. Steam Greenlight allows the online gaming community to help select independent games that could appear on Steam. Steam also helps developers get feedback from potential customers and helps form a community around a game during development.
"Basically, people vote on your game and Valve – the company that owns Steam – looks through submissions and makes decisions on what they want to release," Gantner says. "The three factors that help are number of 'yes' votes, crowdfunding – whether you passed Kickstarter – and whether they think it will be successful. I know of games that have gotten on Steam despite failing Kickstarter and not even being in the top 100 games on Greenlight. So it really is arbitrary but very difficult to get on."
The three agree that they never would have gotten this far without the education they've gotten at Missouri S&T.
"From the classes here, I learned all my programming skills," Karleskint says.
That started with an early Data Structures class that Gantner calls, "the cornerstone of all the other classes we have taken."
Introduction to Artificial Intelligence and Evolutionary Computing, taught by Dr. Daniel Tauritz, a Missouri S&T professor of computer science, were crucial, they say.
"AI and EC teach you how to program from the bottom up," Gantner says. "They force you to become a good programmer, or you don't make it."
Gartner and Karleskint do the programming for Pool Police. Huhman writes the score, handles sound effects, and directs and creates art. He says that classes such as Interdisciplinary Engineering 20 helped him better understand group dynamics and how to balance team members' strengths and weaknesses to work more efficiently.
At PAX South, they secured a 10-foot by 10-foot booth for $1,200, and it's in that booth they invited festivalgoers to play their game. It was a rush to the finish line to have a viable game to take with them, and that's important for one big reason.
"The more complete the game is, the easier it will be to sell," Karleskint says. "The opportunity to interact with that many people and show off your game is invaluable."
Having a successful game might lead to more career opportunities for the three. Right now, Gantner is scheduled to start work with Google in Boulder, Colorado, after graduation; Karleskint is exploring graduate schools; and, with a December graduation date, Huhman is still weighing his options. A popular, profitable game could change their plans.
"This would definitely be our dream job, but it is very hard to do for a living," Gantner says. "It will likely continue as a side job with the hopes of making a very successful game that will let us open a studio full time."
The company name, Pool Police, comes from its founders' summer jobs. Gantner and Karleskint were lifeguards at a pool in Kirkwood, Missouri, and Huhman was a dockhand and groundskeeper taking care of boats and pools at Indian Point Resorts on Table Rock Lake by Branson, Missouri.
"Austin and Tim came to visit me for a few days over the summer," Huhman says, "and when I needed to go lock up the pools, I said, 'Well it's time to go be the pool police' because the job typically involves kicking people out of the pool, and the name sort of stuck."
More news from Missouri S&T: http://news.mst.edu