Water.org co-founder, S&T alumnus returns to campus Nov. 15 for Chancellor's Speaker Series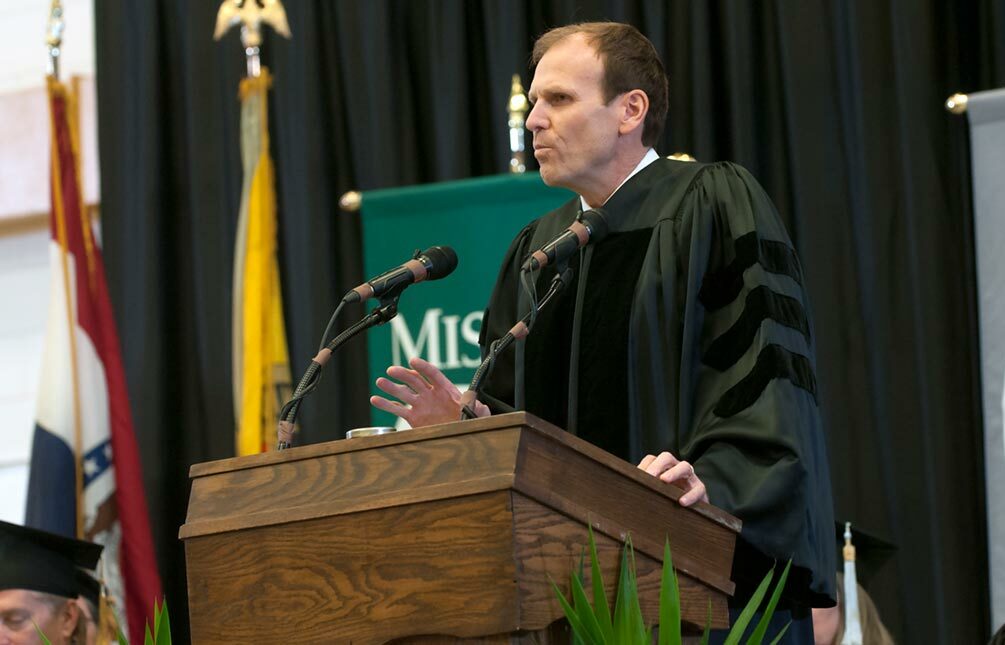 Gary White, CEO and co-founder of Water.org and WaterEquity and a graduate of Missouri S&T, will speak at the university Wednesday, Nov. 15, as part of the Chancellor's Speaker Series.

White's presentation will begin at 5 p.m. at Leach Theatre in Castleman Hall, which is located at 10th and Main streets in Rolla. There will be a reception with refreshments at 4 p.m. in the theater lobby before the talk. Those interested in attending the free event should RSVP at speakerseries.mst.edu.

White will discuss his experience spanning more than three decades related to helping solve the global water and sanitation crisis, as well as what people can do now to make a difference. He has led several initiatives dedicated to these issues and co-founded two non-profit organizations with Academy award-winning writer, actor and humanitarian Matt Damon. Because of their work, the pair was named to TIME magazine's 100 most influential people list in 2011.

"Gary White's work on the world stage has been incredible, and I am thrilled that he is returning to his alma mater as part of this series," says Missouri S&T Chancellor Mo Dehghani. "After earning two degrees from Missouri S&T, Gary went on to empower more than 58 million people with access to safe water or sanitation across 19 countries and provide them with resources and solutions to greatly improve their quality of life."

White's talk will be the second Chancellor's Speaker Series event this month, the first being with former U.S. Sen. Roy Blunt on Thursday, Nov. 9. More information for the Blunt presentation is also available on the speaker series website.

In 1985, White earned a bachelor's degree in civil engineering from S&T, and he finished a master's degree at the university in the same subject two years after that. He is an inaugural member of S&T's Alumni of Influence. He also holds a master's degree in environmental engineering from University of North Carolina at Chapel Hill.

White credits a 1984 trip to Guatemala for his water-focused inspiration. During this trip, he witnessed a young girl getting contaminated water from a rusty barrel and then walking along a stream of open sewage back to her home.

"At that moment, I knew what my life was going to be about — bringing safe water to people living without it," White says.

In 1990, he founded WaterPartners, which later merged with Damon's non-profit, H20 Africa, in 2009 to form Water.org. From there, the pair founded an asset manager, WaterEquity, in 2016 to mobilize private investments to scale solutions to the crisis.

He is a founding board member of the Millennium Water Alliance and Water Advocates and counsels several organizations on issues related to water and sanitation, including IKEA Foundation, Inditex, Reckitt, AB InBev, Amazon Web Services, the Water Resilience Coalition and Bank of America.

The Chancellor's Speaker Series was established this year to bring notable speakers to the S&T campus community to discuss topics of importance within society and encourage the creative exchange of thoughts and ideas. After White, the next speaker scheduled is Dr. Sharon L. Walker, dean of engineering at Drexel University, on Wednesday, Jan. 31, 2024.
About Missouri S&T
Missouri University of Science and Technology (Missouri S&T) is a STEM-focused research university of over 7,000 students located in Rolla, Missouri. Part of the four-campus University of Missouri System, Missouri S&T offers over 100 degrees in 40 areas of study and is among the nation's top public universities for salary impact, according to the Wall Street Journal. For more information about Missouri S&T, visit www.mst.edu.