Missouri S&T appoints inaugural associate dean for academic partnerships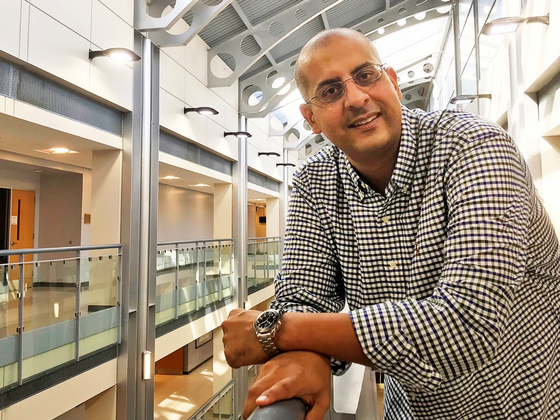 Missouri S&T leaders plan to develop additional academic partnerships with corporations and industry groups, and they appointed Dr. Islam El-adaway to spearhead the efforts.

El-adaway, who is S&T's Hurst-McCarthy Professor of Civil Engineering, will take on an additional role as associate dean for academic partnerships for the S&T College of Engineering and Computing. He starts his new duties on Friday, Sept. 1.

"Dr. El-adaway is a perfect fit for this position," says Dr. David Borrok, vice provost and dean of the college. "He has already been successful in establishing meaningful partnerships with dozens of companies in the construction industry and is well-prepared and positioned to expand his focus to our corporate education initiatives."

El-adaway says he will first focus on the St. Louis area and eventually collaborate with partners in Kansas City and other urban areas that would benefit from Missouri S&T programs.

"I feel honored and excited to serve as the associate dean for academic partnerships," he says. "This new role represents an inspiring opportunity that, when considering the exciting challenges that come along with it, will naturally align with my desire to further serve Missouri S&T and show that we truly have some of the best engineering programs in the nation."

With El-adaway at the helm, Missouri S&T will offer several full degree programs, graduate certificates, and quick-impact experiences, such as short courses or workshops, to corporate partners.

The master's degree programs offered for these partnerships will include aerospace engineering, mechanical engineering, electrical engineering, environmental engineering and engineering management. The graduate certificates will cover everything from cybersecurity to geoanalytics and geointelligence.

The quick-impact topics can be tailored to an organization's specific needs, but some possible topics include computer programming, nuclear energy, construction management, or drone technology. Any topics that fit within S&T's areas of expertise could potentially fit with this format, El-adaway says.

"One of my goals will be to work with corporations to determine what Missouri S&T programs and offerings would work best for them," he says. "Courses can be offered in Rolla, at a St. Louis location, online or potentially even in a hybrid model. What is most important is that we help these corporate cohorts further develop their employees' knowledge and skills so they can be even better at what they do.

"With our top-tier offerings, Missouri S&T is uniquely situated to provide opportunities that will be mutually beneficial for both the corporations and their employees."

El-adaway joined the S&T faculty in 2018 as an associate professor and was promoted to professor a year later. He previously served in faculty positions with the University of Tennessee, Knoxville, and Mississippi State University.

He is the founding director of the Missouri Consortium for Construction Innovation (MO-CCI) and has worked to develop relationships between Missouri S&T students and faculty and several of the nation's leading construction stakeholders.

El-adaway earned a Ph.D. in civil engineering from Iowa State University and both a master's and bachelor's degree in construction engineering from the American University in Cairo.

He has authored or co-authored over 210 peer-reviewed papers — many of which have received best paper and editor's choice awards —as well as one book and two book chapters. He has been part of externally funded projects totaling around $10 million from several agencies, including the National Science Foundation, the U.S. Department of Education, the U.S. Department of Transportation, the Construction Industry Institute, Sloan Foundation, and various construction-related stakeholders.

Over his career, El-adaway has graduated 10 Ph.D. students and six master's students who earned multiple recognitions at the institutional and national levels. Currently, his research team supports seven Ph.D. students.

Over 60 of his bachelor's degree students have been published in peer-reviewed scholarly publications thanks to the problem-based in-class activities El-adaway implements in his classroom.

El-adaway is a recipient of more than 30 awards at the national, regional and university levels and is a fellow of the American Society of Civil Engineers and the Institution of Civil Engineers.

For more information about S&T's corporate partnership initiatives, email El-adaway at eladaway@mst.edu.
About Missouri S&T
Missouri University of Science and Technology (Missouri S&T) is a STEM-focused research university of over 7,000 students. Part of the four-campus University of Missouri System and located in Rolla, Missouri, Missouri S&T offers 101 degrees in 40 areas of study and is among the nation's top 10 universities for return on investment, according to Business Insider. For more information about Missouri S&T, visit www.mst.edu.