Missouri S&T American Nuclear Society student section wins national award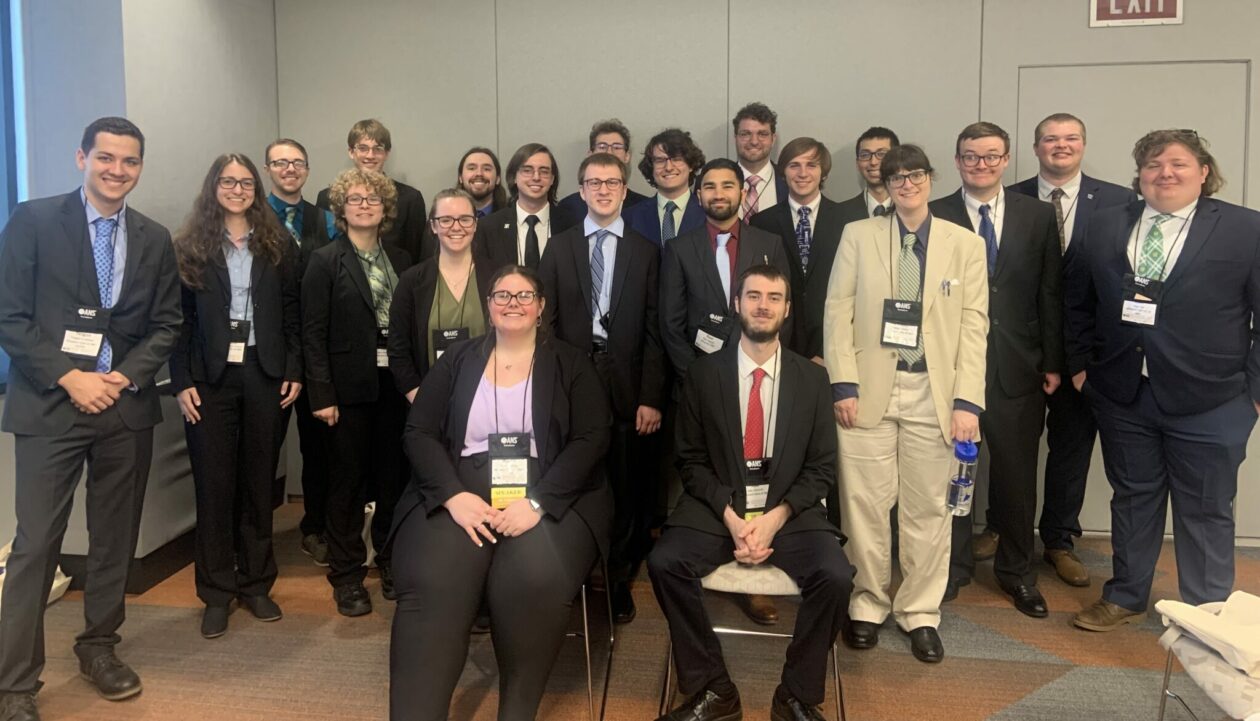 Missouri S&T's student section of the American Nuclear Society (ANS) was recently recognized on the national stage as the winner of the organization's 2023 Samuel Glasstone award.

The award is presented annually to the most active ANS student section in the country. The groups are judged on public information efforts, public service, university service, professional development, industry support, social events and section management.

"I'm incredibly proud of the students in the nuclear engineering and radiation science department who invested so much time and effort into supporting our goals both here on campus and in the Rolla community," says Narrie Loftus, S&T section president. "This award represents hundreds of hours of planning and execution so that people can learn about the importance of the nuclear industry, both now and in the future."

Loftus, of Sonoma, California, recently earned a bachelor's degree in nuclear engineering at S&T and is now pursuing a master's degree in the program. She says the university's ANS section has been working toward this national honor for years, and she is thrilled to see everyone's efforts pay off.

"We have been working hard over the past few years to help realize the goals the national ANS has to advance, foster, and promote the development and application of nuclear sciences and technologies in ways that will benefit society," she says. "In 2020, we were given an honorable mention. In 2022, we won third place. Now, finally, we are being recognized as the strongest student section in the nation."

Prior to this year, the last time S&T took top honors was in 1999, but the student group's leaders do not anticipate waiting that long to receive the award again.

"We were involved in so many initiatives last year, and we are not going to slow down any time soon," says Tivon Straub, a sophomore in nuclear engineering from Columbia, Missouri, and the group's secretary. "The officers from the past few years did a great job building up our organization's efforts, and now our current officers are going to continue this work."

Over the past year, the student section took part in several educational and team-building events. They toured nuclear reactors and facilities, heard from several expert speakers, organized events for Nuclear Science Week, and established a mentorship program, among other efforts.

The group was also active in multiple public outreach events with a goal of providing nuclear education and dispelling negative thoughts and feelings some people may have about the nuclear industry.

"Our work in the state of Missouri is laying the foundation for a better future by sparking interest in a subject that many people fear," Loftus says. "Removing the 'boogeyman' some people associate with the industry is the first step to getting people to realize the potential of the atom to improve human lives and preserve the planet."

For more information about S&T's nuclear engineering and radiation science department, visit nuclear.mst.edu.
About Missouri S&T
Missouri University of Science and Technology (Missouri S&T) is a STEM-focused research university of over 7,000 students. Part of the four-campus University of Missouri System and located in Rolla, Missouri, Missouri S&T offers 101 degrees in 40 areas of study and is among the nation's top 10 universities for return on investment, according to Business Insider. For more information about Missouri S&T, visit www.mst.edu.