Morgan State University dean honors Missouri S&T Ph.D. graduates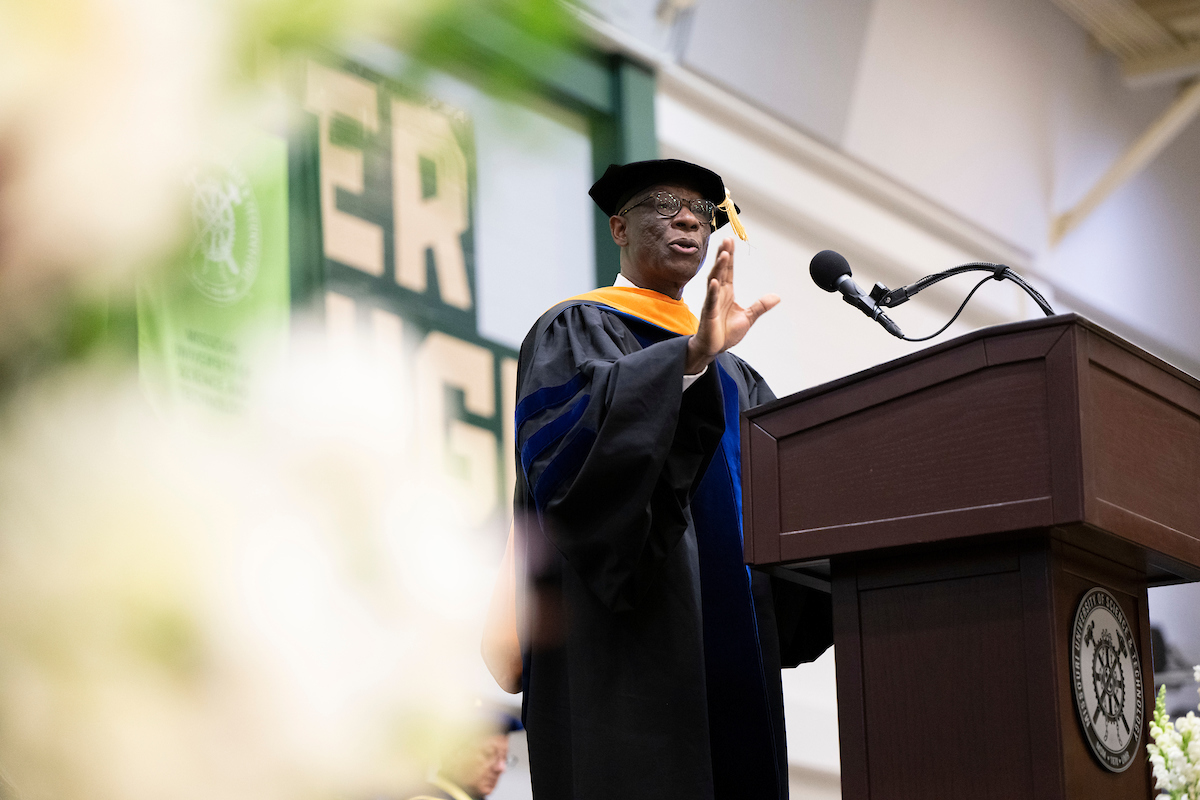 Dr. Oscar Barton, professor and dean of the Morgan State University Clarence M. Mitchell Jr. School of Engineering, delivered the commencement addresses during Missouri S&T's commencement ceremony for Ph.D. graduates, held Friday, May 12, in the Gale Bullman Building on campus.
Barton told graduates about his childhood experiences in a Washington, D.C., family of eight, learning servant leadership and the importance of education from his father, a veteran of World War II and the Korean Conflict.
"Although a man of few words, I am sure that he would have celebrated that his son was the first
African-American to achieve the rank of tenured full professor in the Division of Engineering and
Weapons at one of our nation's colleges, The United States Naval Academy," Barton said. "And then to go on to lead its 42-member faculty as department chair. No doubt we both would have shared in my election as a Fellow of ASME.
"He would never enjoy any of these moments," said Barton, whose father died two years before he earned his Ph.D. However, Barton said, "He is never far from me. Now in my office at Morgan State University sits his American Flag alongside a statue of a gold eagle, both of which are quite close to my desk plate, which reads Dean Oscar Barton Jr."
Barton told the graduates about the history of Missouri S&T's Ph.D. programs, noting the first Ph.D. graduate, William Smothers, who earned a Ph.D. in ceramic engineering in 1944. Barton then cited interesting demographic facts from that time, noting key innovations developed since.
"We continue to address societal needs through innovation and knowledge creation, the essence of a terminal degree," Barton said. "And what does the future hold? How will you advance society with your newly earned credentials?"
Barton concluded his speech with predictions of future innovations.
"The robes you adorn symbolize your academic achievements," he said. "Your graduation today authorizes you to challenge nature and all of its glory for the betterment of humanity.
"You are ready," Barton said. "Accept this challenge. Remember this day. Remember this feeling.
"And remember what Miners do – Miners dig deeper."
Barton holds a bachelor's degree in mechanical engineering from Tuskegee University and a Ph.D. in applied mechanics from Howard University. He joined the Morgan faculty in fall 2020 after completing six years at George Mason University and a 22-year career with the U.S. Naval Academy.
As the founding chair of mechanical engineering in the Volgenau School of Engineering at George Mason, Barton grew the department from three faculty and 12 students to 17 faculty, 385 undergraduate students and six doctoral students as of spring 2020. He also established state-of-the-art teaching and research labs and authored an interim Ph.D. program in its final stages of approval by the State Council of Higher Education for Virginia.
At the Naval Academy, Barton mentored numerous Midshipmen through independent research projects and directed two Trident Scholars, the Naval Academy's flagship research program. He has published over 60 journal and conference articles.
In the 163-year history of the U.S. Naval Academy, Barton was one of three Black faculty to reach tenured full professor and the first in the Division of Engineering and Weapons, Division I. In 2010, he became chair of mechanical engineering, revived and accredited the general engineering program, and created the academy's first nuclear engineering program.
Barton is a member of the Missouri S&T Board of Trustees and a fellow of the American Society of Mechanical Engineers (ASME), through which he is actively involved in academic innovations and program assessment. He chaired ASME's committee on engineering education and served on the ASME Public Affairs and Outreach Council and as an at-large member of the Engineering Accreditation Commission's Executive Committee of ABET, after serving numerous years as a program evaluator and commissioner. He is a licensed professional engineer in Maryland.
A recording of each commencement ceremony, as well as additional information about commencement, will be available online at registrar.mst.edu/commencement.