'MacGyver' Miner: From maintenance worker to middle school math teacher to mechanical engineer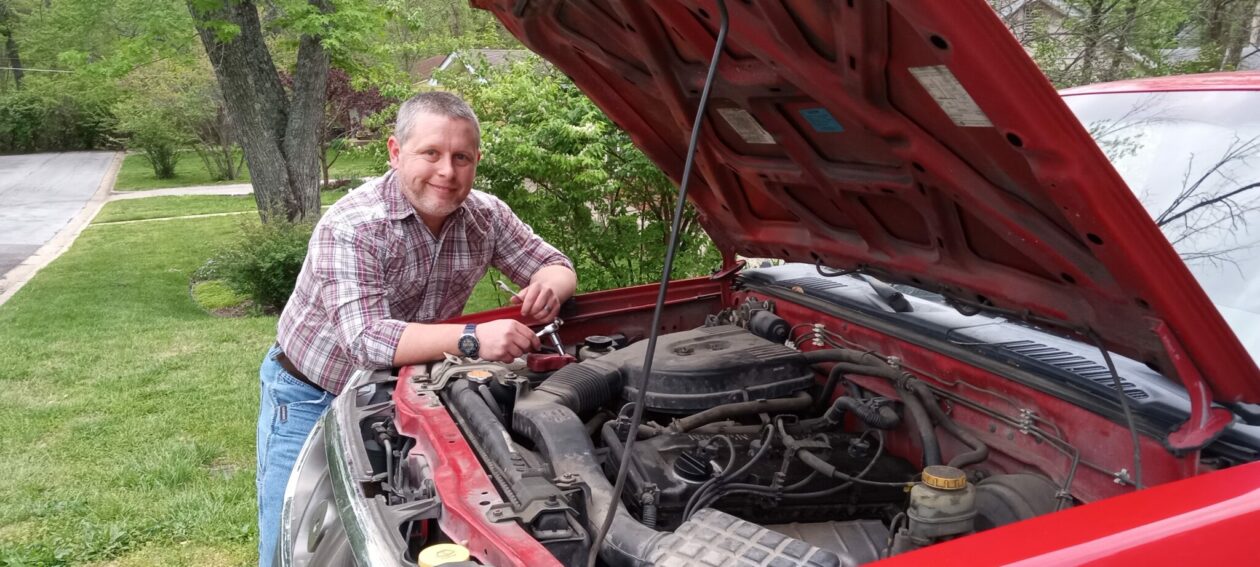 In 2004, Chad Abernathy graduated from high school in Newtown, Missouri, and began his collegiate studies at Missouri S&T. Not long after, he started working as a part-time maintenance worker for S&T's student affairs and auxiliary services.

Four years later, he graduated with a bachelor's degree in biological sciences and earned magna cum laude honors.

Fast-forward another 15 years, and Abernathy is now in the final days of his second bachelor's degree from S&T, and this time, it is in mechanical engineering. But before learning more about his current status as a soon-to-be mechanical engineering graduate, it is first necessary to rewind back earlier in his life.

"Even in 2004, I knew I had the knack to study engineering, but I couldn't figure out exactly what I wanted to do with it, so I looked into other paths," Abernathy says. "At the time, I knew I loved being outdoors, and biology always intrigued me, so I decided to switch from engineering to biological sciences."

After graduating in 2008, Abernathy says several factors led to him not pursuing a career in biology, including the global economic crisis, which took a major toll on the job market. Even so, he decided to stay in this region of Missouri for the next several years.

"I liked the Rolla area and the people, so I wanted to stick around for a while," he says. "I considered going to grad school to be a doctor or something, but I would much rather work on cars than people."

"I've always been halfway decent at a lot of things," he says. "My skills and interests cover several areas, and I enjoy having variety in my life and work."

This would prove to be true in the years after Abernathy graduated, as his job titles ranged from middle school math teacher to pharmacy technician to cabinet installer. He also self-published a book titled Robo and Bo: Boys 2 Bots in which the protagonists fight to protect their city from being taken over by robots.

During those years, he also met and married his wife, Amber, and eventually moved to Loose Creek, Missouri, and had two boys, named Micah and Owen.

"But I always had that gnawing question of 'What if?' in the back of my mind," he says.

He says he did well in his past positions, but he questioned if he was reaching his full potential.

"I did what I could to make ends meet," he said. "But, having a wife and kids began to make me ask myself if I was doing my best. And the honest answer to that was 'no.'"

In 2019, with the support of his wife, Abernathy enrolled at his alma mater for a second time as a full-time student. He says that taking this step required a lot of faith.

"We had a house to sell in about three months," he says. "At first, we thought the house would be sold in early July, but the deal wasn't going to work well for us, and we had to tell the buyer no. As we were moving down to Rolla in August, another buyer came out of nowhere, and we closed two weeks after school started."

"We considered it a miracle and confirmation that we were headed in the right direction," he says.

Selling the house was only the first of many challenges for Abernathy, as he worked to find the balance between being his family's provider, a full-time nontraditional student, and "Dad."
 
In 2021, the Abernathy clan grew with the addition of a baby girl, Olivia.

"There were lots of times I would call Amber and tell her I wouldn't be home until midnight due to studying or working on projects," he says. "To balance that, I tried to give her downtime when I would take care of the kids and she could have a break. I don't think I could have done this without her love and support."

After he graduates from Missouri S&T, Abernathy envisions he will have more time at home with his family, plus a fulfilling career as a mechanical engineer.

He already has a mechanical engineering job lined up at the University of Missouri Research Reactor in Columbia, Missouri, where he will work to ensure the safety of containers shipping radiopharmaceuticals and other research materials.

Now, 19 years after he started his studies at S&T, Abernathy says he feels truly content with his career path, and he is excited about what comes next.

"For anyone who finds themself in an unsatisfactory job or position in life, just know that it's OK to try something different like going back to school," he says. "Just keep trying new things until you find what works best for you.

"You can either stay in the same place and be unhappy or try something different and change your life's trajectory."

To learn more about S&T's mechanical engineering programs, visit mae.mst.edu.
About Missouri S&T
Missouri University of Science and Technology (Missouri S&T) is a STEM-focused research university of over 7,000 students. Part of the four-campus University of Missouri System and located in Rolla, Missouri, Missouri S&T offers 101 degrees in 40 areas of study and is among the nation's top 10 universities for return on investment, according to Business Insider. For more information about Missouri S&T, visit www.mst.edu.