Engineering management student relishes her option to pivot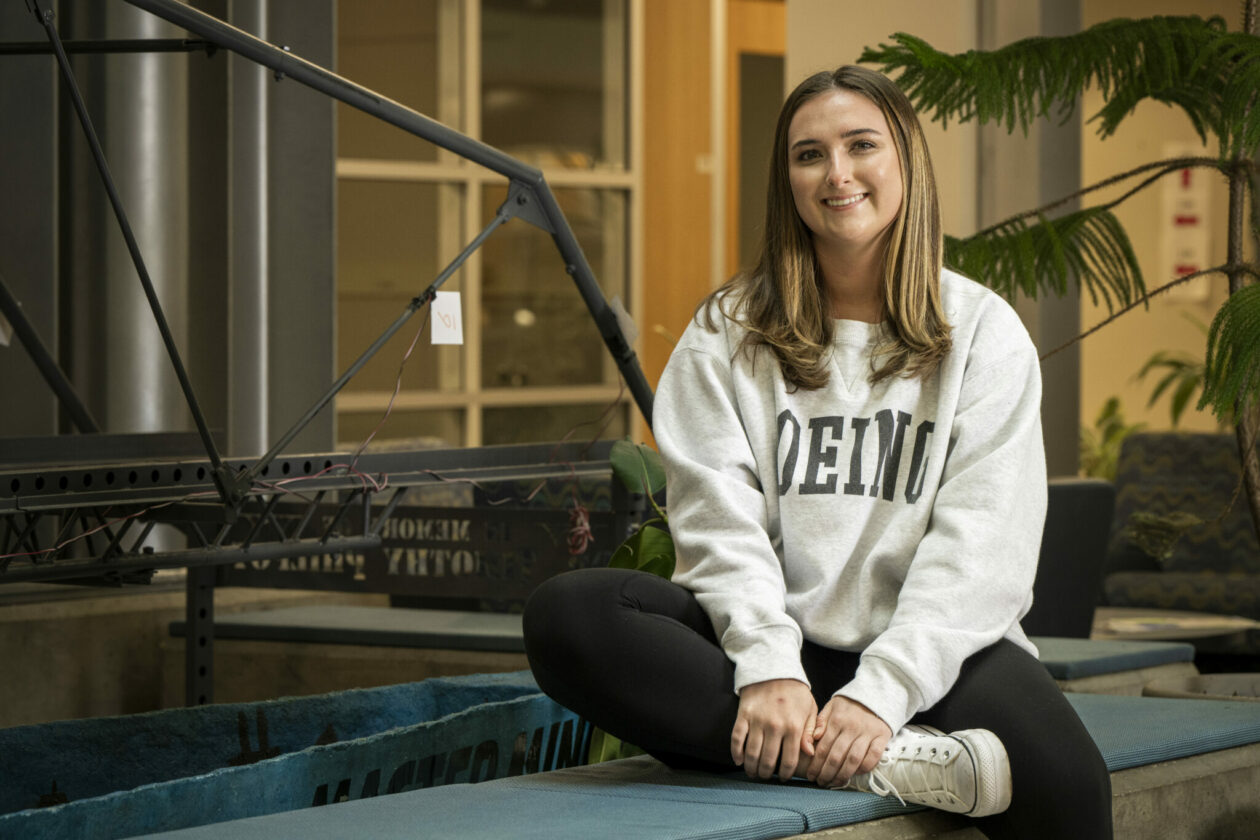 When Sophia Rowland visits her hometown of Poplar Bluff, Missouri, she often finds herself promoting engineering, both as a major and as a career.
"My former teachers invite me to speak to their classes when we run into each other at the grocery store, a high school basketball game or at a fireworks display," says Rowland, a senior in engineering management with a specialization in industrial engineering , who will join Boeing in St. Louis as a systems engineer following her graduation in May.
In her classroom talks with younger students, Rowland brings engineering to life with paper airplanes and tinfoil boats. But for those closer to graduation, she shares an overview of her academic trajectory and answers questions. While the students have a broad range of interests, Rowland says the conversations almost always return to the same topic: options.
"These are students who are starting to think about college, so I focus on the options in terms of schools and the types of engineering they can study," she says. "I also explain what an amazing value Missouri S&T is."
Rowland explored a few options herself.
Her mother and older brother, both of whom work in health care, inspired her to consider studying medicine. And playing competitive basketball, volleyball and soccer throughout high school nurtured her love of teamwork.
"My initial interest in engineering was based on critical thinking and collaborative problem-solving being things that happen on a daily basis," she says. "In engineering, nobody does anything on their own."
When she arrived in Rolla, Rowland wasn't sure what type of engineer she wanted to become, but in her junior year she declared herself an engineering management major because she believes its applications align with her skillsets.
"I also like how broad it is," she says. "My degree prepared me for a position with Boeing, but also to go to law school, or medical school, if those are options I become interested in. I value that flexibility because I don't like to be limited in any way."
Flexibility is fundamental to the engineering management program, Rowland says. It's a curriculum that incorporates engineering principles while immersing students in the art of working with people.
"I love the way they teach what they teach," she says. "I learned network optimization but also experienced a lot of person-to-person interaction."
She believes that the combination of engineering and management – which has played an even larger role in her higher-level courses – has helped her land competitive internships and co-ops.
"I've had the ability to go into different areas, including construction, electric buses and the supply chain, without ever feeling limited by my major," she says.
She hasn't let unforeseen circumstances limit her either. When she was confined to her hometown during the COVID-19 pandemic, she started working for a local engineering company, where she ultimately completed both an internship and a co-op, focusing on HVAC systems and overseeing project timelines. She also filled in coaching the girl's high school soccer team.
She later completed a co-op at Hunter Engineering in St. Louis, where she worked on issues associated with the supply chain, which she says was starting to buckle under the pressure of the pandemic. At Proterra in Greenville, South Carolina, she completed a project management internship working on electric buses. Her last internship was with a construction company in St. Louis, where she was a project engineer on a vertical extension to Barnes-Jewish Hospital.
The job at Boeing that she'll start immediately following graduation in May is the result of a conversation that started at S&T's career fair. She believes the diversity of her academic and extracurricular experience helped make her a compelling candidate.
"I think the ability to work with lots of types of people on lots of types of work is attractive for companies," she says.
Beyond academics, Rowland says she's also enjoyed the ability to explore a variety of interests.
"As an S&T student, I've done a million things," she says. "You can pivot at any time."
Most recently, Rowland helped steer S&T's student case-study team to victory at the annual conference of the American Society for Engineering Management (ASEM), held last year in Tampa, Florida. The four-member team was given four hours to analyze a case study, followed by 20 minutes to present its recommendations. The team placed first in the in-person competition, held at the conference, and second in the virtual competition.
In addition to the case study competition, Rowland serves as vice president of ASEM's student chapter and as the Kummer College chair on S&T's Student Council. She's met every week with a local fifth grader as a volunteer for the Mentoring Makes a Difference program. And she's active in S&T's chapter of Zeta Tau Alpha, an organization she says does a formidable job empowering women students.
"The upper-class female students are phenomenal at making newer students feel welcome," she says.
While the willingness of women to help other students is more immediate to her experience, it's a character trait she believes transcends genders at S&T.
"When I lived in the residence halls I could knock on any door," she says. "Everyone understands what it's like to go through engineering classes, and when someone needs help, they're ready to jump in."
About Missouri University of Science and Technology
Missouri University of Science and Technology (Missouri S&T) is a STEM-focused research university of over 7,000 students. Part of the four-campus University of Missouri System and located in Rolla, Missouri, Missouri S&T offers 101 degrees in 40 areas of study and is among the nation's top 10 universities for return on investment, according to Business Insider. S&T also is home to the Kummer Institute, made possible by a $300 million gift from Fred and June Kummer. For more information about Missouri S&T, visit www.mst.edu.