100 years of ham radio: Missouri S&T club celebrates its centennial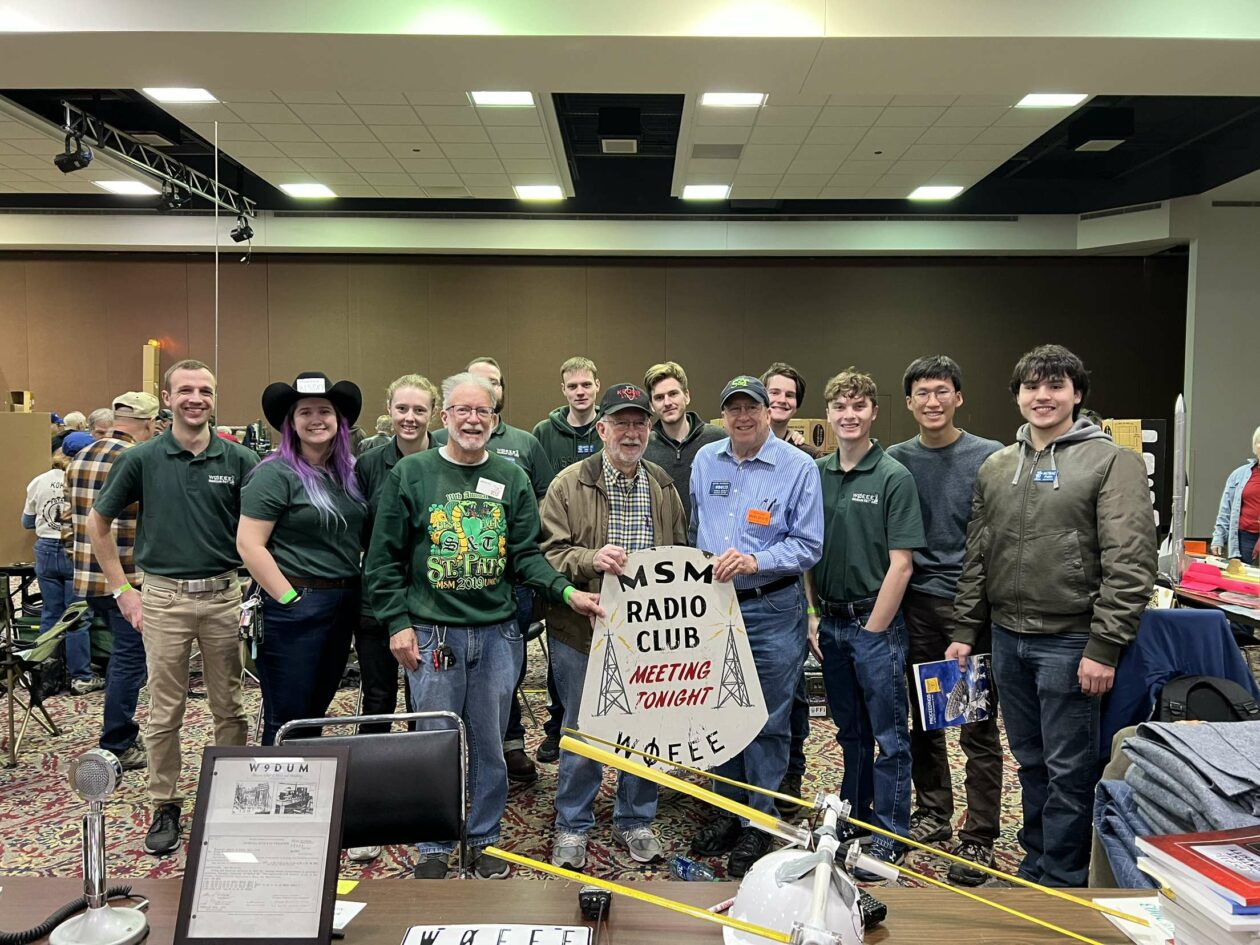 Over the past 100 years, Missouri S&T and higher education in general has changed in countless ways, but one aspect of S&T that has remained constant is the presence of an amateur radio club.

The Missouri S&T Amateur Radio Club, call sign W0EEE, will celebrate the 100th anniversary of its founding on Saturday, April 15. The public is invited to attend an open house 2-5 p.m. in the club's radio shack located in Emerson Hall.

"This organization has quite the legacy," says Morgan Lyons, the club's president. "We've had several generations of students take part in our events, and the club is still going strong 100 years later."

Lyons, a junior aerospace engineering student from Flower Mound, Texas, says the club has always served as a way for people to come together and network. Ham radio has traditionally allowed its operators to feel like part of a close community — even if they are communicating with people hundreds of miles away.

In its heyday, before the advent of other communication technologies, the ham radio would have been a more common concept used and discussed by students at Missouri S&T. Today, it is less common, but Lyons says the group still has 20 active members who are studying various  disciplines, and they all understand that "ham radio" is a colloquialism to describe amateur radio, as opposed to being some type of pork product.

According to the Missouri Miner archives from 1923, the club was founded by 12 men "for the purpose of studying applications and devices connected with radio reception." The members of the club purchased the first equipment used on their own, but their goal was to "stimulate the interest of the school in radio work, with a view towards this school eventually purchasing a good transmitting set."

The club's initial aspirations have come true, with S&T now being a collegiate powerhouse in terms of its amateur radio setup and the tower's reach. The university's tower has six antennas with high-frequency bands on Emerson Hall, as well as a two-meter repeater atop Thomas Jefferson Residence Hall.

Lyons says club members now take part in competitions with other institutions to make the most contacts possible over a 24-hour period, and the strength of S&T's station gives the club an advantage.

"The last time we participated, we made over 1,000 contacts with people from around the world," Lyons says. "Our members have access to the shack day and night, and we all enjoy coming together to be part of the community."

Lyons says the group regularly provides testing services as well so community members and students can get their amateur radio operators license. They also provide radio services for a local motorsporting event known as the 100 Acre Wood Rally, since much of the rally in Salem and Potosi, Missouri, has minimal phone service.

She acknowledges that people can put together their own ham radios and can simply purchase the materials online, and this can be an enjoyable way to join the community as well. However, the S&T station is stronger and clearer than any "homebrew," or homemade, station students may develop.

"Our past and current members of the club have worked hard to make this the premiere amateur radio club for college students in the United States," she says. "We need to credit the work of our club's alumni, and I would love to develop stronger relationships with them."

To that end, Lyons says the club will host a special dinner for current members and alumni at Alex's Pizza Palace in downtown Rolla after the open house. The April 15 dinner will begin at 6 p.m., and there will be a $5 admission cost, which the club will use as a fundraiser.

To register for this dinner, visit bit.ly/w0eeedinner. To learn more about the club and its events, email w0eee@mst.edu or visit the club's  Facebook page at www.facebook.com/W0EEE.
About Missouri S&T
Missouri University of Science and Technology (Missouri S&T) is a STEM-focused research university of over 7,000 students. Part of the four-campus University of Missouri System and located in Rolla, Missouri, Missouri S&T offers 101 degrees in 40 areas of study and is among the nation's top 10 universities for return on investment, according to Business Insider. For more information about Missouri S&T, visit www.mst.edu.