'Weird culmination of hobbies and interests' brings Dawson Jeffers to Missouri S&T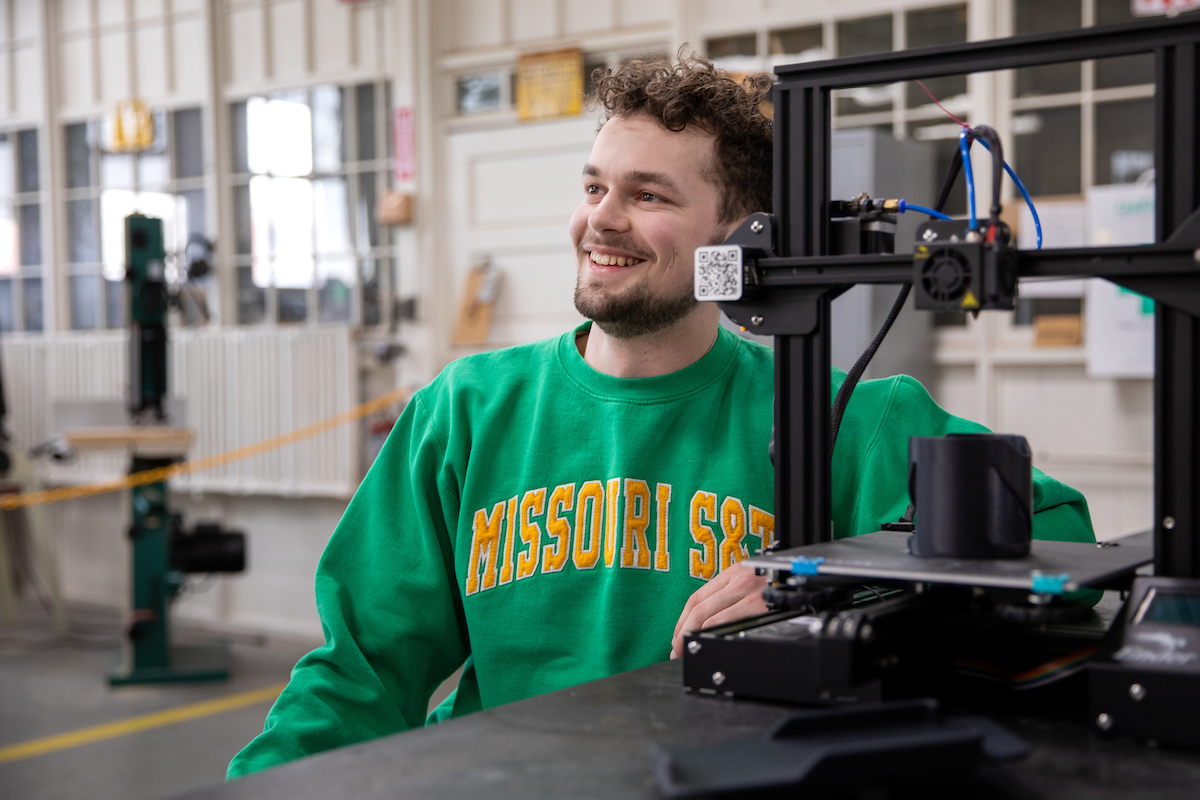 Dawson Jeffers' interest in making things began as an 8th grader in Troy, Missouri, when he attended a robotics competition, where, as he recalls, "kids were operating robots that could pick up balls and throw them." In high school, he began making and selling his own products – from wallets made of duct tape to 3D-printed name plates. Today as a student at Missouri S&T, Jeffers is taking his interest in product development and entrepreneurship to new levels.
In addition to launching his own business, in high school Jeffers also signed up for every STEM course available. The acronym STEM stands for science, technology, engineering and math.
"I fell in love with the design process," says Jeffers, a sophomore in engineering management with an emphasis in mechanical engineering. "That's how I knew I wanted to be an engineer."
Taking mechanical engineering courses as an engineering management major, according to Jeffers, is a best-of-both-worlds scenario.
"I'm learning mechanical engineering while also learning to run a business and manage people," he says.
What he describes as a deep sense of belonging on campus began with the coursework for the STEM classes he took in high school, much of which was developed by S&T. Jeffers visited Rolla a few times, but he says the decision to enroll was not a simple one.
"I wanted to go to college on one of the coasts, or maybe near mountains," he says. "I looked at a few schools in California but they were way too expensive. Plus, I didn't feel like God was calling me to those places."
In addition to S&T's overall value – the school was recently ranked in the top 10 nationwide for the economic success of its graduates – Jeffers was awarded the Chancellor's Scholarship, was named a Kummer Vanguard Scholar and received a few private scholarships.
"It's a privilege to not have to hold down a job while I'm studying," he says.
An entrepreneurial spirit
For Jeffers, falling in love with design coincided with the realization that he's an entrepreneur.
"I'm a weird culmination of interests and hobbies," he says. "I'm pretty creative. Rather than following the rules I prefer pushing boundaries. And I love to sell."
In high school he sold wallets he'd made of duct tape. He launched an online store that didn't generate a single sale, but taught him about branding. Then, as a sophomore, he split the cost of a 3D printer with his parents.
"I was amazed to learn that anything that can be designed on a computer screen can be brought to life," he recalls.
His first foray into digital printing was creating name plates, known as agamographs – or lenticulars – that used optical illusion to read differently when held at different angles. Jeffers' initial idea was to create plates that displayed a student's first name when held one way and the last name when held another. But when a classmate wanted a plate that included his name and the name of his girlfriend, Jeffers' discovered his first niche market: lovesick teenagers. That was followed quickly by the second niche, which was those who had just parted ways – the name of the ex when held at one angle, the words "get lost" when held at another.
"The 3D-printed name plates were cool because I was selling them, but it was a terrible profit margin," Jeffers says. "I ended up paying off my product, but I knew I needed to do something else."
Enter the red, 1995 Miata, which Jeffers bought his junior year with money he'd earned working at Dairy Queen.
"I loved that car the instant I saw it," he says. "It was so much fun to drive, even though there was not a good spot to for a cup holder or a phone."
Jeffers' first Miata creation was a mobile phone holder that attaches to the console and positions the phone to be charged via a connection to the cigarette lighter. After a considerable amount of research, including buying and taking apart existing products, he introduced a pad for a phone that enables wireless charging. That was followed by a cup holder that situates cups on either side of the console.
"It took a while to develop the prototypes, but once I did I posted on the Miata group's Facebook page and Facebook Marketplace, and it blew up," he says.
His first year in business, Jeffers made $1,500 in revenue and won a STEM design competition – money he and his business partner used to invest in two more printers. He also opened an Etsy shop.
S&T: a place to push through limits
Jeffers says that one of the biggest benefits of attending S&T is meeting and working with other students who have similar goals. Many of his friends also want to launch a business of their own.
"Being around people who are striving toward their goals reinforces that I need to pursue my own," he says. "At S&T, we learn to push through things like calculus, which I think is good training for the less fun parts of being an entrepreneur, like waking up at 5 a.m. to deal with customer complaints."
Another lesson he credits to S&T: acknowledging that not everything turns out perfectly.
"It's okay to mess up while you're learning," he says. "Sometimes you're going to get a B."
Thanks in large part to the program's entrepreneurial core, being a Kummer Vanguard Scholar is central to Jeffers' experience of S&T.
"The program makes getting involved mandatory, and it's good," he says. "As a Kummer Vanguard Scholar, a lot of my education has come from working with other majors to apply what we're learning. We're encouraged to take what we're learning one step further."
As for S&T in general, he considers his decision to enroll a good one.
"Success is possible, but it's not easy, and that's why you should come here," he says. "You can't become exceptional without doing difficult things."
For Jeffers, that means developing what he calls proper habits – including time management – and learning to push through whatever's required in tough classes like physics and calculus, developing the discipline to meet a midnight deadline for one homework assignment and handing something else in first thing the next morning. It's about identifying what he thought were his own limits and then pushing through them.
"It's cool to learn they're higher than you thought they were," he says.
About Missouri University of Science and Technology
Missouri University of Science and Technology (Missouri S&T) is a STEM-focused research university of over 7,000 students. Part of the four-campus University of Missouri System and located in Rolla, Missouri, Missouri S&T offers 101 degrees in 40 areas of study and is among the nation's top 10 universities for return on investment, according to Business Insider. For more information about Missouri S&T, visit www.mst.edu.