Researching worms to understand age-related diseases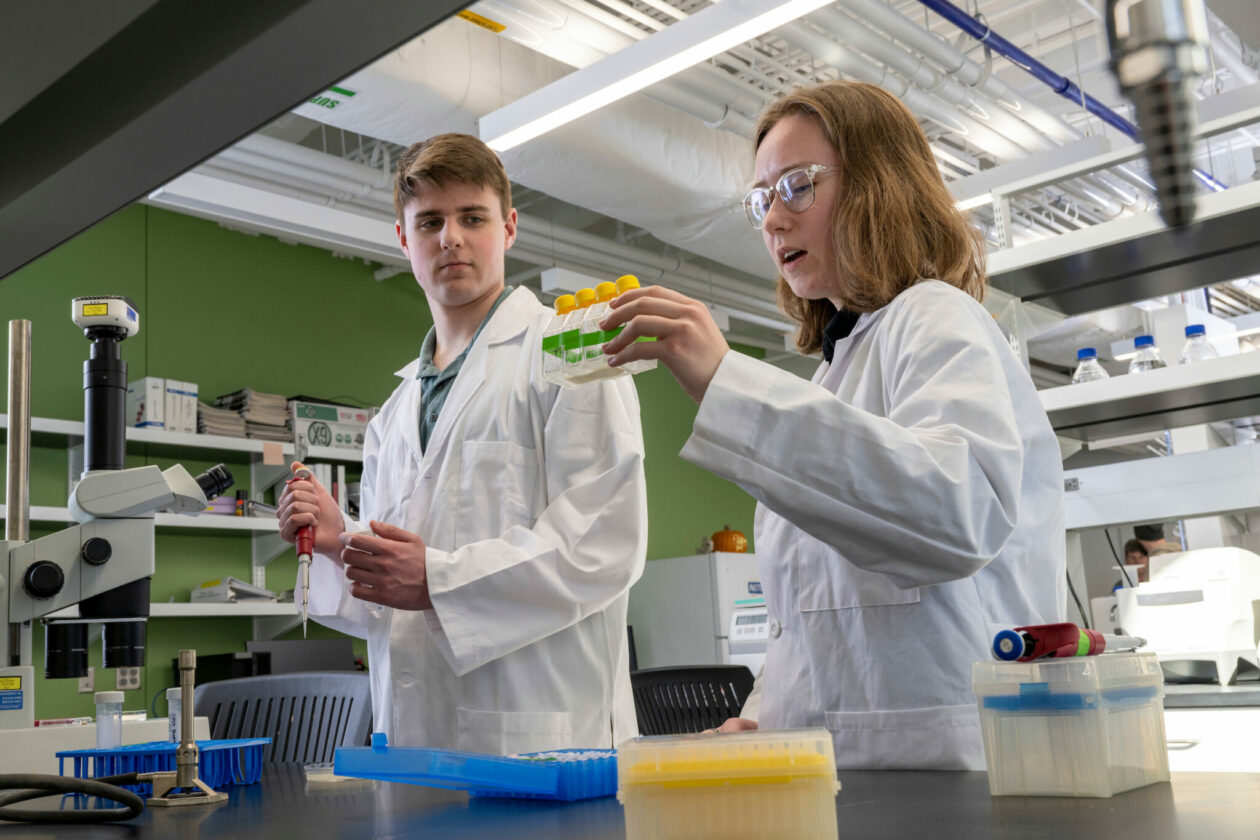 Age-related decline and diseases are beginning to affect the aging population of Missouri in economics, health care and workforce. Because of this pressing issue for the state, two Missouri S&T students are investigating how different reproductive and aging traits affect the way aging occurs.
Erik Bergstrom and Molly Ripper, both undergraduate students in biological sciences, are hoping to find therapeutic strategies to counteract age-related diseases by studying the effect of different lifespans and varying reproductive rates of roundworms in both the laboratory and through simulation. This will help them understand how aging occurs in various animal populations, which could one day help with developing treatments for age-related diseases and conditions.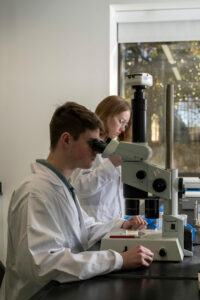 "Our project is investigating the effect of different lifespans and varying reproductive rates on worm populations using a laboratory ecosystem consisting of the nematode Caenorhabditis elegans and bacteria," says Bergstrom, a junior from Riverside, Missouri. "C. elegans is a popular model organism with many strains that have varying lifespans and reproductive rates."
The two student researchers say it is unknown how various traits affect the survival of these worm populations. Their collaborative project, advised by Dr. Andrea Scharf, an assistant professor of biological sciences at S&T, aims to answer that question.
"We don't yet fully understand the relationship between reproductive and aging traits and how they impact survival," says Ripper, a senior from Ballwin, Missouri. "Birth and death rates control the worms' populations, but there are more interplaying aspects to that relationship that we are trying to discover."
The two Undergraduate Research Experiences (OURE) researchers are using worm mutations with varying reproductive schedules as well as long- and short-lived mutants, along with researching the populations with varying degrees of food access.
"One of my favorite parts of this project has been getting involved with investigating the data we have generated," says Bergstrom. "One pattern in the data that has interested me is that, while the overall boom and bust cycle of the population is consistent, the specifics such as the exact number and timing of cycles' peaks and the shape of each peak can vary quite a bit, even for different runs of the simulation under the same initial conditions."
Ripper is laboratory manager of the International Genetically Engineered Machine (iGEM) student design team at S&T, treasurer of the Phi Sigma Biological Honors Society and a researcher in Scharf's Aging and Population Dynamics Laboratory.
Bergstrom is a member of the iGEM student design team at S&T, is involved in research on campus through the OURE program and as an intern in S&T's microbiology laboratory.
About Missouri S&T
Missouri University of Science and Technology (Missouri S&T) is a STEM-focused research university of over 7,000 students. Part of the four-campus University of Missouri System and located in Rolla, Missouri, Missouri S&T offers 101 degrees in 40 areas of study and is among the nation's top 10 universities for return on investment, according to Business Insider. For more information about Missouri S&T, visit www.mst.edu.