George Horne receives Chancellor Medal from Missouri S&T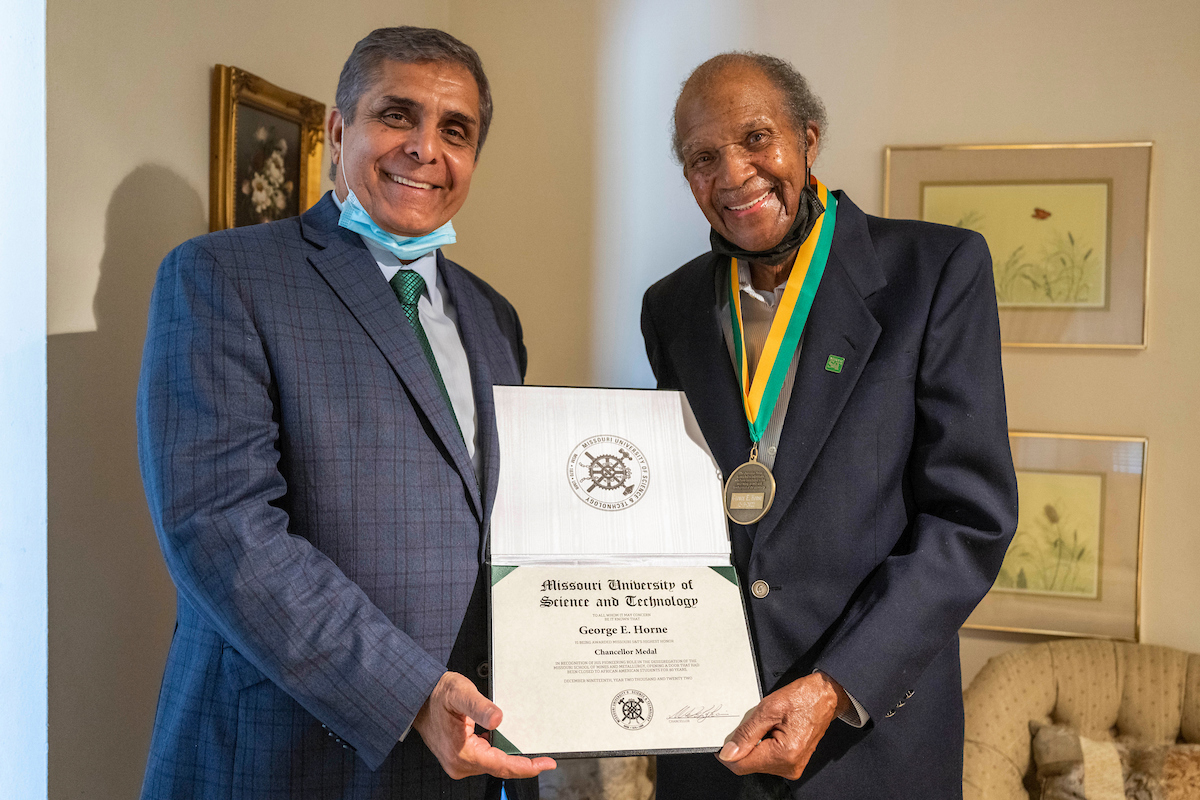 George Horne, one of Missouri University of Science and Technology's first two black students, has been honored with the university's Chancellor Medal for pioneering an integration movement at S&T when he enrolled in 1950. Missouri S&T Chancellor Mo Dehghani presented Horne with the medal at his home in St. Louis on Monday, March 27.
The Chancellor Medal is given to individuals who have contributed to the well-being, growth and development of the university.
"On behalf of Missouri S&T, I am grateful to George Horne for his courage in the face of adversity," Dehghani says. "He created opportunities for students who have attended and graduated from Missouri S&T in the many years since. He played a pivotal part in our university's path to progress, and it is my honor to present him the Chancellor Medal."
As Missouri S&T historian Larry Gragg noted in his book Forged in Gold: Missouri S&T's First 150 Years, S&T was a much different place when Horne and the late Elmer Bell Jr. enrolled in 1950. The Rolla community and schools were still segregated, and the town had only 42 Black residents. Horne and Bell reported no trouble with their professors, but both transferred after their first semester to the University of Missouri-Columbia where there was a larger Black population.
"Rolla was a good experience for me," Horne says. "Even though it wasn't fruitful for me, it was fruitful for others who came after me."
Horne was drafted into the U.S. Army and served state-side for two years. After discharge, he worked for the post office, then as an assistant chemist for the Food and Drug Administration.  
In 1959, Horne took a position with the St. Louis Fire Department, which, at the time, still had segregated station houses. 
During his 41-plus-year career with the St. Louis Fire Department, Horne served as private, captain, battalion chief, the city's first Black fire marshal in October 1988, and deputy chief. He retired in 2000.
Horne will be 91 in April 2023. The St. Louis Fire Department celebrated his 90th birthday with a visit to his home.