S&T students study architecture through virtual reality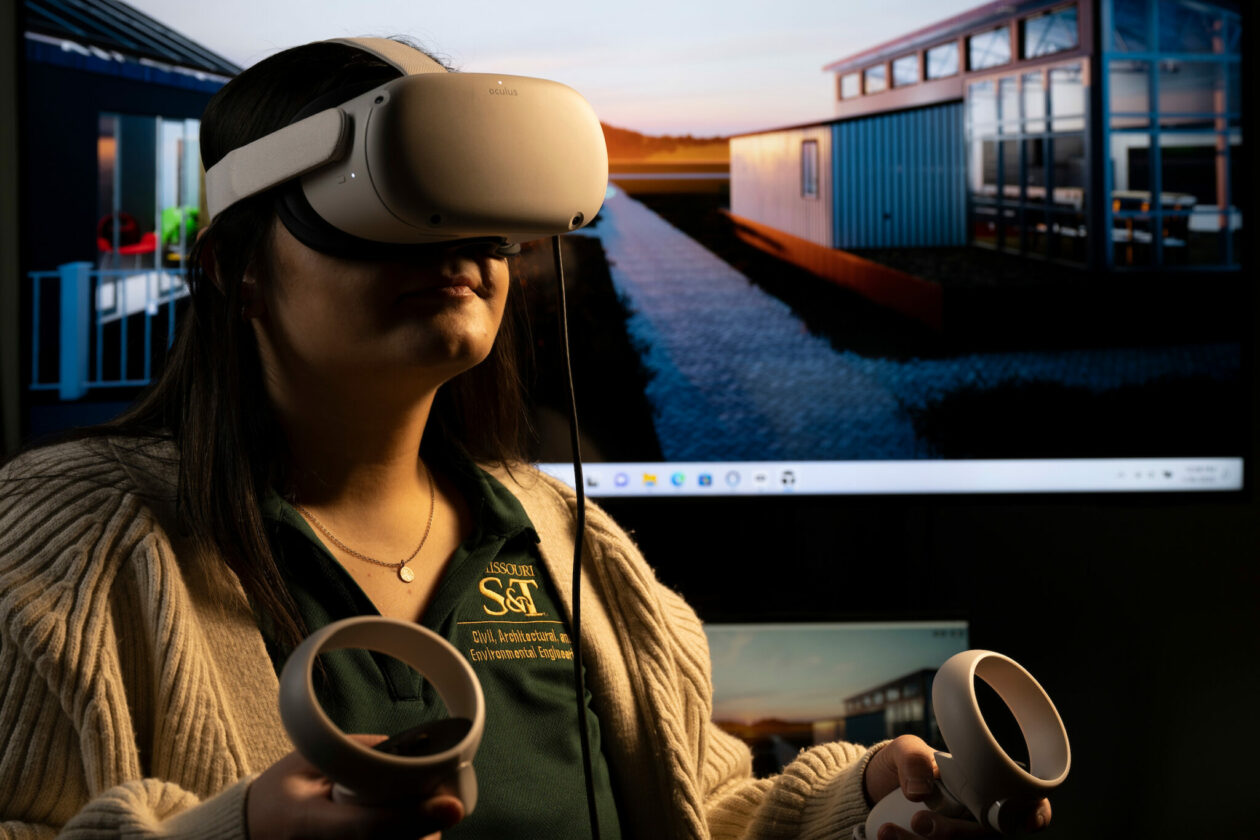 What is the first thing that pops into your mind when you hear the words virtual reality? Is it video games or simulators? Or maybe Meta's social media platform? For some Missouri S&T students, the answer is architectural engineering.
In Dr. Stuart Baur's new virtual reality laboratory, prospective students touring the S&T campus can get a taste of the types of research and studying they can conduct at the university by using virtual reality goggles to view the campus' Solar Village homes. Baur's programs allow viewers to virtually move around in the buildings, view structural information about them and pass straight through walls to see all the components that go into building "smart" homes.
The Solar Village in virtual reality was modeled and programmed by Andrew Kinder and Melorin Azimzadeh, both seniors in architectural engineering. Both are working to build virtual models to create a new way for S&T students to study architecture and construction engineering.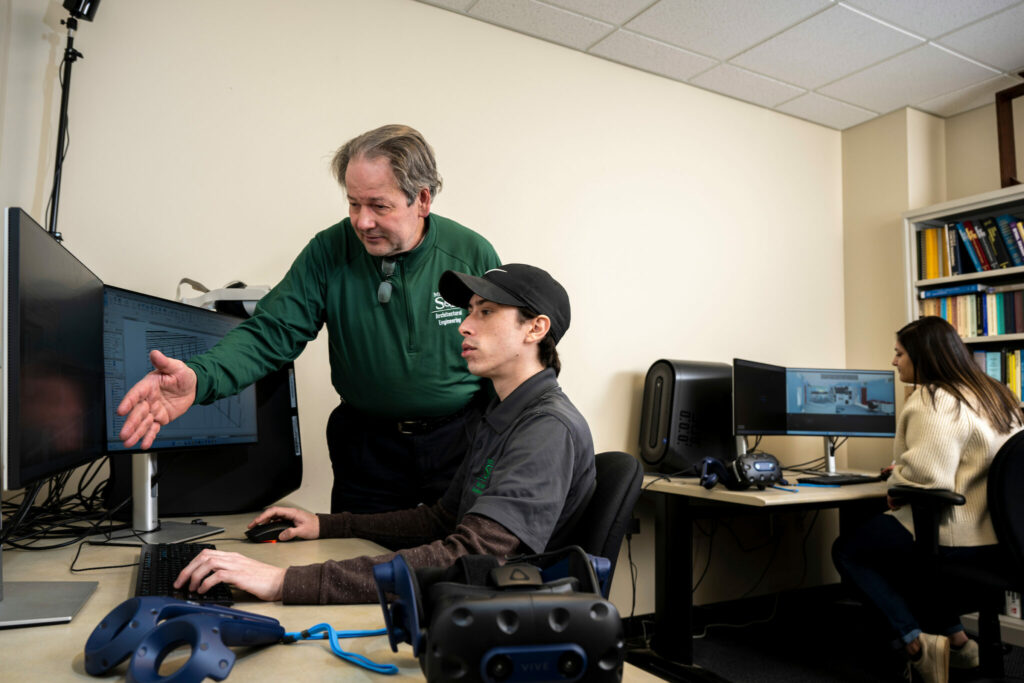 "With my students' help, current and prospective students can study buildings thousands of miles away that could be fundamental to their education or research," says Baur, an associate professor of civil, architectural and environmental engineering at Missouri S&T. "Virtual reality could lead to many educational breakthroughs in our field, and I am excited for our architectural engineering students to pilot this program."
Now, thanks to Kinder and Azimzadeh's models, tours of the university's 2013 and 2017 solar houses, along with Fallingwater designed by 20th-century architect Frank Lloyd Wright, can be viewed virtually. The group is also developing more locations to tour.
"We are working to develop partnerships with other departments on campus as well," says Baur. "History students could view far-off locations or buildings in the height of their glory before being destroyed, like Notre Dame in France. The possibilities truly are endless when it comes to advancing students' educational experience."
Stephen Simmons, a civil engineering graduate from S&T with an emphasis in architectural engineering, is using the virtual reality setup in a different way. He researches light use in outdoor settings, such as streetlights. Simmons has research participants view an outdoor location on campus at night through the VR goggles, and then shows them different levels and colors of light to gauge feelings of visibility and safety.
Simmons says he first gained an interest in lighting when, while camping in a field, his father pointed out the brighter section of sky that was light pollution from a nearby city.
"My survey of participants is looking at how lighting demands impact new building construction and its environment," says Simmons. "And light color impacts more than many realize. In the evenings, for example, the redder the light the better for our bodies and the environment, but visibility is slightly lower than bluer light. These considerations need to be considered when constructing new locations – even the light's shielding can change perceptions."
About Missouri University of Science and Technology
Missouri University of Science and Technology (Missouri S&T) is a STEM-focused research university of over 7,000 students. Part of the four-campus University of Missouri System and located in Rolla, Missouri, Missouri S&T offers 101 degrees in 40 areas of study and is among the nation's top 10 universities for return on investment, according to Business Insider. S&T also is home to the Kummer Institute, made possible by a $300 million gift from Fred and June Kummer. For more information about Missouri S&T, visit www.mst.edu.