S&T professor receives Global Star honor from American Ceramic Society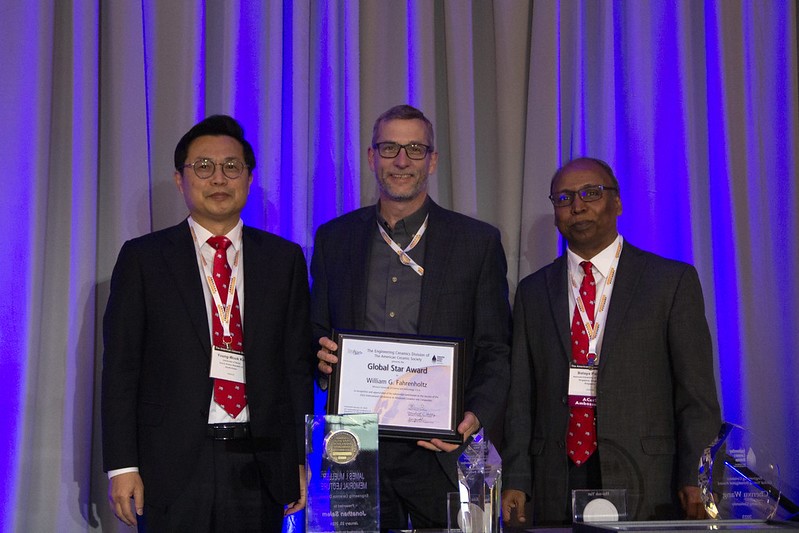 Dr. William Fahrenholtz, Curators' Distinguished Professor of ceramic engineering at Missouri S&T, has been recognized for his contributions to the American Ceramic Society's International Conference on Advanced Ceramics and Composites.

Fahrenholtz, who has been a member of the society since 1986, was presented the Global Star award at the annual conference, which was held in January in Daytona Beach, Florida.

This award is presented to volunteers who have made significant contributions to the conference and more specifically to its Engineering Ceramics Division.

"Recognition as a 'Global Star' was a surprise to me since the nominations are anonymous," Fahrenholtz says. "I am honored that one or more of my peers took the time to recognize my dedication to the success of the conference."

Fahrenholtz has attended this conference since 1994 and organized the symposium on ultra-high temperature ceramics since 2011. He has been a Fellow of the American Ceramic Society since 2007 and was editor-in-chief of the Journal of the American Ceramic Society from 2017-2022.

Fahrenholtz says this conference is the best venue for students to share their research related to ultra-high temperature ceramics.  

"The students get to present their results to the top professionals working in their field and have the chance to build their professional networks," he says. "This produces a synergistic effect whereby the students get to discuss ideas that benefit their research in progress while at the same time making connections with professionals from industry, government laboratories and academia, as well as other students, that will last throughout their careers."

To learn more about Missouri S&T's ceramic engineering program, visit mse.mst.edu.
About Missouri S&T
Missouri University of Science and Technology (Missouri S&T) is a STEM-focused research university of over 7,000 students. Part of the four-campus University of Missouri System and located in Rolla, Missouri, Missouri S&T offers 101 degrees in 40 areas of study and is among the nation's top 10 universities for return on investment, according to Business Insider. For more information about Missouri S&T, visit www.mst.edu.