Record number of recruiters expected at Missouri S&T's Career Fair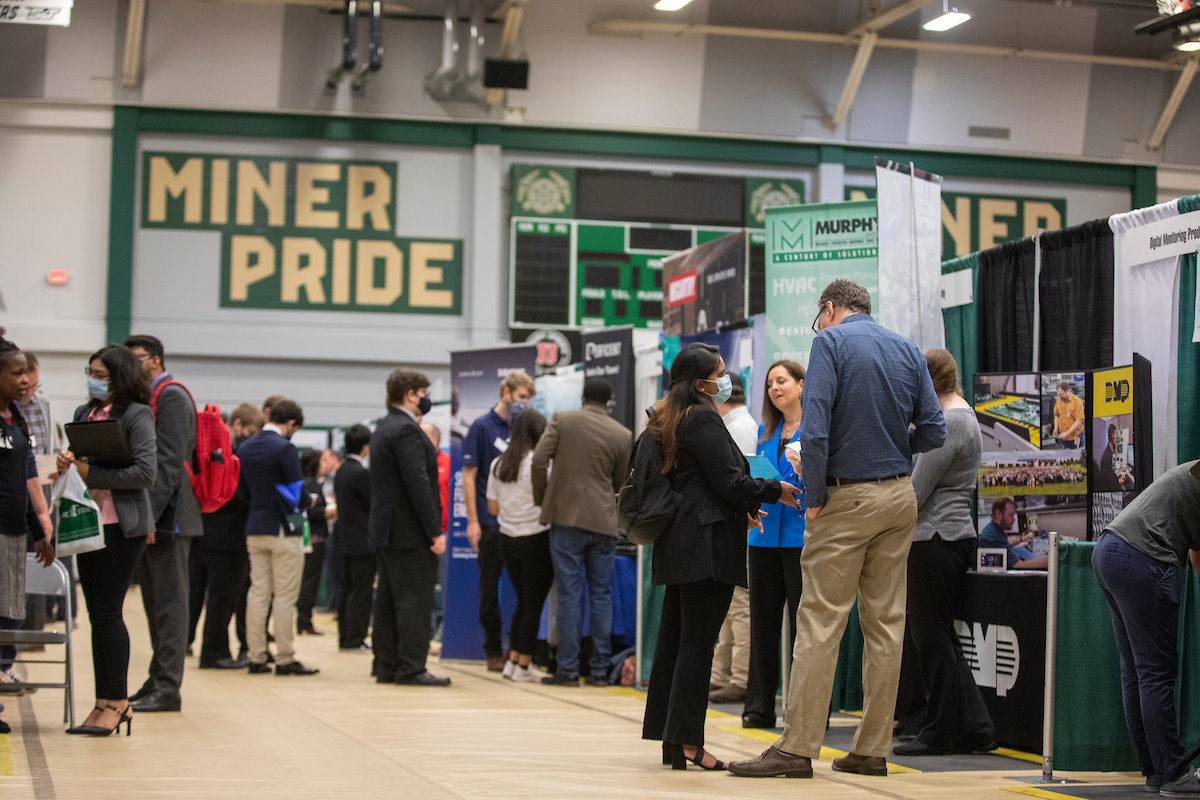 Missouri S&T's Fall Career Fair will break records once again, with 437 companies registered for the event. This milestone eclipses the previous record by over 100 companies, solidifying S&T's place among the largest university career fairs in the nation.
The in-person fair will be held 9 a.m.-3 p.m. Tuesday, Sept. 27 in the Gale Bullman Building on the S&T campus. There will also be a virtual fair 9 a.m.-3 p.m. Tuesday, Oct. 4, where attendees can use the Career Fair Plus app to schedule virtual meetings with employers. The events are open to S&T students and alumni.
"There is an exceptionally high demand for S&T talent," says Dr. Will Zwikelmaier, director of Career Opportunities and Employer Relations (COER) at Missouri S&T. "This fair is a testament to the reputation S&T has across the nation and the support that this community provides to its students in pursuing their next step."
Attendees should download the Career Fair Plus mobile app, where they can filter employers by major and industry and plan their route through the fair. There will not be printed maps available, so attendees should plan to bring a mobile device with the app already downloaded.
Those attending the in-person fair should also plan to print out copies of their resumes to give to employers, in addition to uploading their resumes to the Career Fair Plus app. COER requires attendees to adhere to a professional dress code for entry to the Career Fair.
COER will also host a campus-wide "Miner Mingle" event 5-7 p.m. Monday, Sept. 26, on the Havener Center lawn. The event gives hundreds of recruiters a chance to mingle with students in an informal setting, with no resumes allowed. Departments, design teams, and student organizations will be represented at the event.
"We are excited to demonstrate to employers that S&T students are so much more than their world-class knowledge and skill sets," Zwikelmaier says. "They are musicians, kayakers, fencers, gamers, athletes and more."
Missouri S&T consistently scores high in return on investment (ROI) rankings and starting salaries for graduates. As one example, DegreeChoices ranks S&T first in the state of Missouri and sixth nationwide among public universities for graduates' economic success.
For more information, please visit https://career.mst.edu/careerfair/ or contact COER at career@mst.edu.
About Missouri University of Science and Technology
Missouri University of Science and Technology (Missouri S&T) is a STEM-focused research university of approximately 7,000 students. Part of the four-campus University of Missouri System and located in Rolla, Missouri, Missouri S&T offers 101 degrees in 40 areas of study and is among the nation's top 10 universities for return on investment, according to Business Insider. S&T also is home to the Kummer Institute, made possible by a $300 million gift from Fred and June Kummer. For more information about Missouri S&T, visit www.mst.edu.