Carbon-capture research wins $1.7 million grant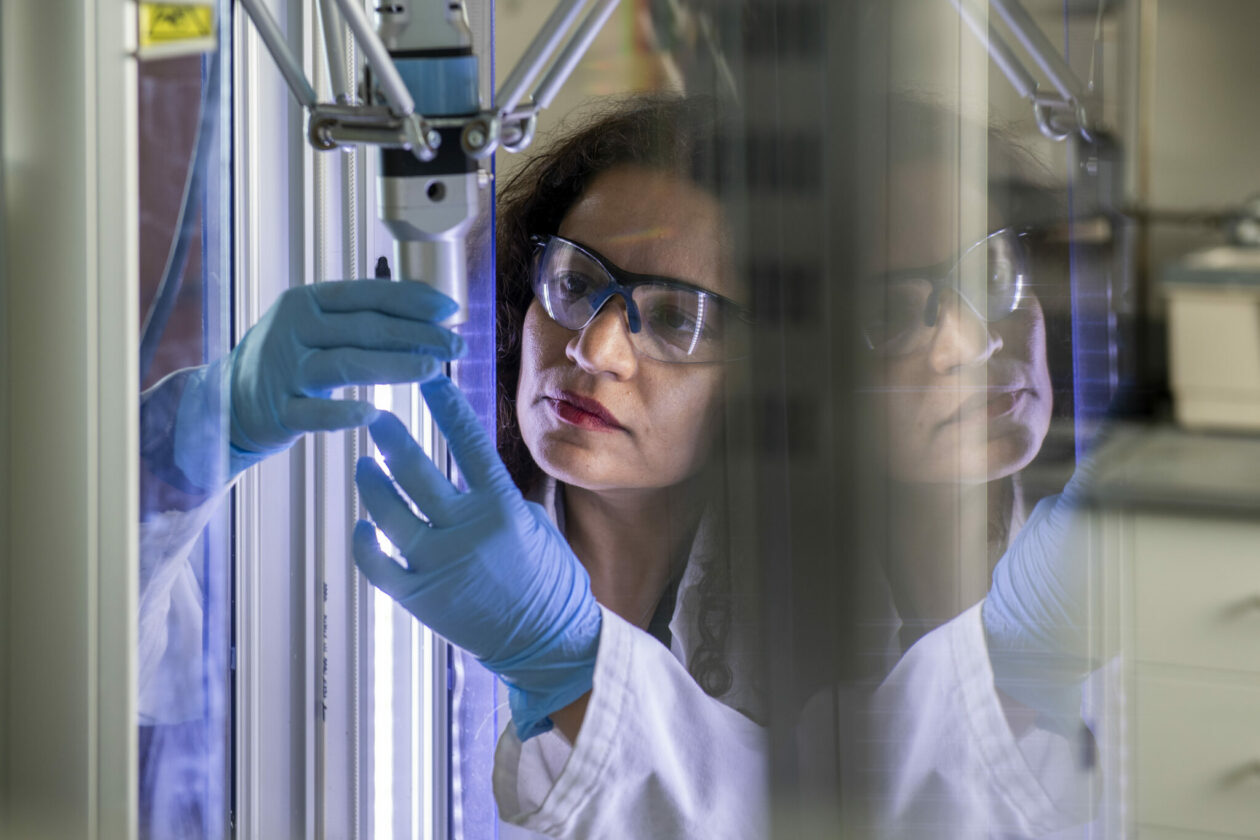 Researchers at Missouri S&T will develop a system to capture carbon dioxide and use it for blended cement, ultimately contributing to the decarbonization of the cement industry. The National Science Foundation (NSF) awarded a $1.7 million grant for the project.
"Our goal is to deliver an innovative, integrated and adaptable capture-and-conversion system while producing valuable cement supplements from waste CO2," says Dr. Fateme Rezaei, The Linda and Bipin Doshi Associate Professor of Chemical and Biochemical Engineering at Missouri S&T. "Waste CO2 in industrial flues is considered a valuable resource for a variety of products, including chemicals and fuels."
Rezaei, an internationally known expert in carbon capture, is working with a team of S&T researchers, including Dr. Hongyan Ma, associate professor of civil, architectural and environmental engineering. Ma developed technology through an NSF Innovation Corps project that uses captured CO2 to process industrial wastes such as municipal waste incineration ashes and produce materials that could potentially substitute more than half of the cement used to make concrete.
Rezaei says the United States produces about 90 million metric tons of cement each year, emitting about the same amount of CO2. Portland cement dominates the market, and she says that if no sustainable alternatives cements are invented, the most promising strategy for decarbonizing the cement industry is to developed additives to make blended cement. Portland cement contains clinker, a material made by liquifying limestone and clay under intense heat in a kiln, mixing it with gypsum and grinding it into a fine powder to use as a binder.
"The White House goal of cutting America's carbon emissions in half by 2020 requires investment in carbon-intensive industrial sectors like cement manufacturing that are hard to decarbonize," says Rezaei. "This strategy could replace clinker in commodity cement with carbon-efficient – or even carbon-negative – minerals."
The S&T research team also includes Dr.Kwame Awuah-Offei, chair of mining and explosives engineering; Dr. Joseph Smith, the Wayne and Gayle Laufer Chair of Energy and professor of chemical and biochemical engineering; and Chengquing Qi, technical center director at Ash Grove Cement Company of Overland Park, Kansas, which is a corporate partner.
The team will explore the fundamental chemistry needed to develop economically viable technology to convert the captured CO2 to blended cement. Rezaei says the research could be applied to other industries that emit CO2. It can also be used to extract CO2 directly from air.
The NSF award begins Jan. 1.
About Missouri University of Science and Technology
Missouri University of Science and Technology (Missouri S&T) is a STEM-focused research university of approximately 7,000 students. Part of the four-campus University of Missouri System and located in Rolla, Missouri, Missouri S&T offers 101 degrees in 40 areas of study and is among the nation's top 10 universities for return on investment, according to Business Insider. S&T also is home to the Kummer Institute, made possible by a $300 million gift from Fred and June Kummer. For more information about Missouri S&T, visit www.mst.edu.