In its first 12 hours, S&T's Kummer College hosts first Ph.D. dissertation defense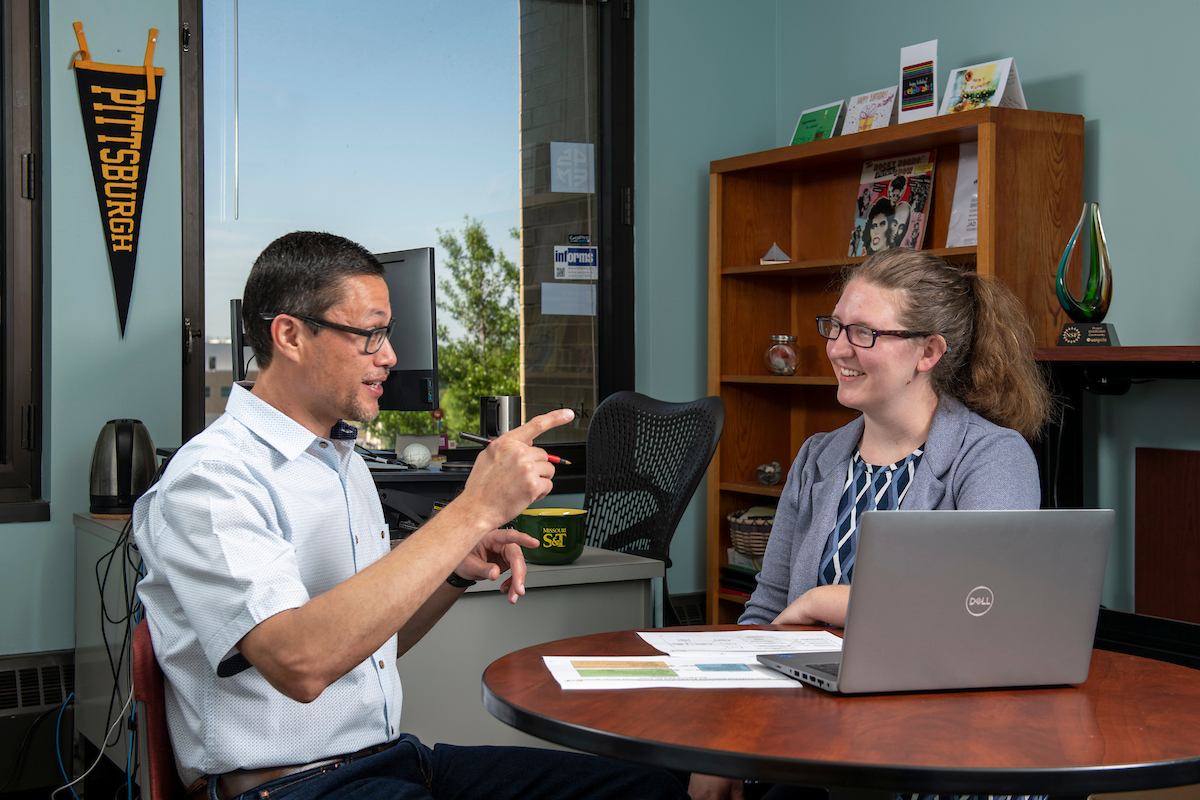 Less than 12 hours after being officially established on July 1, the Kummer College of Innovation, Entrepreneurship, and Economic Development at Missouri S&T hosted its first doctoral dissertation defense.
At 10:30 a.m. July 1, Javier Valentín-Sívico, an engineering management student, successfully defended his thesis, "Evaluating Barriers to and Impacts of Rural Broadband Access." Via Zoom, Valentín-Sívico distilled many years of research into a presentation that ran just over an hour. Then he took questions from the audience, which included his doctoral committee and several family members.
Valentín-Sívico's dissertation investigates the complexities of the lack of adequate broadband infrastructure that persists in many rural communities. His advisor was Dr. Casey Canfield, assistant professor of engineering management and systems engineering.
His work is a natural fit for the Kummer College, made possible by the transformative $300 million gift from June and Fred Kummer, a 1955 graduate of S&T. The Kummers envisioned a collaborative spirit of entrepreneurship and innovation that would empower future leaders to rise to new challenges. The college comprises three longstanding, successful S&T academic departments: business and information technology; economics; and engineering management and systems engineering.
"I'm honored to defend my dissertation on the Kummer College's first official day," says Valentín-Sívico, who earned a master's degree in electrical engineering from Missouri S&T in 1997. "Rural communities need access to adequate broadband infrastructure to support the entrepreneurial spirit of residents, to continue innovating and to create opportunities for generations to come. This aligns with the vision and mission of the Kummer College, and I trust that our findings and the tools we developed will help the expansion of broadband for rural communities everywhere."
Broadband refers to the speed of Internet and the bandwidth of data that can be downloaded and uploaded. Its availability is frequently cited as a factor in decisions about where individuals, families, institutions and businesses decide to locate — and how they perform once such decisions are made. Broadband access has become an even more important and often contentious factor since the beginning of the COVID-19 pandemic in 2020.
"It's a complex issue," says Valentín-Sívico, who began his research shortly before the pandemic. "There is no one-size-fits-all solution."
Valentín-Sívico brought personal experience to his research. He had no Internet access for a long period following Hurricane Maria, a category 5 storm that hit Puerto Rico in September 2017.
More closely related to his research, Valentín-Sívico's first meeting with his soon-to-be advisor was a video interview, and it was a struggle.
"High speed simply was not an option for us at that time, which wasn't a consequence of Hurricane Maria," he says. "I'm pretty sure you could get much better connections half a mile away, but at our location we were limited."
He realized that a sluggish internet connection could have been much more serious for those interviewing for jobs, seeking medical care via telehealth or teaching and learning. Long after he left Puerto Rico and arrived at S&T, that awareness helped guide his research.
From the beginning, he paid particular attention to regional planning commissions, or RPCs, whose membership usually consists of multiple counties and municipalities. The commissions are intergovernmental organizations that support their region's economic development and infrastructure needs. There are 19 in Missouri.
"Prior to the pandemic, the RPCs' involvement with rural broadband in Missouri was very limited," Valentín-Sívico says. The pandemic increased the level of RPC involvement. "My dissertation proposes a framework meant to help RPCs make more informed contributions to the deployment of broadband infrastructure in rural areas."
His dissertation also proposes and provides guidance for conducting a benefit-cost analysis at the county level, where changes in tax revenue are used to monetize the impact of rural broadband. It demonstrates a method for evaluating the benefit of broadband as it impacts education, employment and health care, using a small, underserved community in northwest Missouri as an example. And the dissertation describes a socio-technical reference architecture that supports the development of community-driven broadband projects, which is meant to help communities identify and advocate for broadband solutions that meet their needs on a local level.
"My dissertation provides tools that will help the various organizations offering input on what's needed and where in terms of broadband infrastructure," Valentín-Sívico says. "This is particularly critical right now because there is funding from Congress, which goes to the states and then to the regions. It's important that all those involved communicate as effectively as possible."
Canfield, who has advised Valentín-Sívico throughout his dissertation, is enthusiastic about both the research he's conducted and the work he has yet to do.
"His work is awesome," she says. "It's a valuable role that a Ph.D. dissertation can play —tackling big social problems and breaking them down in a way that has impact."
Canfield says that in addition to addressing an important societal issue, Valentín-Sívico's work intersects nicely with her own.
"I veer more toward the applied side of things," she says. "When I moved to Missouri in 2018 to join the S&T faculty, I started looking at what some of the more pressing issues were, and broadband rose to the top. I think it's important for faculty to work on big, important societal issues."
About Missouri University of Science and Technology
Missouri University of Science and Technology (Missouri S&T) is a STEM-focused research university of over 7,200 students. Part of the four-campus University of Missouri System and located in Rolla, Missouri, Missouri S&T offers 101 degrees in 40 areas of study and is among the nation's top 10 universities for return on investment, according to Business Insider. S&T also is home to the Kummer Institute, made possible by a $300 million gift from Fred and June Kummer. For more information about Missouri S&T, visit www.mst.edu.