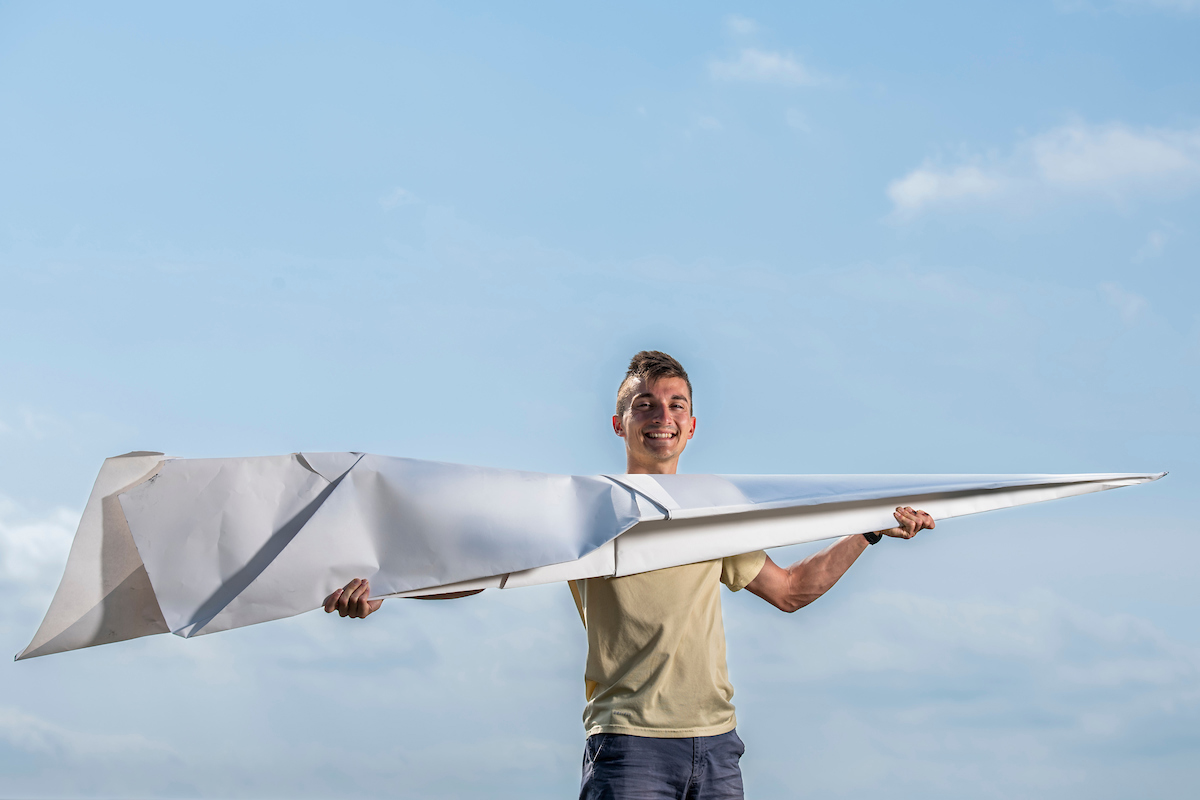 From setting a world record with a paper airplane to entering a career in aerospace engineering, Dillon Ruble is bound to soar
While his classmates crossed the graduation stage in Rolla, Dillon Ruble wound up his pitching arm at an international paper airplane contest halfway around the world. The aerospace engineering graduate missed his commencement ceremony but instead placed 12th out of 58 in the distance category of the Red Bull Paper Wings World Final in Austria on May 14.
The experience, he says, was a whirlwind.
Ruble, of St. Charles, Missouri, first started making paper airplanes only two months prior, when he heard about the "qualiflyer" event at S&T in March. That timeframe aside, he had unknowingly been preparing for such an event his entire life – as a former baseball pitcher, an aerospace engineering student at S&T, and an origami enthusiast for the past decade.
"I've always pursued a bunch of stuff at once," he says.
Origami skills turned out to be an important factor since contestants were only allowed to create a paper plane by folding a single, standardized sheet of A4 paper. No cutting, tearing, gluing or other modifications were allowed.
"The precision of your folding really matters," Ruble says.
Going the distance
From the event in S&T's Gale Bullman Building, three S&T students qualified for the Red Bull Paper Wings National Final in Denver on April 10: Dominic Alberico, a sophomore in information science and technology from Minooka, Illinois, who placed second in the distance category; Michael Sova, a senior in chemical engineering from Springfield, Missouri, who participated in the airtime category but did not place; and Ruble, who won the distance category by crushing the former world record by 10 feet.
Ruble set the new record by sending his modest-looking piece of paper on a 196.9-foot flight.
From there, Ruble embarked on the international competition in Hangar-7 in Salzburg, Austria. He went into the finals in second place but then was disqualified on his second throw when he inadvertently stepped across a regulation line. Although he didn't win and his record was bested by Serbian Lazar Krstic with a throw of 200.49 feet, Ruble is grateful for the experience and looks forward to what's next.
"I'm going to work for Boeing in St. Louis, working within the training systems division on flight simulators," he says. "I will also be continuing to pursue greater challenges in the athletic world, mainly consisting of ultramarathons and Ironman triathlon events."
'Diversify your life'
Ruble says he chose S&T because of the university's reputation, aerospace engineering program and location close to home.
"I love the size of S&T in terms of both campus but more so the amount of students because it feels like it is relatively easy to become friends with a large amount of students spread across campus in different organizations and groups," he says.
"I also love the reputation S&T has and along with that the return on investment that can be achieved by graduating from S&T with an engineering degree," Ruble says. "Lastly, I appreciate the rigorous nature of the coursework here balanced with juggling many other responsibilities because this has resulted in a lot of growth and positive skill development to take forward in my life."
Ruble's advice to other S&T students is "diversity your life." It's a philosophy he has tried to live while a student at S&T, where he was on the track team, earned a minor in French, started a triathlon club, and cultivated friendships and leadership skills as a member of the Delta Sigma Phi fraternity. He got hands-on engineering experience with the Missouri S&T Rocket Design Team, the Missouri S&T Satellite Research Team (M-SAT), and conducted undergraduate research in the areas of metal additive manufacturing and composites.
"No matter what path you take throughout S&T with different majors and different organizations, the one consistent thing is that S&T really has a lasting impact on everyone who has graduated," Ruble says. "It influences graduates in various ways to become more well-rounded individuals with potentially better time management skills, better problem-solving capabilities, better social networks and enhanced communication skills before going into the workforce."