S&T researcher sheds light on solar power use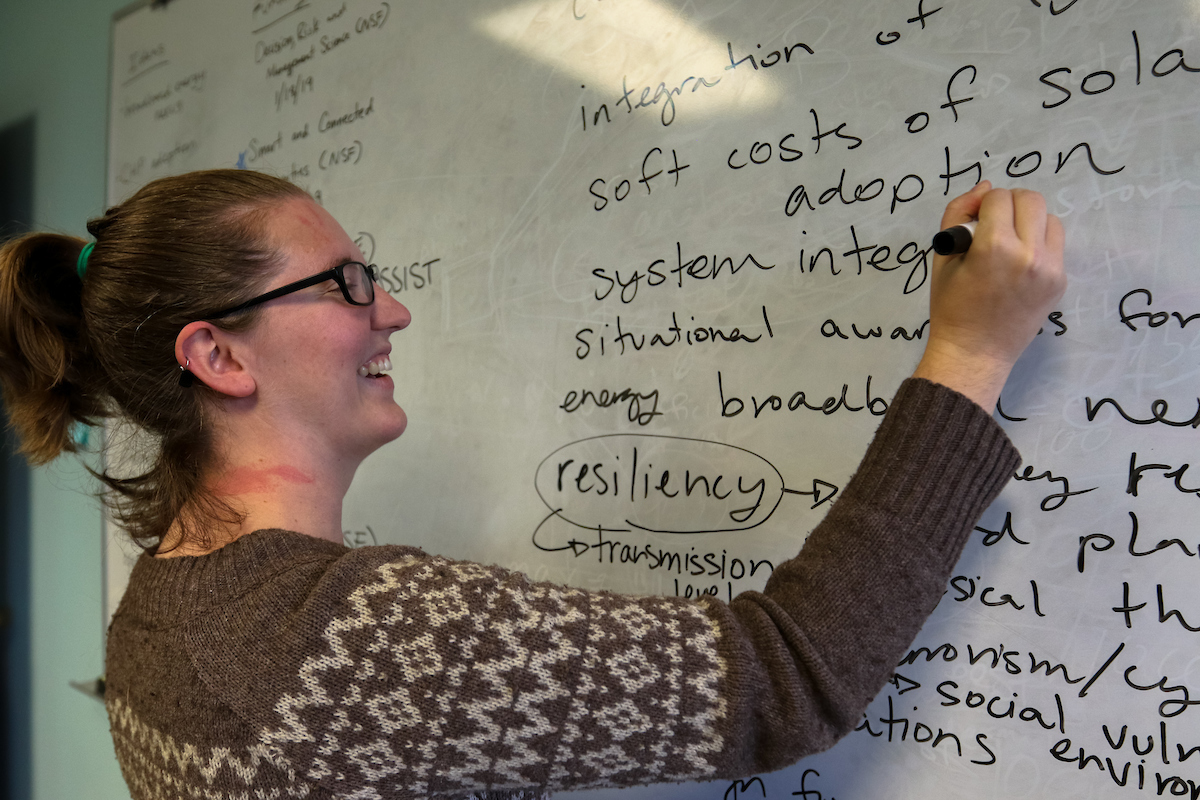 The existence of solar technology is only one part of the renewable energy problem. Getting people to use it is another. Dr. Casey Canfield, an assistant professor of engineering management and systems engineering at Missouri University of Science and Technology, is one of a group of researchers looking for ways to make the process of switching to solar power easier for everyone.
Canfield's research is focused on quantifying the human part of complex systems to improve decision-making. She is part of a team of researchers from Missouri, Florida and Texas who assessed a program known as SolSmart, which was developed to help communities streamline the process of solar permitting and reduce the cost of solar installation. The team's findings, "Encouraging Voluntary Government Action via a Solar-Friendly Designation Program to Promote Solar Energy in the U.S.," were published this spring in the journal Proceedings of the National Academy of Sciences (PNAS), one of the largest and most-cited multidisciplinary scientific journals in the world.
"It had been observed before that these types of voluntary programs can help corporate entities adopt more green practices, but there was limited evidence that it worked for local governments," says Canfield.
The SolSmart program lists a wide range of actions local governments can take to earn points toward a Gold, Silver or Bronze designation, from simplifying solar permit applications to large-scale solar installations on government facilities. These actions enable each community to make progress toward a designation while focusing on the actions that make most sense for that community. While this might not always result in lower costs, it does generally lead to more solar power use in these communities.
"We were able to show that it actually did have the desired impact," says Canfield. "Communities with a SolSmart designation had about 18% more solar installed than very similar communities that did not pursue a SolSmart designation."
There are still questions about the impact of the different levels of designation, Canfield says.
"Hopefully in the future it will be possible to figure out whether there is more impact associated with a Gold designation versus a Bronze designation," says Canfield. "Regardless, this suggests that encouraging local governments to engage in best practices can actually have an impact on the solar market."
About Missouri University of Science and Technology
Missouri University of Science and Technology (Missouri S&T) is a STEM-focused research university of over 7,200 students. Part of the four-campus University of Missouri System and located in Rolla, Missouri, Missouri S&T offers 101 degrees in 40 areas of study and is among the nation's top 10 universities for return on investment, according to Business Insider. S&T also is home to the Kummer Institute, made possible by a $300 million gift from Fred and June Kummer. For more information about Missouri S&T, visit www.mst.edu.