ASCE leader shares vision in 2022 Stueck Lecture at Missouri S&T
From autonomous vehicles to cutting-edge green technologies, the built environment is being reshaped before our eyes. The changes are accompanied by challenges, and Jerry Buckwalter, American Society for Civil Engineers' (ASCE) chief innovation officer, will share his vision for addressing those challenges in the 2022 Stueck Lecture at Missouri S&T.
Buckwalter will present "Future World Vision: Engineering the Future Built Environment" at 1:30 p.m. Friday, April 8, at Leach Theatre, located in Castleman Hall at 10th and Main streets in Rolla. The event is free and open to the public. For those not able to attend in person, the talk with be available on Zoom.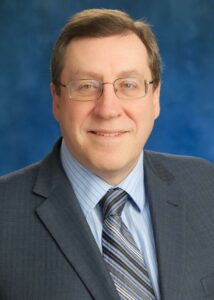 Buckwalter is responsible for helping shape the strategic direction and operational effectiveness of the ASCE and is a long-time member of the ASCE Industry Leaders Council. He also directs an innovative strategic project called Future World Vision where ASCE is creating a computer model to assess potential built environments 50 years into the future and the resulting impact on the engineering profession. Buckwalter has decades of infrastructure work experience and was a member of the National Infrastructure Advisory Council for four years reporting to the White House under Presidents Barack Obama and George W. Bush.
Buckwalter earned a degree in physics from Monmouth University, completed advanced coursework at George Washington University and the Massachusetts Institute of Technology, and has served as executive in residence teaching market strategy at the University of Chicago. He was the 2018 recipient of the ASCE William H. Wisely American Civil Engineer Award. Buckwalter also serves on many boards, including the International Coalition for Sustainable Infrastructure, the Center for Public Policy Innovation, the National Homeland Defense Foundation and ASPIE, a non-profit foundation serving adults with disabilities.
The lecture is presented as part of the Neil and Maurita Stueck Distinguished Lecture Series for Civil, Architectural and Environmental Engineering at Missouri S&T. The series is made possible by a fund established by Maurita Stueck to bring additional outside perspectives to S&T students and to honor her late husband, Neil Stueck, a 1943 civil engineering graduate of the university.
For more information about the lecture, contact Dr. Joel Burken, Curators' Distinguished Professor and chair of civil, architectural and environmental engineering at Missouri S&T, at burken@mst.edu.
About Missouri University of Science and Technology
Missouri University of Science and Technology (Missouri S&T) is a STEM-focused research university of over 7,200 students. Part of the four-campus University of Missouri System and located in Rolla, Missouri, Missouri S&T offers 101 degrees in 40 areas of study and is among the nation's top 10 universities for return on investment, according to Business Insider. S&T also is home to the Kummer Institute, made possible by a $300 million gift from Fred and June Kummer. For more information about Missouri S&T, visit www.mst.edu/.