S&T toxicologist aims to save butterflies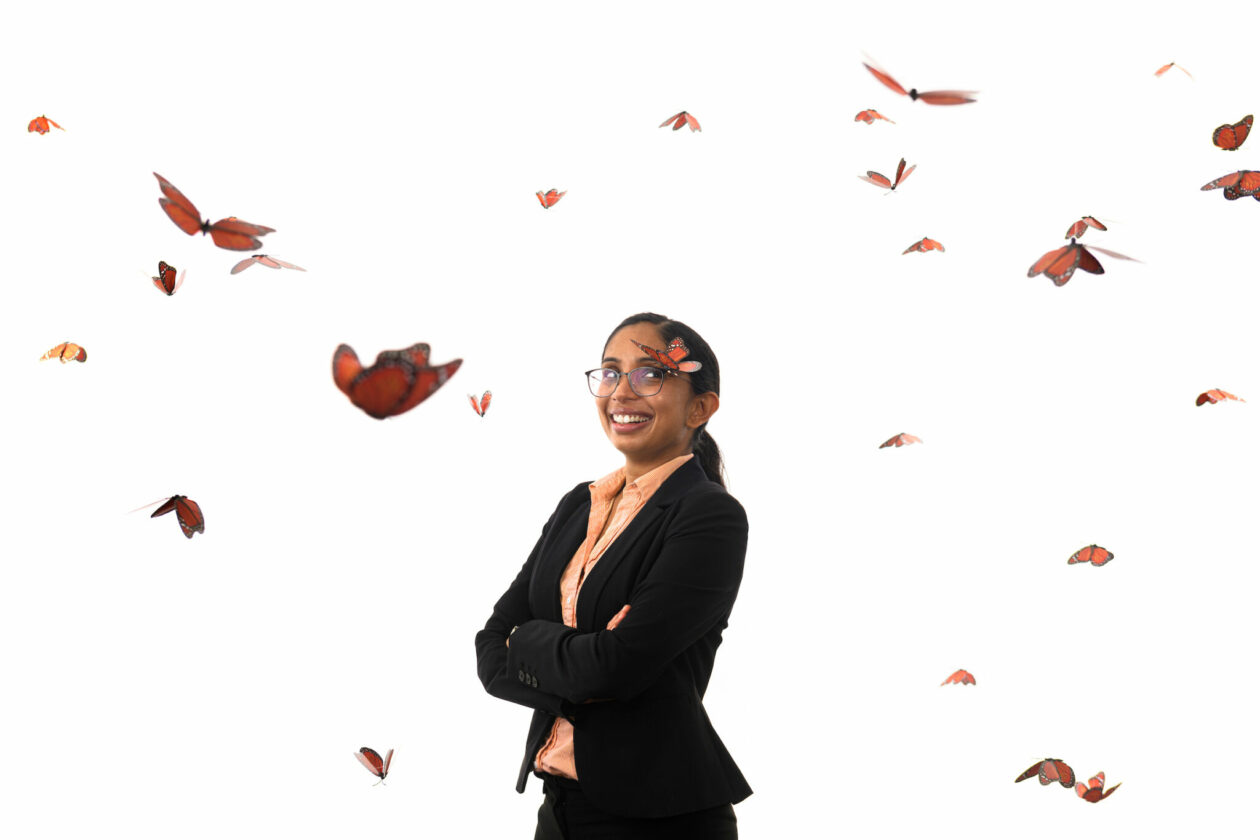 Dr. Niranjana Krishnan, an assistant research professor in biological sciences at Missouri S&T, says that certain insecticides are better than others for minimally impacting animal habitats. Krishnan recently published her research on milkweed plant habitats near corn and soybean fields in the journal Environmental Toxicology and Chemistry.
Krishnan's paper, which was based on her doctoral dissertation research, was selected for the journal's Best Paper Award for 2020 from 250 published papers. In the article, she reviewed the toxicity of six insecticides commonly used in leaf and seed treatments in Iowa and how they impact nearby monarch butterfly larvae.
"To reverse the decline of North America's eastern monarch butterfly population, there is a need to establish and maintain milkweed plants near agricultural landscapes in the north central region of the United States," says Krishnan. "Approximately 50% of the monarchs overwintering in Mexico originate in this area and it is vital to improve our summer breeding success to keep the species off the threatened species list."
Krishnan's study focused on the effects of several widely used insecticides – including pyrethroid, organophosphate, diamide, and neonicotinoid – on the different life stages of monarchs. She also looked at the toxicity caused by direct exposure and from dietary residues on milkweed plant habitats that are near the fields that are treated with the insecticides.
"The research team I was a part of was able to confirm that exposure to several of these insecticides caused butterfly mortalities," says Krishnan. "There are several variables at play and even wind direction during spraying could impact mortality; typically, only downwind habitat would have insecticide drift– upwind milkweed habitats would remain unaffected."
The findings conclude that aerial application of the insecticides cause greater mortality in downwind monarch caterpillars in contrast to ground boom applications. In the research, it was found that the least toxic insecticides were neonicotinoid- and organophosphate-based.
Krishnan joined the Missouri S&T faculty in April 2021. Her research specialties include insect toxicology and ecological risk assessment, and she is interested in developing laboratory-based and computational methods to better predict risk of pesticide exposures to insect species of conservation concern. She recently received a $300,000 grant from the U.S. Department of Agriculture to study the mechanism through which neonicotinoids disrupt pupation in moths and butterflies.
Krishnan earned a Ph.D. in toxicology from Iowa State University, a master of science degree from Vellore Institute of Technology in Vellore, India, and bachelor of science degree from the University of Mumbai in Mumbai, India.
About Missouri University of Science and Technology
Missouri University of Science and Technology (Missouri S&T) is a STEM-focused research university of over 7,200 students and is part of the four-campus University of Missouri System. Located in Rolla, Missouri, Missouri S&T offers 101 different degree programs in 40 areas of study and is ranked by CollegeFactual as the best public university to study engineering. For more information about Missouri S&T, visit www.mst.edu.