Han receives Young Investigator Award for electrospray propulsion research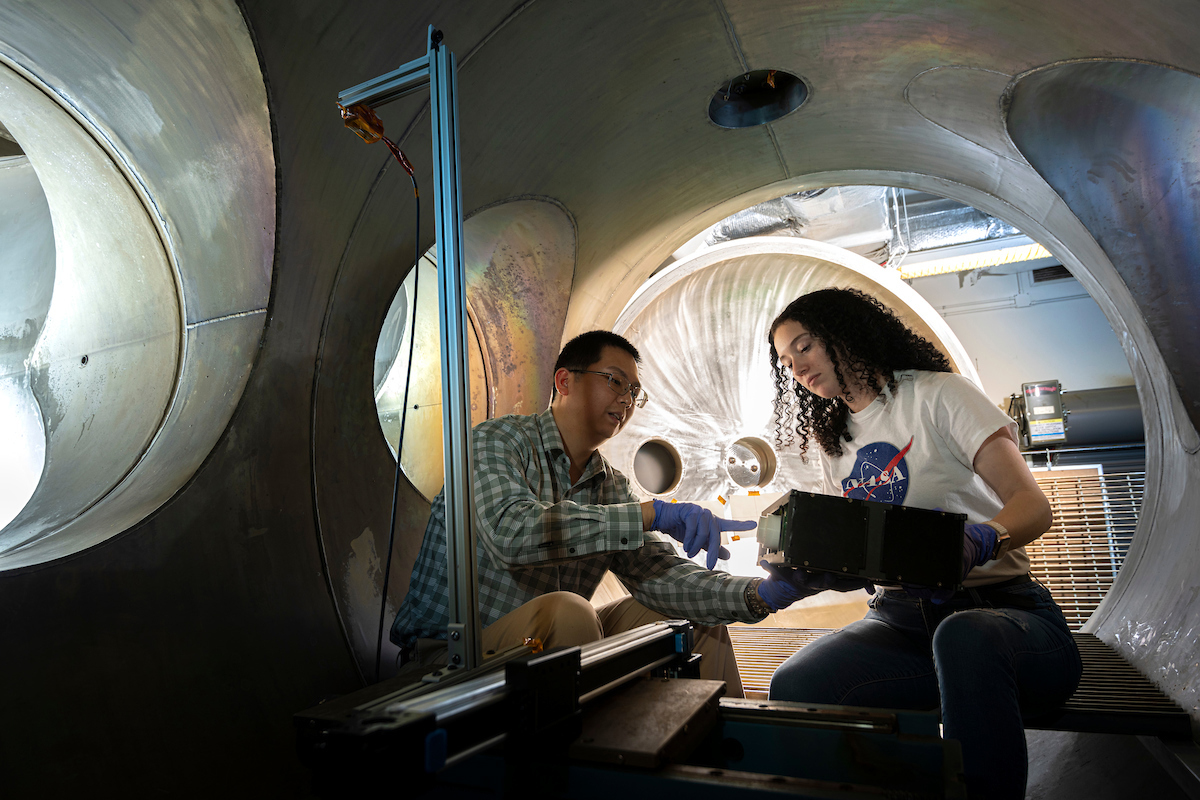 Dr. Daoru (Frank) Han, assistant professor of mechanical and aerospace engineering at Missouri University of Science and Technology, has received a Young Investigator Award from the Air Force Office of Scientific Research (AFOSR) to support his research on electrospray propulsion systems.
"It is my great honor to receive this award from AFOSR," says Han. "I look forward to working on the project and making contributions to the advancement of space propulsion technologies."
Han's project, titled "Multiscale, Multiphysics, and Multifidelity Modeling of Electrospray Propulsion," will receive nearly $450,000 over three years. The funding will support Han's work to develop advanced tools to study the complex physics involved in electrospray propulsion, such as spatial scales covering nine orders of magnitude from nanometer to meter.
Many small satellites and cube satellites, which are of particular interest to the U.S. Air Force and Space Force, use electrospray thrusters to maneuver in space. However, Han says that due to the large variation of spatial and temporal scales of the physics involved, there is no mature and generally accepted end-to-end model of plume characteristics and spacecraft-plume interactions for electrospray propulsion.
This project will also develop computationally cheap models – requiring relatively small amounts of time and computing power – to perform rapid analysis of electrospray thrusters, which use electrostatically charged liquid droplets or ions to produce low-thrust propulsion on small spacecraft.
Han joined the Missouri S&T faculty in 2017 from Worcester Polytechnic Institute in Worcester, Massachusetts, where he served as an assistant research professor in aerospace engineering. He earned his Ph.D. in astronautical engineering from the University of Southern California in 2015. His research interests include gas and plasma modeling, space propulsion and high-performance computing.
Through the AFOSR FY 2022 Young Investigator program, 36 awardees from 30 research institutions and businesses will receive grants totaling $16.2 million. The program supports researchers who have received their Ph.D. or equivalent degrees within the past seven years and who show exceptional ability and promise for conducting basic research of military interests.
See the full list of this year's AFOSR Young Investigator awardees at https://www.afrl.af.mil/News/Article/2835114/afosr-awards-grants-to-36-scientists-and-engineers-through-its-young-investigat/.
About Missouri University of Science and Technology
Missouri University of Science and Technology (Missouri S&T) is a STEM-focused research university of over 7,200 students and is part of the four-campus University of Missouri System. Located in Rolla, Missouri, Missouri S&T offers 101 different degree programs in 40 areas of study and is ranked by CollegeFactual as the best public university to study engineering. For more information about Missouri S&T, visit www.mst.edu.