Commencement speakers honor graduates at S&T sesquicentennial ceremonies
Celebrating the 150th anniversary of the university was the theme of speeches delivered during three commencement ceremonies at Missouri University of Science and Technology. Ceremonies were held Friday, Dec. 17, and Saturday, Dec. 18, at the Gale Bullman Building in Rolla.
Dr. Keith Wedge, a retired brigadier general and three-time graduate of Missouri S&T, spoke of his career as a geologist and encouraged Ph.D. graduates at the Friday ceremony to seek leadership positions and look to the future while learning from the past.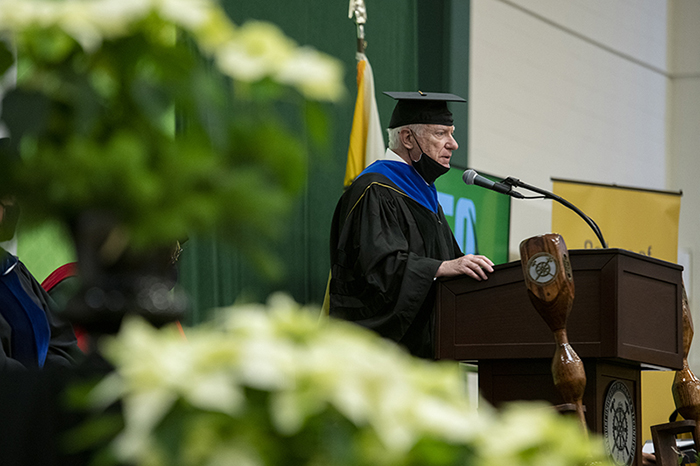 "Your advanced degrees and education will give you many new opportunities to travel and make a difference around the world," Wedge told the graduates. "Look forward to beginning major new projects and strive to learn something new every day. Read history and learn from the past."
Wedge spoke of his participation in planning Missouri S&T's 150th anniversary celebration, noting that he also helped plan the university's 100th anniversary as an S&T student.
"It was 48 years ago on Dec. 16, 1973, that I received my Ph.D. in geology and geophysics from this university," Wedge said. "You are Missouri S&Ts sesquicentennial class, and I hope that 50 years from now, you will return and have great stories of success to share with the students of 2071."
During two Saturday ceremonies for graduates earning bachelor's and master's degrees, Dr. Larry Gragg, Curators' Distinguished Teaching Professor emeritus of history and political science at Missouri S&T, gave graduates one last assignment.
Gragg, author of 10 books including "Forged in Gold: Missouri S&T's First 150 Years," described the two questions he sought to answer while researching his history of Missouri S&T – what Miners are capable of and what kind of courage Miners display.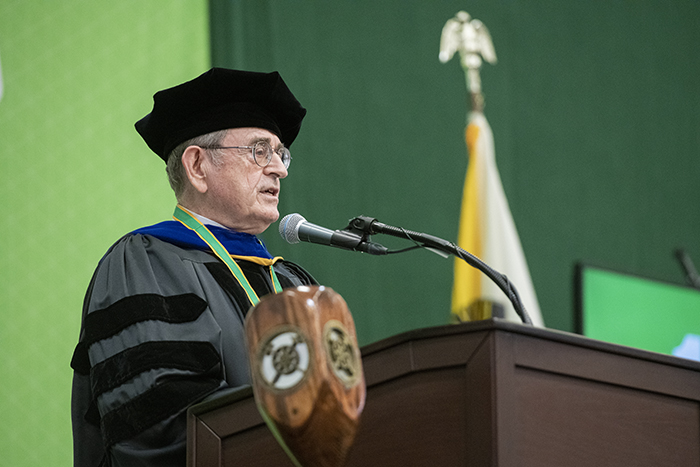 "The answers are truly inspiring," Gragg said.
"What are Miners capable of doing? Consider their extraordinary contributions to NASA," Gragg said. "George Mueller graduated from MSM in 1939 with a degree in electrical engineering. Twenty-four years later, Mueller became an associate administrator at NASA and was in charge of manned space flight through 1969. He oversaw not only the conclusion of the Gemini program, but also the successful moon landing of Apollo 11.
"What kind of courage are Miners capable of displaying? Consider Eva Endurance Hirdler, who transferred to the Missouri School of Mines in 1909 from Washington University and was the campus's only female student," Gragg said. "Despite the faculty's unwavering opposition to granting her a degree in mining engineering even though she had met all the degree requirements, Hirdler went on to have a successful mining engineering career."
Gragg ended his talk with one last assignment for the graduates.
"In 2071, as the campus celebrates its bicentennial, someone like me will give a talk about notable Miner successes," Gragg said. "Your assignment is to have such an extraordinary career, such a compelling life that the speaker will have to include some of you in their talk. So, to you, the sesquicentennial class of Miners, go and do great things."
Gragg of Rolla, holds bachelor of science and master of arts degrees in history from Missouri State University and a Ph.D. in history from the University of Missouri-Columbia. He began teaching at Missouri S&T in 1977 and served as chair of history and political science for 17 years. He also served as vice provost for undergraduate studies for a year and was the founding chair of the Center for Advancing Faculty Excellence. Gragg has won over 20 teaching awards, including the Missouri Governor's Award for Excellence in Teaching and the University of Missouri President's Award for Outstanding Teaching. He also received the University of Missouri Board of Curators' Award for Scholarly Excellence and the University of Missouri Thomas Jefferson Award. Gragg has authored 10 books, including Englishmen Transplanted: The English Colonization of Barbados, 1627-1660; The Quaker Community on Barbados: Challenging the Culture of the Planter Class; 'Bright Light City': Las Vegas in Popular Culture; Benjamin 'Bugsy' Siegel: The Gangster, the Flamingo, and The Making of Modern Las Vegas; Becoming America's Playground: Las Vegas in the 1950s; and Forged in Gold: Missouri S&T's First 150 Years, published in 2020 to commemorate the university's sesquicentennial.
Wedge retired from the U.S. Army in 2004 after a 34-year military career. He used his geological training on field assignments all over the world — locating North Korean infiltration tunnels along the Demilitarized Zone, drilling for water in Egypt, and building roads in Jordan, among other projects. He also spent six months in Saudi Arabia during the Gulf War. After retirement Wedge worked as a senior analyst for a military contractor and taught graduate classes in environmental management for Webster University at Fort Leonard Wood. He also worked for the Missouri Division of Geology and Land Survey as chief of information services and later as chief of geotechnical services.
More information about Missouri S&T commencement is available at registrar.mst.edu/commencement.