New roles announced for Costas Tsatsoulis, Kamal Khayat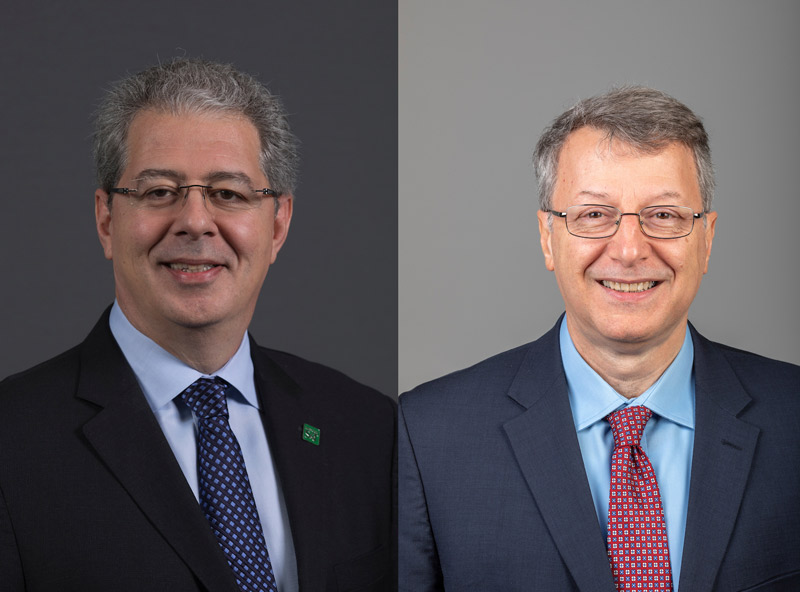 Dr. Costas Tsatsoulis, vice chancellor of research and dean of graduate studies at Missouri S&T since September 2018, will become vice provost of graduate education at S&T effective Sept. 1. Dr. Kamal Khayat, the Vernon and Maralee Jones Professor of Civil Engineering at Missouri S&T, has been named interim vice chancellor of research, also effective Sept. 1.
"I am very grateful to Costas for his diligence in leading both areas of graduate studies and research," says Dr. Mo Dehghani, S&T chancellor. "Success in both of these areas is critical to our efforts to grow graduate education and elevate research. Costas is the right person to lead our graduate studies initiatives."
Tsatsoulis will report to Dr. Colin Potts, Missouri S&T provost. "I look forward to working with Costas as he brings renewed focus to our graduate studies programs and services," Potts says. "He brings a wealth of experience to the assignment and a needed perspective and student focus."
Khayat, as interim vice chancellor of research, will report to Dehghani.
"I appreciate Kamal's willingness to step into this interim role," Dehghani says. "He brings a strong track record and reputation as one of our most renowned researchers, and I know that under his leadership we will continue to grow research and scholarship in our areas of excellence while also pursuing new opportunities."
Prior to joining S&T in 2018, Tsatsoulis served as dean of the College of Engineering at the University of North Texas in Denton for a decade. He also served as interim dean of the Toulhouse Graduate School during the 2015-16 academic year. He previously served as chair of electrical engineering and computer science at the University of Kansas. He holds a Ph.D. in electrical engineering from Purdue University, as well as master's and bachelor's degrees in electrical engineering and a bachelor's degree in German, all from Purdue.
Khayat joined Missouri S&T as the Jones Professor in 2011. He also serves as director of the Center for Infrastructure Engineering Studies and was previously director of the Center for Research on Concrete Applications for Sustainable Transportation and Center for Transportation Infrastructure and Safety, U.S. Department of Transportation-funded University Transportation Centers. Before joining Missouri S&T, he was director of the Center for Excellence on Concrete Infrastructure Engineering and head of the Integrated Research Laboratory on Materials Valorization and Innovative and Durable Structures at the Université de Sherbrooke in Canada. He holds a Ph.D. in civil engineering from the University of California, Berkeley, where he also earned a bachelor's degree in civil engineering, a master of engineering degree in construction engineering and management, and a master of science degree in structural engineering.
About Missouri University of Science and Technology
Missouri University of Science and Technology (Missouri S&T) is a STEM-focused research university of over 7,100 students and part of the four-campus University of Missouri System. Located in Rolla, Missouri, Missouri S&T offers 101 different degree programs in 40 areas of study and is ranked by CollegeFactual as the best public university to study engineering. For more information about Missouri S&T, visit www.mst.edu.